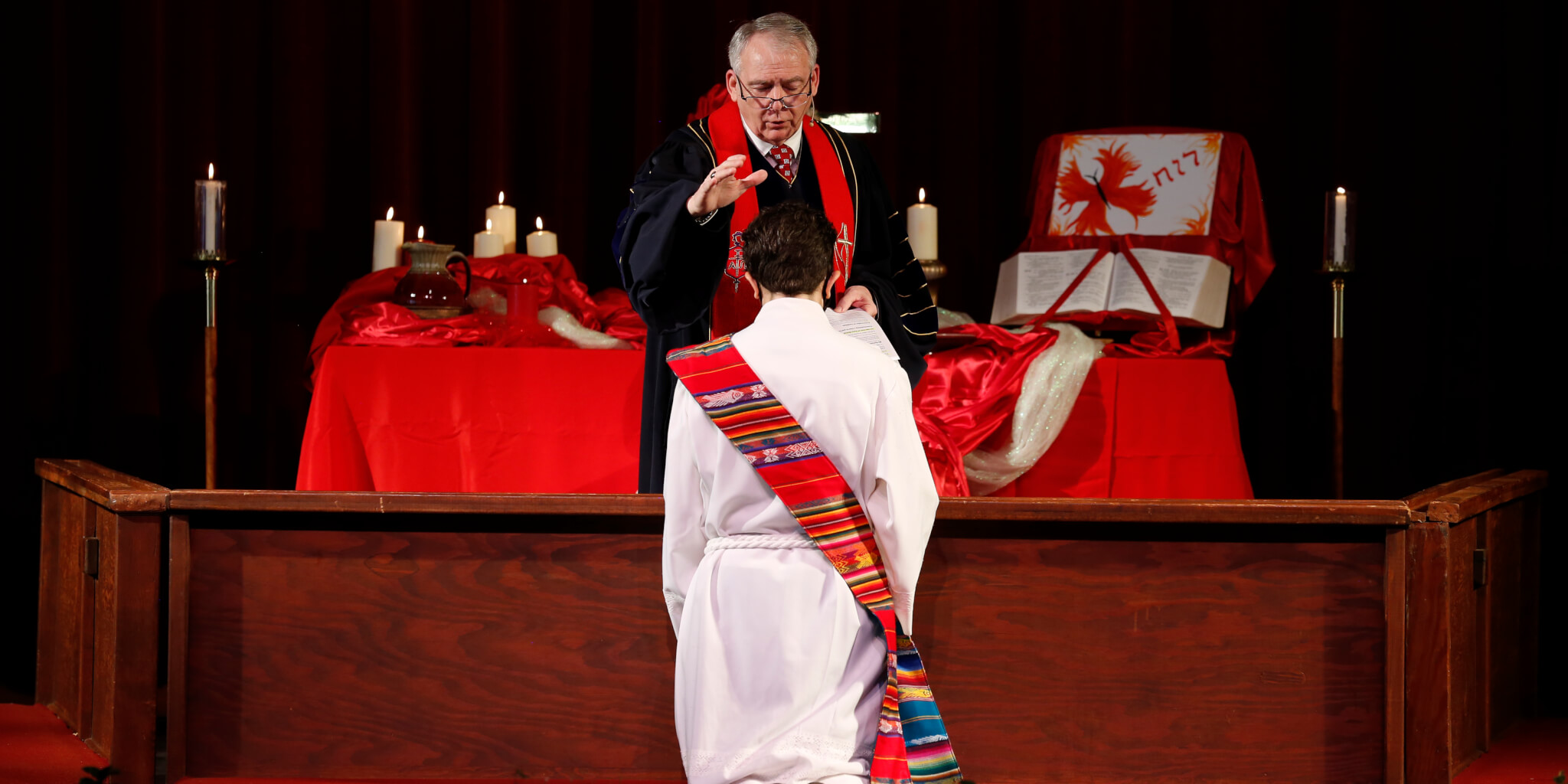 Church and Community Worker Julie Wilson is commissioned by Bishop Paul Leeland on June 19, 2021. PHOTO: COURTESY OF KIM INGRAM
---
Although COVID-19 prevented an official commissioning in 2020, missionaries have remained creatively engaged in ministry and were commissioned at small, in-person services in their host annual conferences this spring.
By Sara Logeman
June 23, 2021 | ATLANTA
By June 2020, the COVID-19 pandemic had prompted many people around the world to just stay put.
Rev. Julie Wilson was not one of them.
Her calling to serve as a missionary in the United States meant that she was going to be (safely) on the move.
Even though the pandemic deferred her official commissioning as a Church and Community Worker, Wilson was still virtually blessed and sent out to serve at Open Arms Community Center, a ministry of the Western North Carolina Annual Conference.
In July, two weeks after arriving in Winston-Salem, Wilson wrote: "With the COVID-19 pandemic, we don't quite know what this year will bring. But we have faith that God will lead us through."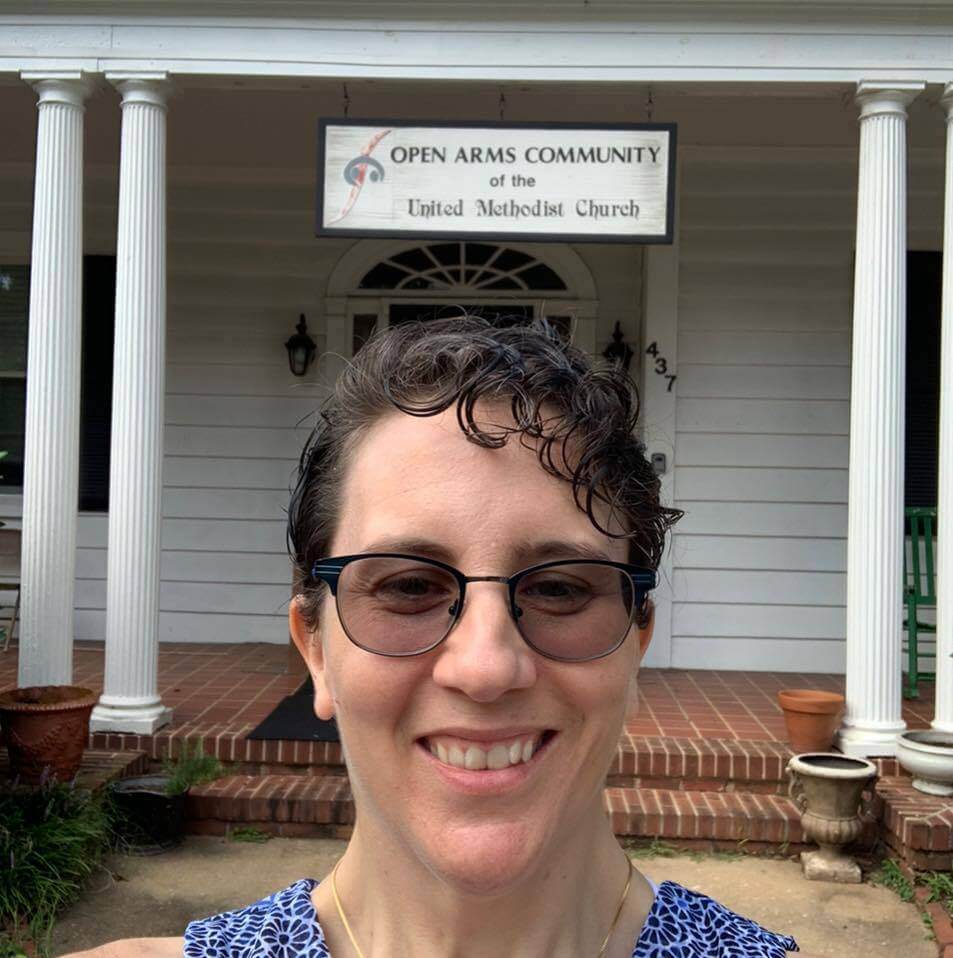 Even when Open Arms' physical building closed or its programming was put on pause, she was able to safely and creatively remain in mission and ministry with her community.
Recognizing the need to support children and families within the Winston-Salem/Forsyth County School system as learning shifted to a virtual format, Wilson found a way to open a remote learning center at Open Arms on Tuesday afternoons. Children ate lunch together, attended class online, spent time on tutoring activities and played outside.
A Blessing Box right outside the entrance to Open Arms made nonperishable food and toiletry items available for anyone, no questions asked. And a new partnership with Winston-Salem Rescue Mission brought a mobile food pantry to the front porch of Open Arms once a week.
Responding to the need
Wilson was not the only missionary to begin service in the U.S. in the middle of a pandemic. Five young adult Global Mission Fellows (GMFs) serving on the US-2 track and one Mission Advocate began service, too.
GMF Emily Autry from Arkansas has served in Florida as a field coordinator for the Fill the Table Initiative. Like Wilson, Autry is passionate about addressing food insecurity. After COVID-19 exposed how pervasive food insecurity is in the U.S., the Florida Annual Conference launched the Fill the Table Initiative in July 2020 with the goal of feeding 3 million Floridians by September 2021.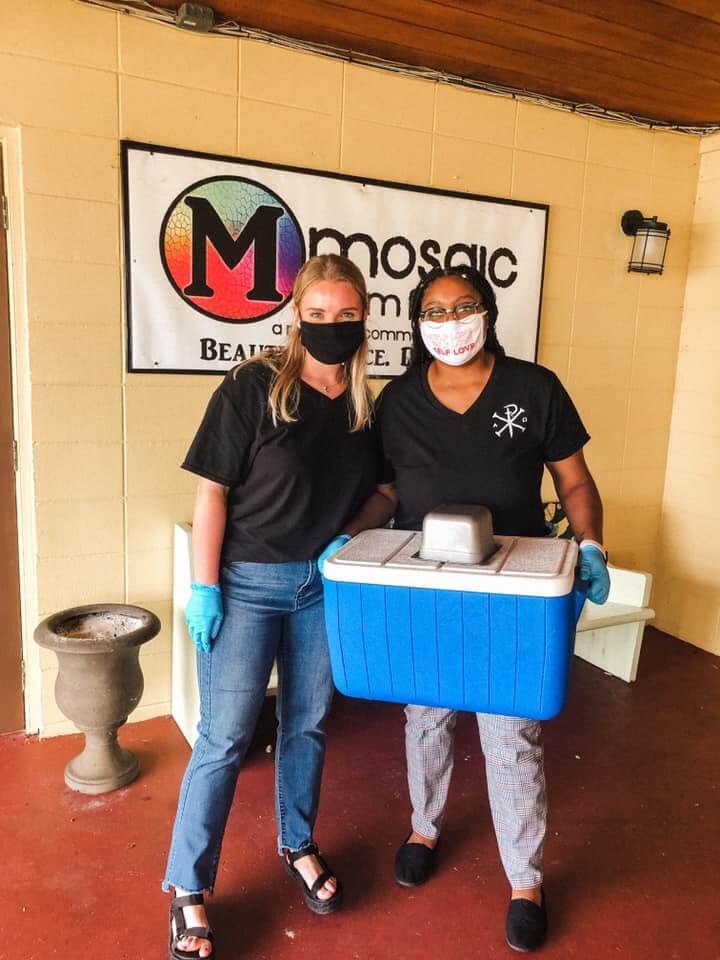 They have already well-surpassed this goal.
"Our Florida United Methodist churches' outreach ministry and partners heard the call and acted," Autry said in a report given at Florida's recent annual conference gathering. While the initiative will close this fall, Autry is clear that there is still much work to be done. And her time serving with Fill the Table laid a strong foundation for the church's continued engagement around the issue of food insecurity.
In addition to Autry, Katelyn Dino from Georgia serves as an administrative assistant with Justice For Our Neighbors in Florida; Shiree Fetterly from Michigan serves as a group leader for Metropolitan Ministries in Florida; Magdeline Russo from Louisiana serves as the director of Evangelism and Community Engagement at Pasedena Community UMC in Florida; and Emily Palm from Illinois serves as a caseworker for the NOAH Project (Networking, Organizing and Advocating for the Homeless) in Michigan. Trisha Manns from Georgia serves as a mission advocate at the General Board of Global Ministries in Atlanta.
Commissioned for service
Although COVID-19 prevented an official commissioning at the beginning of their service last year, all seven missionaries have now been commissioned on behalf of The United Methodist Church.
Throughout the spring, their host annual conferences held small but in-person commissioning services. The presiding bishops, representing the church, set them apart for mission service through the ancient practice of laying-on of hands. A Global Ministries representative vested them by placing an anchor cross around their necks. And the missionaries reaffirmed their own commitment to service.
"We rejoice to recognize you as a missionary of The United Methodist Church. We will sustain you with our prayers; support your mission service; and together strive to minister to the needs of all of creation," said Bishop Sue Haupert-Johnson of the North Georgia Conference at the end of Trisha Manns' May commissioning service.
"With God's help, these individuals faithfully explored and implemented ways to keep the church and their new communities connected in mission during a unique year," says the Rev. Dr. Judy Y. Chung, executive director of missionary service for Global Ministries. "We celebrate their commissioning and surround them in prayer as they continue their service."
The United Methodist Church has a great tradition of sending persons into mission. "Throughout history, the church has understood that Christian mission can be a perilous journey. The challenges of mission are no less today," said Roland Fernandes, general secretary of Global Ministries, at the Florida Annual Conference commissioning service. "Christ calls us to ministry to all peoples, wherever there is need. The anchor cross, a symbol in early Christian iconography, reminds us of the necessity to be firmly grounded in Christ as we engage in God's mission."
Sara Logeman is the content strategist for Global Ministries.