INTERNATIONAL DISASTER RESPONSE
When a natural or human-caused disaster strikes outside of the United States, UMCOR serves as the primary channel for United Methodist assistance. In the short-term, UMCOR provides funds to our partners to distribute food, hygiene supplies, shelter and other basic needs to ease human suffering. In the long-term, we work with local partners towards recovery and reconstruction.
---
---
In its programming approach, UMCOR adheres to Sphere Minimum Standards in humanitarian response and the International Committee of the Red Cross Humanitarian Code of Conduct. UMCOR works through capacity building efforts and accompaniment to support that partners do the same.
Bolster Response Efforts
---
Current Disaster Response
UMCOR and its partners are responding to disasters across the globe every day. Please join us in prayer for the affected areas and consider giving to UMCOR International Disaster Response to support these efforts.
Explosions in Beruit
---
UMCOR has awarded solidarity grants to The Middle East Council of Churches, the Forum for Development, Culture and Dialogue and the Joint Christian Committee (Department of Service to Palestinian Refugees, Lebanon) in support of their local response to the August 4 explosion.

These funds will help to procure and deliver essential food and hygiene supplies, nonfood items such as bedding and cooking supplies, and provide psychosocial support for vulnerable children and adults.

Flooding in Nepal
---
Monsoon rains have resulted in flooding and landslides in several municipalities across the country. As of mid-July, more than 300 homes have been damaged; hundreds of people have died, are injured, or have been reported as missing.

An UMCOR solidarity grant is providing immediate relief assistance in the form of food kits and hygiene supplies for rural communities.

Tropical storms Amanda and Cristobal
---
In late May and early June, Amanda and Cristobal impacted regions across El Salvador. Amanda has been considered the worst storm to affect El Salvador in 22 years. An estimated 2,800 hectares of crops were damaged and around 30,000 structures were damaged or likely destroyed by flooding and landslides.

A grant to the Salvadoran Lutheran Synod is providing assistance through food baskets, medicine and hygiene kits, metal material for roof repair and small stoves to 130 families affected by the storms as well the ongoing COVID-19 pandemic.

Flooding in East Congo
---
The people of East Congo endured severe flooding that claimed lives, homes, churches and schools in late April.

UMCOR is working with both the North Katanga and East Congo episcopal areas and is offering support to the local disaster management coordinators and volunteers as they respond to urgent community needs. Food such as rice, cornmeal and oil have been distributed to flood survivors.
---
In partnership with UMCOR, the Manila Episcopal Area Disaster Management Office identified and distributed food and water, sanitation, and hygiene (WASH) needs to those displaced by the eruption in mid-January.

Continued coordination and communication in the disaster recovery efforts are ongoing, such as working to restore livelihoods once evacuees return to their villages.
---
UMCOR will provide further updates as they become available.
For the most up to date information, follow the UMCOR Facebook page.
---
Ongoing Response
Typhoon Mangkhut
---
Since 2017, UMCOR has trained and funded Disaster Management teams in order to empower communities to proactively alleviate the suffering caused by the effects of disasters. Their work allows for communities' advance awareness and preparedness, aligning with the efforts of other conference teams and ecumenical councils from across the region.

At a national level, this initiative ensures that the maximum number of people are prepared for a storm's impact. Moreover, the Manilla, Davao and Baguio Episcopal Area offices continue to distribute daily weather advisories to community leaders.

UMCOR IDR has authorized a 10,000 USD Solidarity grant to address immediate needs in the most hard-hit provinces of Baguio while the Disaster Management Coordinators in the Philippines continue to work with their communities after Typhoon Mangkhut and maintain their assessment of damages and analysis of needs.

Monsoon Rains in South Asia
---
Almost 6 million people are currently affected by rising floodwaters as a result of heavy monsoon rains in South Asia. In India, the states of Assam and Bihar were most severely impacted, with more than 1 million people displaced by flooding. Approximately 200 landslides in the area of Cox's Bazaar, Bangladesh have likewise caused vast displacement in an area home to 900,000 Rohingya refugees.

As of July 17, 2019, 78 people have died and 32 people have been reported missing in Nepal due to landslides and flooding events. Representatives of humanitarian aid organizations are expressing urgent concern about food security and possible disease outbreaks as a result of these events.

UMCOR International Disaster Response is in close communication with our partners in South Asia, receiving updates, situation reports and information on disaster response efforts, which are ongoing as a result of continued rains.

Earthquakes in the Philippines
---
In response to a magnitude 6.1 earthquake on Luzon Island and a magnitude 6.3 earthquake on Samar Island, UMCOR is in close communication with the Disaster Management Offices (DMO) in the Manila and Davao episcopal areas. Disaster Management Coordinators are utilizing pre-established communication channels to share and relay information with local-level volunteers.

Disaster Management Officers are preparing to assess the areas most affected by the earthquake to gauge the need and capacities for a response. UMCOR will continue to support and facilitate the Philippines Central Conference through the Disaster Management Offices as they assess conditions, analyze results, and proceed accordingly to address needs.

Cyclone Kenneth in Mozambique
---
In preparation for a forecasted landfall of Cyclone Kenneth in Mozambique, the UMCOR-supported Mozambique Disaster Management Coordinator (DMC), Mr. Respeito Chirrinze, has alerted UMC staff and it has been communicated to churches and members to keep doors and windows of buildings closed to minimize effects on infrastructure of the cyclone as well as to look for safe buildings to shelter in.

Additionally, the National Disaster Management Institute of Mozambique will be sending a team to the projected epicenter, Pemba, while the DMC will be following the situation from a safe distance to be close by to go in post-cyclone to implement an assessment of the effects.

Hurricane Dorian
---
UMCOR awarded a solidarity grant to Bahamas Methodist Habitat (BMH), the Disaster Ministry of the Bahamas Conference of the Methodist Church (BCMC), and the Bahamas Turks and Caicos Island Conference (BTCIC) of the Methodist Church in the Caribbean and the Americas (MCCA).

These grants provided immediate funding to address the basic human needs of those affected by this catastrophic storm.

UMCOR response to Cyclone Idai
---
UMCOR approved three solidarity grants. The Malawi Provisional Annual Conference, The United Methodist Church in Zimbabwe and The United Methodist Church in Mozambique have each received a grant in response to Cyclone Idai's devastating rains and flooding.

The grants provided immediate emergency funding for basic human needs including food distribution, hygiene supplies/clothing distribution, safe water access and temporary shelter

Earthquakes and Tsunami in Indonesia
---
UMCOR is fortunate to consistently work with many partners in Indonesia. We are coordinating with partners on the ground to address the needs of vulnerable people affected by the earthquakes and tsunami.

We are partnering with Methodist Church leadership to support assessment, relief work, evaluation, and prioritization of needs.
---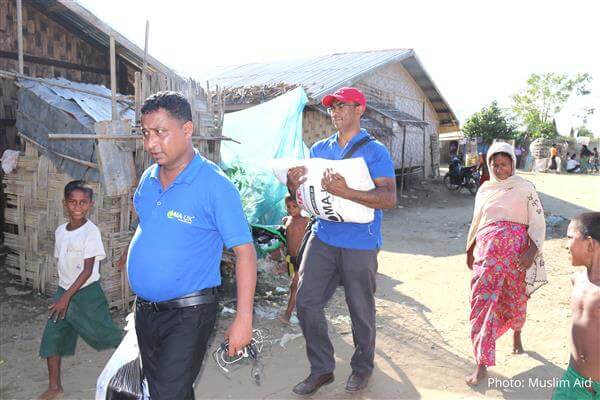 Disaster Risk Reduction
Even after the initial disaster is over, people are often endangered by subsequent disasters. UMCOR's Disaster Risk Reduction (DRR) program help communities to identify vulnerabilities and attend to those before another disaster strikes. In the Philippines, for instance, building a retaining wall or planting mangroves can help keep a storm surge from causing extensive damage in coastal communities. Training people what to do in a disaster is also a key step in reducing the damaging effects of future disasters.
Disaster Risk Reduction addresses fundamental problems like environmental degradation, climate change, infrastructural inequality and political negligence through small-scale, localized solutions. Even as we administer disaster response grants, UMCOR pays attention to systemic issues related to community health, sustainable agriculture, water and sanitation, education, economic justice and reconstruction.
UMCOR uses the Hyogo Framework for Action, a disaster response strategy endorsed by the United Nations International Strategy for Disaster Reduction (UNISDR), helping to substantially reduce the number of disaster losses.
---