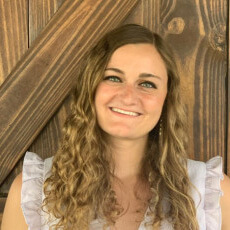 Serving At: Florida Annual Conference - McCabe Memorial United Methodist Church of St. Petersburg
Home Country: United States
WAYS TO REACH ME:
This missionary has completed service. The Advance number will remain active until January 2023.
Magdeline Rose Russo is a US-2 with the United Methodist General Board of Global Ministries, engaged in a two-year term of service. She was commissioned in August 2020. She serves as Community & Church Engagement Intern.
The US-2 program takes young adults ages 20-30 out of their home environments and places them in new contexts for mission experience and service. The program has a strong emphasis on faith and justice. US-2s become active parts of their new local communities. They connect the church in mission across cultural and geographical boundaries. They grow in personal and social holiness and become strong young leaders working to build just communities in a peaceful world.
Magdeline is from Shreveport, Louisiana. She is a member of First United Methodist Church, Shreveport, in the Louisiana Annual Conference. She holds a Bachelor of Arts Degree in Psychology from Rhodes College, Memphis, Tennessee, and a Master of Divinity from Emory University, Atlanta, Georgia.
"My faith journey," Magdeline said, "has been about trusting God. I grew up in The United Methodist Church, but my relationship with Christ really started in 2008 when my father was deployed to Guam. One day, we received a call that one of my dad's planes had gone down in Guam and they were not sure who was on it. In the midst of every child's worst nightmare, I gave my life to Christ."
In high school and college, Magdeline continued to mature spiritually and emotionally. "I never thought about going into ministry," she admitted, "until a summer internship at an urban ministry changed everything. I saw God and his character and love for his people. I knew I could not do anything else with my life. Ministry was the only way forward for me."
Interested in military chaplaincy, Magdeline enrolled in seminary. Then she learned she had an allergy that disqualifies her from military service. "I had many questions about my vocation and why God was redirecting me," she said. "I am learning to trust God more and more as I walk by faith, not by sight or even by my own understanding."
As followers of Christ, Magdeline explained, we embody the gospel through mission. "Everyone is called to mission in some capacity," she said. "As I read Scripture and study the life of Jesus, I discover more and more how I want to live my life. Christ lived a life of mission. He humbly went from place to place, teaching, preaching, healing, calling and loving.
"I was fortunate last year to travel to the Holy Land, where I was able to walk where Jesus walked. In the Upper Room, I felt the Holy Spirit move and could only imagine the feeling the first disciples felt in that place. From there, they went out, speaking in all tongues to make disciples of the world. They were truly the first missionaries."
Micah 6:8 exemplifies Magdeline's call to mission: Do justice, love kindness and walk humbly with your God. "I believe I am on earth to serve Christ and his children, particularly those who may not know Jesus or had the opportunity to learn about and experience his love firsthand," she said. "I am called to embody hope, faith and love in a Good Friday world. I am called to walk with my congregation, whatever that looks like, and to all to whom the Holy Spirit leads me. I desire to exemplify and amplify Christ's kindness, care and compassion. As a US-2, I hope to make an impact and help those hurting and in need wherever God leads me."
Email Me