Katelyn S. Dino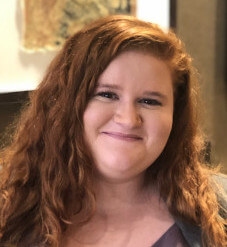 Serving At: Florida Annual Conference - Justice For Our Neighbors
Home Country: United States
WAYS TO REACH ME:
Katelyn Dino is a Global Mission Fellow with the United Methodist General Board of Global Ministries, engaged in a two-year term of service. She was commissioned in August 2020.
The Global Mission Fellows program takes young adults ages 20-30 out of their home environments and places them in new contexts for mission experience and service. The program has a strong emphasis on faith and justice. Global Mission Fellows become active parts of their new local communities. They connect the church in mission across cultural and geographical boundaries. They grow in personal and social holiness and become strong young leaders working to build just communities in a peaceful world.
Katelyn is from Roswell, Georgia. She is a member of Roswell United Methodist Church in the North Georgia Annual Conference. She holds a Bachelor of Arts degree in Nonprofit Leadership from LaGrange College in Georgia. In her time at LaGrange College, she also studied and obtained minors in Spanish, Religion and Servant Leadership.
"I truly don't remember a time when God wasn't a part of my life," Katelyn said. "My family has always been active in The United Methodist Church, and my parents ensured that I participated in any opportunity to learn about God. Attending Sunday school and children's choir were the weekly norm. I learned so much about the church, the Lord, and my faith through all of the youth programs offered to me."
When Katelyn was 6 years old, she had a serious brain infection. "The doctors told my parents to say their goodbyes," Katelyn said. "However, God had a different plan. Every night after this incident, my parents would tell me that I was given a second chance because God had a plan that could not be completed without me. I believed this and created my own story."
At age 12, on a trip to Camp Awanita, Katelyn said she "experienced unconditional love, unlike anything I'd ever felt. I realized Christ is there to guide me in my daily life."
Katelyn believes that God calls every Christian to mission. "Some are called to serve the local community," she said, "while others feel the charge to serve beyond the borders of where they live. I have been fortunate to serve in both ways."
Studying Christian education to become a youth minister was Katelyn's original career goal. "As I learned and grew in faith as well as religious education," she noted, "I began to realize that there was more than one way to serve the Lord, and missions began to take root in my heart."
When Katelyn was invited to travel to Honduras with a mission team from her church, she was reluctant because the trip was expensive and she had never served outside the United States. "I was approached by gracious members of my church and community with sponsorships," Katelyn said. "On top of this, the mission department of my church donated their SkyMiles for my ticket, and a woman and her daughter who were also attending took me into their family. "I was changed on this trip," she continued. "I was led to a new vision on life and left with a new passion. I knew I was meant to leave my comfortable life and become comfortable with being uncomfortable. Service comes from a genuine heart and a willing vessel ready to serve, but I do believe that to thrive, you need faith and trust in Christ.
"I have faced many challenges; academic, personal, and even spiritual. Through grace and prayer, God was with me, and in each situation, my beliefs were strengthened. Because I experienced a miracle through Christ, I want to show others how blessed their life can be by walking with Christ. God has saved me, so I've always wanted to spend my time giving back and saving others." Katelyn says "My daily goal is to Act Justly, Love Mercifully and Walk Humbly with my God."
Email Me