UNITED STATES
DISASTER RESPONSE
When disasters happen, it is local churches that provide the first response to their communities. This basic understanding – that disaster response is local – forms the foundation for UMCOR's U.S. disaster training and response efforts.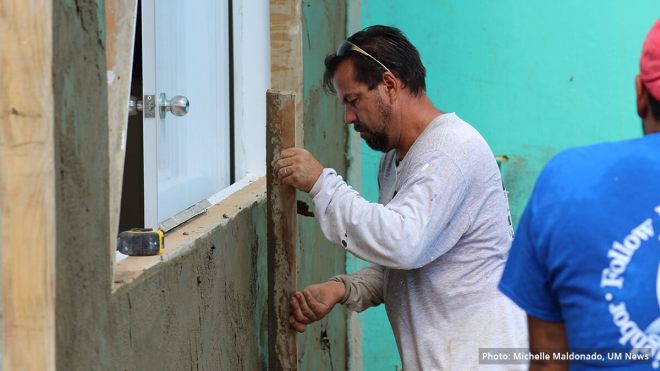 ---
When responding to a disaster in the United States, UMCOR works with the conference disaster response ministries to provide the following:
Financial assistance – emergency grants may be sent when a bishop of the affected conference contacts UMCOR;
Expertise – UMCOR's disaster-response experience and knowledge are made available to those in need;
Networking – connections with volunteers, experts, local government, and other organizations can help communities recover from disaster.
Bolster Response Efforts
Get Involved
Relief Supplies Request
2021 DISASTER RESPONSE
UMCOR and its partners are responding to disasters in the United States every day. Please join us in prayer for the affected areas and consider giving to UMCOR U.S. Disaster Response to support these efforts.
Tornadoes in the Midwest and Southeast United States
Update
December 22, 2021
UMCOR appreciates the tremendous outpouring of support for those impacted by the December 2021 tornadoes. As with any disaster, it is important not to travel to an affected area to offer assistance or send supplies without an invitation from the Conference Disaster Relief Coordinator.
We have been informed by the CDRCs in both the KY and the WKY-TN United Methodist annual conferences that they have enough supplies and their warehouses are at capacity. At this time, they are unable to accept any more material donations of any kind. Excess supplies will lead to logistical challenges and distract from current response efforts.
Conference Disaster Relief Coordinators will communicate when additional help and what kind of help is needed throughout the long recovery process ahead.
In the interim, we invite you to show your support through UMCOR's U.S. Disaster Response and Recovery Fund here. Please continue to pray for the communities, survivors, and pastors in these areas.
Following the devastating and deadly string of December storms and tornadoes, UMCOR is supporting conference disaster response coordinators as search and rescue efforts continue and damage assessments begin. Solidarity grants to provide immediate funding are being released and UMCOR will work with impacted areas to journey from the chaos of response on through long-term recovery. Please continue to hold victims, survivors and relief workers in your prayers and make a gift to UMCOR U.S. Disaster Response and Recovery here.
Hurricane Ida
Category 4 Hurricane Ida made landfall in Louisiana on August 29, the 16th anniversary of Hurricane Katrina. UMCOR is working with conference disaster response coordinators to assess the storm's impact and respond to immediate needs. UMCOR has awarded solidarity grants to the Louisiana and Mississippi conferences.
Flash Flooding in Tennessee
UMCOR awarded a grant to the Tennessee Conference in support of immediate relief efforts following torrential rain and flooding in August. The region of middle Tennessee continues to recover from major flooding in March, for which UMCOR also awarded a grant.
Tropical Storm/Hurricane Henri
UMCOR awarded a grant to the New England Conference to support relief efforts following the heavy rain and flooding produced by the August storm.
Tropical Storm Fred
UMCOR awarded a grant to the Western North Carolina Conference to support relief efforts for flooding caused by the August storm.
Wildfires in the West
The California-Nevada and Oregon-Idaho Conferences received grants to aid in the response to the 2021 Dixie and Bootleg Fires. Technical assistance and training are also being provided to the conferences. UMCOR continues to provide assistance for recovery from previous wildfires. The California-Nevada Conference was awarded a grant this year to help rebuild homes after the Camp Fire of 2018.
Surfside condo collapse in Florida
UMCOR awarded a grant to bolster the conference's disaster relief efforts in support of survivors and families of the tragic building collapse on June 24.
Flood recovery in Oregon
In February 2020, the Umatilla River in Northeast Oregon rose and flooded many communities along its banks. UMCOR awarded a recovery grant to the Oregon-Idaho Conference to aid survivors in the Confederated Tribes of the Umatilla Indian Reservation and in Umatilla County. The funds will help begin the rebuilding process and provide salary support for Disaster Case Managers.
Severe weather in Southeast U.S.
In response to severe weather ranging from strong winds, rain, and hail to strings of tornadoes, UMCOR supported damage assessments in the affected areas and the work of conference disaster response coordinators. Early response teams were deployed to offer initial relief.
Winter storms in Texas
Emergency funding supported relief efforts in the Texas, Central Texas and North Texas Conferences. Cleaning kits were delivered to communities where burst pipes caused damage to homes, buildings and churches. UMCOR-trained local early response teams deployed. A recovery grant was awarded to the Texas Conference to support the repair of homes.
UMCOR will provide further updates as they become available.
For the most up to date information,
follow the UMCOR Facebook page.
2020 Response
Hurricanes Sally and Zeta
---
In response to the storms that hit the U.S. Gulf Coast in September, UMCOR awarded a grant to the Alabama-West Florida Conference to provide emergency needs in evacuee support, relief supplies and materials distribution. To support long-term recovery, UMCOR awarded two substantial grants to help fund repair and reconstruction of damaged households as well as case management. The Mississippi Conference received a recovery grant for assistance in getting homes dry to eliminate extended damage.

Hurricane Laura
---
UMCOR awarded grants to the Louisiana, Texas and Mississippi Conferences to meet immediate needs for the devastation brought on by the August 27 Category 4 storm. The strongest to ever hit the Louisiana coast,
UMCOR-trained early response teams deployed
in the affected areas and cleaning kits, supplies and PPE for volunteers were distributed. UMCOR is supporting case management for long-term recovery.
Midwest U.S. Derecho
---
UMCOR awarded a grant to the Iowa Conference to support relief efforts for the widespread damage caused by the August 10-11 mighty high-wind storm or "derecho." Early response teams deployed to hard-hit areas.

Hurricane Isaias
---
Through the Caribbean and all along the eastern coast of the United States, heavy wind, rain, flooding and tornadoes brought damage in late July-early August.
Puerto Rico was hit hard while still engaged in recovery from Hurricanes Irma and Maria as well as the December 2019/January 2020 hurricane swarm. UMCOR awarded a grant to support the response efforts of the Methodist Church of Puerto Rico (MCPR).
Early response teams were deployed in many states and UMCOR awarded a grant to the North Carolina Conference to support their response to coastal damage and tornado recovery.
Hurricane Hanna
---
Hitting the Texas coast on July 25, Hanna was the first storm of the 2020 hurricane season. UMCOR awarded a grant to undergird the relief efforts of the Rio Texas Conference. The conference deployed early response teams and received cleaning kits. An additional grant was awarded for assisting the recovery of flood-affected households.

Flooding in Michigan
---
UMCOR
awarded a grant to the Michigan Conference
in response to the flooding brought on by heavy rains and dam failures in central Michigan in late May. The grant provided material support for early response teams as they stabilized, secured and cleaned out the homes of many survivors as well as PPE for responding United Methodist churches. A recovery grant enabled
UMCOR-trained case managers to work alongside clients
as they navigate recovery.
Southeastern U.S. storms and tornadoes
---
In response to the deadly storms that swept across many southern states in the spring, UMCOR awarded grants the Tennessee Conference, Mississippi Conference, North Alabama Conference, South Carolina Conference and North Georgia Conference to support initial relief efforts. A
recovery grant was awarded to the Tennessee Conference
for the March 2 tornadoes and hailstorm, supporting the training of a team of more than 20 case managers.
Past Response
Hurricane Dorian (2019)
---
Solidarity grants were awarded to the Florida and North Carolina Conferences to assist with initial response efforts.

Wildfires in California (2017-18)
---
UMCOR supported the California-Pacific and California-Nevada Conferences as they responded to the needs of those affected by the devastating wildfires of 2017 and 2018. Grants were awarded totaling over $1.5 million for response and recovery ministries.

Hurricane Michael (2018)
---
UMCOR solidarity grants were awarded to support initial response efforts in the Alabama-West Florida and Florida Conferences. Additionally, recovery grants were approved in the amounts of $118,271 for the Florida Conference and $617,368 for the Alabama-West Florida Conference to support vital survivor services, including disaster case management, reconstruction and volunteer coordination.

Hurricane Florence (2018)
---
UMCOR awarded grants to the North Carolina and South Carolina Conferences to support response efforts. Recovery grants were approved in the amounts of $825,050 for South Carolina and $1,428,000 for North Carolina to support vital survivor services, including disaster case management, reconstruction and volunteer coordination. In both conferences, recovery programs were launched in January 2019. UMCOR supported with training and consultation.

Hurricane Maria (2017)
---
UMCOR worked closely with the Methodist Church of Puerto Rico to develop of a comprehensive plan for recovery. This included support for disaster case management, direct assistance, volunteer coordination, materials and supplies, and contracted construction services in 25 municipalities throughout the island. UMCOR awarded grants and relief supplies totaling over $20 million.

Hurricane Harvey (2017)
---
UMCOR
awarded partners in Texas
and Louisiana grants totaling over $13.8 million to aid in the recovery of more than 12,000 survivors.
Hurricane Irma (2017)
---
UMCOR awarded $9.1 million to the Florida Conference to support its comprehensive recovery program, aiding the recovery of more than 10,000 survivors.