---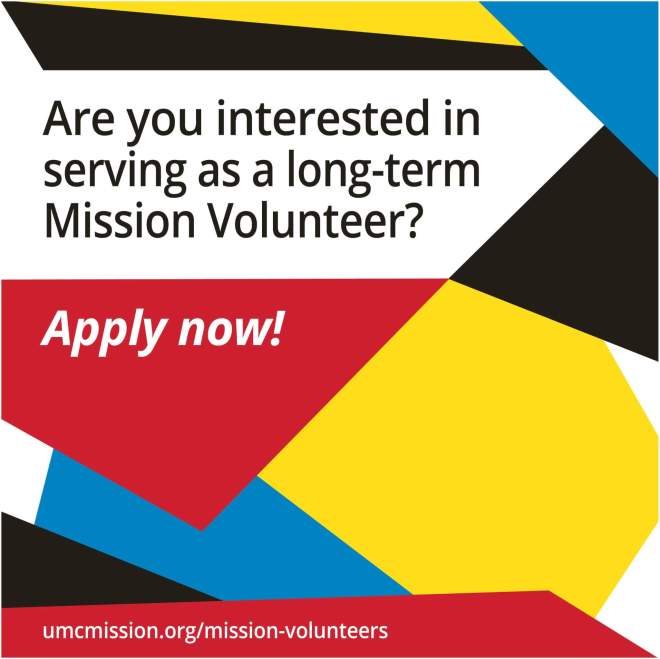 Are you ready to serve? Plan to attend a Mission Volunteers Training Event.
Upcoming Training Events (tentatively planned for In-Person Gatherings)
March 16-19, 2022 St Raphael Retreat Center, Haverford, PA
May 18-21, 2022 Lake Williamson Retreat Center, Carlinville, IL
Nov 30-Dec 3, 2022 Nazareth Retreat Center, Grand Prairie, TX
To learn more about the training event, email mv@umcmission.org.
Interested in being a Mission Volunteer?
---
Mission Volunteers
Mission Volunteers are individuals or couples (ages 18 and up), who fund themselves seeking long-term partnerships with communities around the world. Mission Volunteer opportunities are diverse and range from working with refugees, children and youth, serving as a teacher, pastor, camp director or health care professional. The length of service ranges from two months to more than two years.

Mission Volunteers are people of faith with local and/or international mission experience. Applications are reviewed by committee, and chosen applications attend a virtual interview. Selected volunteers must commit to a three-day training before leaving for their placement site. Application cycle is ongoing, with an average of two to three trainings offered per year. Applications are due two months before trainings commence.

For further details regarding the Mission Volunteer program refer to our video series below, a resource to empower and equip those called to serving in mission as long-term volunteers.
Interested in being a Mission Volunteer?
---
---
Mission Volunteer Opportunities
Explore volunteer opportunities around the world and see our urgent volunteer requests.
Interested in serving as a volunteer site?
---
---
Support Mission Volunteers