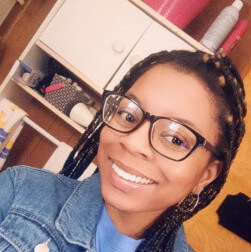 Serving At: Florida Annual Conference - Seminole Heights United Methodist Church of Tampa
Home Country: United States
WAYS TO REACH ME:
This missionary has completed service. The Advance number will remain active until January 2023.
Shiree Alice Fetterly is a US-2 with the United Methodist General Board of Global Ministries, engaged in a two-year term of service. She was commissioned in August 2020. She serves as community organizer. 
The US-2 program takes young adults ages 20-30 out of their home environments and places them in new contexts for mission experience and service. The program has a strong emphasis on faith and justice. US-2s become active parts of their new local communities. They connect the church in mission across cultural and geographical boundaries. They grow in personal and social holiness and become strong young leaders working to build just communities in a peaceful world.
Shiree is from Port Huron, Michigan. She is a member of First United Methodist Church, Port Huron, in the Michigan Annual Conference. She holds an Associate's Degree in General Education from St. Clair County Community College, Port Huron.
"I started attending church from a young age," Shiree said. "I loved being a part of church. When I started youth group, I felt I had a place and friends who really cared about me. I started going to church camp when I was in elementary school and continued in middle school and high school."
That is where Shiree found her faith. "I loved church camp," she recalled, "and I loved being around people who shared the same kind of love for God and church as I did."
When she graduated from high school, Shiree began struggling with her faith. She was unsure about the next steps in her life journey. "I got lost and felt myself drifting farther away from God," she said. An opportunity to become a counselor for middle-school camp helped her turn a corner.
"I enjoyed this experience so much," she said. "It was such an eye-opening time for me. I did not think I would leave this week of camp spiritually filled. I took what I had learned from the week, and it became part of my faith story. My faith story never ends; it's always changing and growing. That faith story has clarified Shiree's call to mission.
At camp, Shiree met another young adult who was applying for Global Mission Fellows. "It was as if God had sent us to this camp to find each other," she said. "We continued to stay in touch after camp, talking on the phone and texting about GMF. It was such a refreshing feeling to know there was someone out there who was struggling with the same doubts and questioning whether or not to apply. We pushed each other to get through the application process.
"I have a burning fire within me that is always wanting to help other people and make a difference," she added. "I believe that is what mission is all about: changing someone's life for the better. Trying to spread love and happiness throughout the world."
As a child, Shiree loved going on mission trips. She loved helping others, growing in her faith with other God-loving people and sharing amazing stories of how God works in her life.
"My call to mission is something I feel deep in my soul," she said, "something that brings me the most happiness. The idea of going out and helping others in the name of the Lord."
Email Me