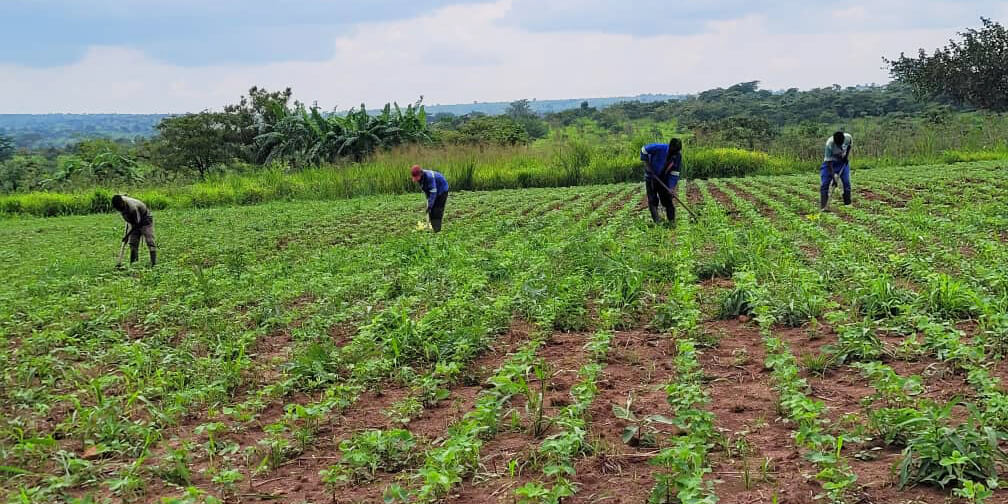 By Phileas Jusu
April 4, 2023 | FREETOWN, SIERRA LEONE
Yambasu Agriculture Initiative (YAI) farmers from 15 annual conferences across Africa, who recently trained in Porto Novo, Benin, are realizing tremendous change and results in their farming skills upon returning home. Several examples of both small and more robust changes enacted by five initiative participants follow. Even small changes yield encouraging results.
Côte d'Ivoire
The General Board of Global Ministries provided funding for a fish farming project for an annual conference in Côte d'Ivoire.
"The first phase of the project for Tilapia Fish Farming Enterprise in Gouagonoupleu in Man Mission District included the creation and implementation of 15 ponds with a capacity of about 3000 fish each," said Simon Nathan Koffi, YAI Cote D'Ivoire project manager. "Songhai training helped us to have a better understanding of the stages of fish production and especially the rational management of fish feed. We were taught natural fish farming skills and how we can improve our productivity by controlling the physio-chemical parameters of the pond water."
Koffi's fish farming tuition is paying off as the fish farm project smoothly gets underway. As he monitors the growth of the fish, everything seems to be working well and he expects a bumper harvest in April.
Democratic Republic of Congo
In Kamina, North Katanga Conference in the DR Congo, the farm supervisor, Alex Ilunga Kibombe, says his team is using the Songhai Center knowledge sparingly.
"After Songhai, we evaluated the activities we were doing compared to the methods being used at Songhai Center. We agreed that Songhai is a model that we would want to use," he explained. Integrating the Songhai model will be done in phases, Kibombe said.
"The Songhai training really pushed us to increase the level of farming that we are implementing right now and to learn some new strategies," he said. "In the animal department, we were amazed at the way the Songhai Center set up their chicken farm and how they produce their feed. We thought this was something that we could do to increase our farm margins by minimizing cost of feed."
Kibombe says there is a shortage of broilers in his episcopal area in the rainy season. Hence the price goes up threefold. "So, we thought this could be the opportunity to take advantage of the demand. We bought egg incubators. We will be using them to hatch the eggs and multiply our production rate," he said.
Based on their training in Songhai, Kibombe's team is assessing how to transition from using chemical fertilizers to organic fertilizers. "We bought organic fertilizers from Zambia. We have started our vegetable production site where we are using the organic fertilizers. We are having success because we finished the nursery in time; now we are transplanting it. The vegetables are growing well," he says. With time, he is hopeful they will be able to produce their own organic fertilizers.
"With funding from Global Ministries, we recently bought a tractor, a plow and harrow, which increased our production. Last year, we did only six hectares (14.8 acres). This year, we tripled that to 18 hectares. And because we started seed production, we have clients who bought our seed. It is inspiring us now to do other varieties. We are marketing the seeds and having more clients and more contracts," he confirmed.
Nigeria
In Northeast Nigeria, Ephraim Ibrahim Jen and team are stocking up locally-produced animal feed in preparation for cattle raising.
"We are making use of the knowledge we got from Songhai especially in rice production. We are doing irrigation like what we saw in Songhai; only that we do not have much organic manure since we do not yet have animals to produce what we need on the farms at the moment," he said. The ongoing elections and the redenomination of the Nigerian currency is affecting the farm work because cash withdrawal from the banks are restricted at this time.
In the Central Nigeria Annual Conference, the YAI team, led by Ezekiel Nyangani, is doing dry season rice production on 10 hectares of land, which Nyangani says is by far better with expected high yields. "The cycle will continue into the rainy season so that rice production, which is the staple food for many Nigerians, will continue all year round. The main challenge though remains the high cost of fuel used for pumping water during irrigation. Fuel cost is now three times more than the cost budgeted in the project," he said. "This undermines the profit margin at the end of the farming year."
Angola
In East Angola, Gilbert João Augusto says his annual conference has the objectives of raising pigs and ensuring food security, which is linked with teaching community farmers new methods of growing and planting maize. "The training in Songhai helped to increase the food production skills of our local communities. Upon our return, we taught them new cultivation techniques and the use of organic matter, which is less expensive and most times free," he said. "Hence, communities are producing and marketing more food and they can now meet more of their family needs."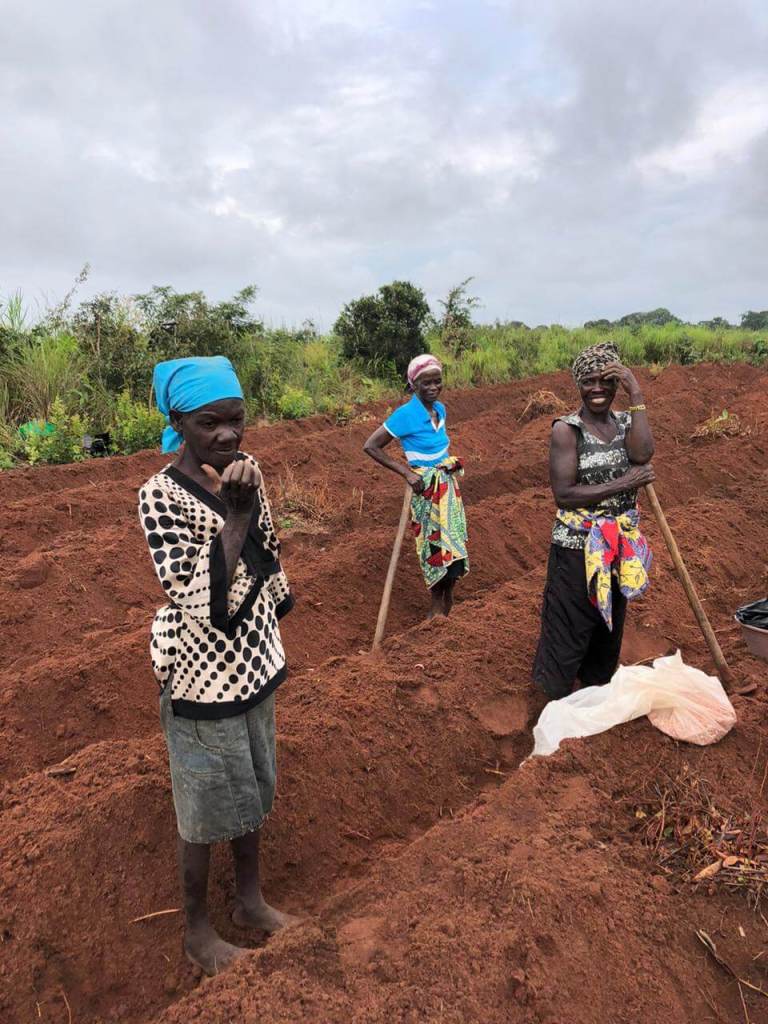 The project sells the maize from the farms as they continue to distribute animals to community farmers for use in their respective farm projects as well as sell the pigs, which will help them gain financial autonomy. "Harvesting maize by hand is taking a lot of time with just a few workers available," Augusto says.
Sierra Leone
"Animal husbandry has been identified as a potential for revenue generation for YAI Sierra Leone. We are increasingly adapting our animal rearing skills to technical skills learned at Songhai," YAI project coordinator in Sierra Leone, the Rev. Solomon Rogers, noted.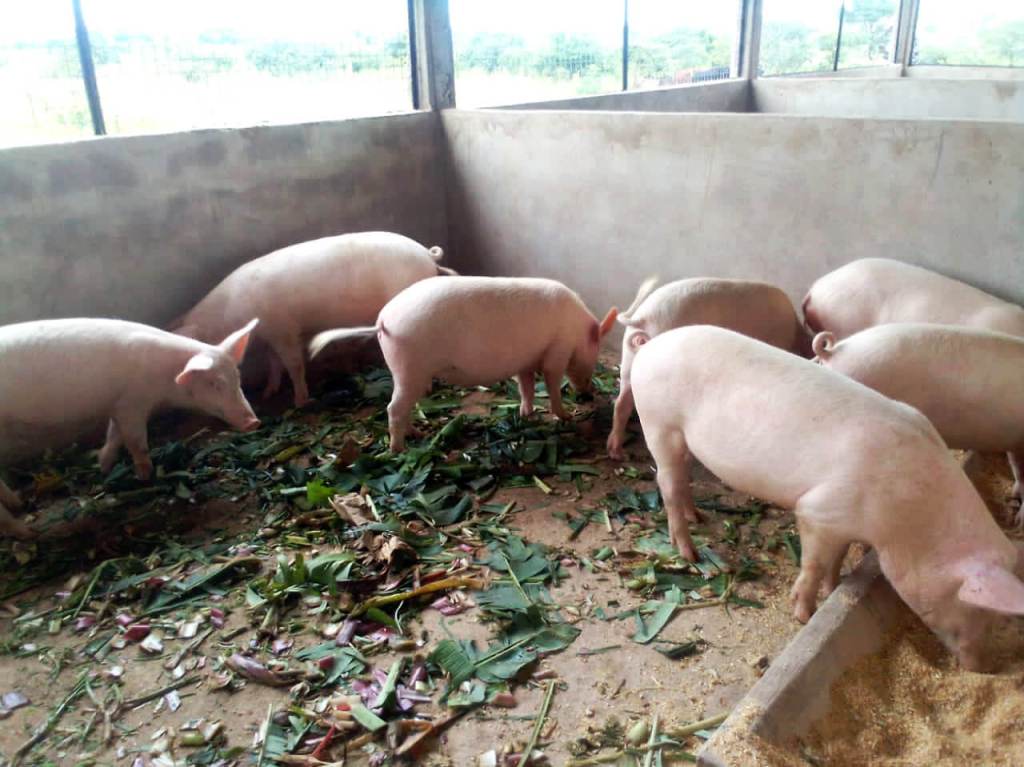 "We learned that fattening pigs without control, for instance, dampens customers' spirit. Adding certain herbs to pigs' feed, as we learned from Songhai, has been successful in producing lean meat, which has increased the demand for our meat from customers," Rogers confirmed.
The workshop offerings and practical experience that farmers and church leaders received through the Songhai training helped each of these YAI participants choose different aspects of agriculture and animal raising techniques to fit their contexts and levels of production; yet all of them have made progress in their current agribusiness practice by incorporating new methods in their farm management. This has encouraged annual conferences to try new techniques to improve their production and invest in their own development, a key goal of the Yambasu Agriculture Initiative.
Phileas Jusu is the director of communications for the Sierra Leone Annual Conference.
The Yambasu Agriculture Initiative
The Yambasu Agriculture Initiative was launched by Global Ministries in 2020, renaming an earlier agriculture program in honor of the legacy of Bishop John K. Yambasu. The program works toward the realization of the vision shared by the late bishop that the African church can be made self-sustaining if its resources, both land and human, are optimized through agriculture. Through the provision of grants and training, YAI mobilizes existing land and human resources within the church; improves community livelihoods and food security long-term; and builds capacity in annual conferences toward long-term financial solvency.
Support food security and agricultural sustainability in Africa.