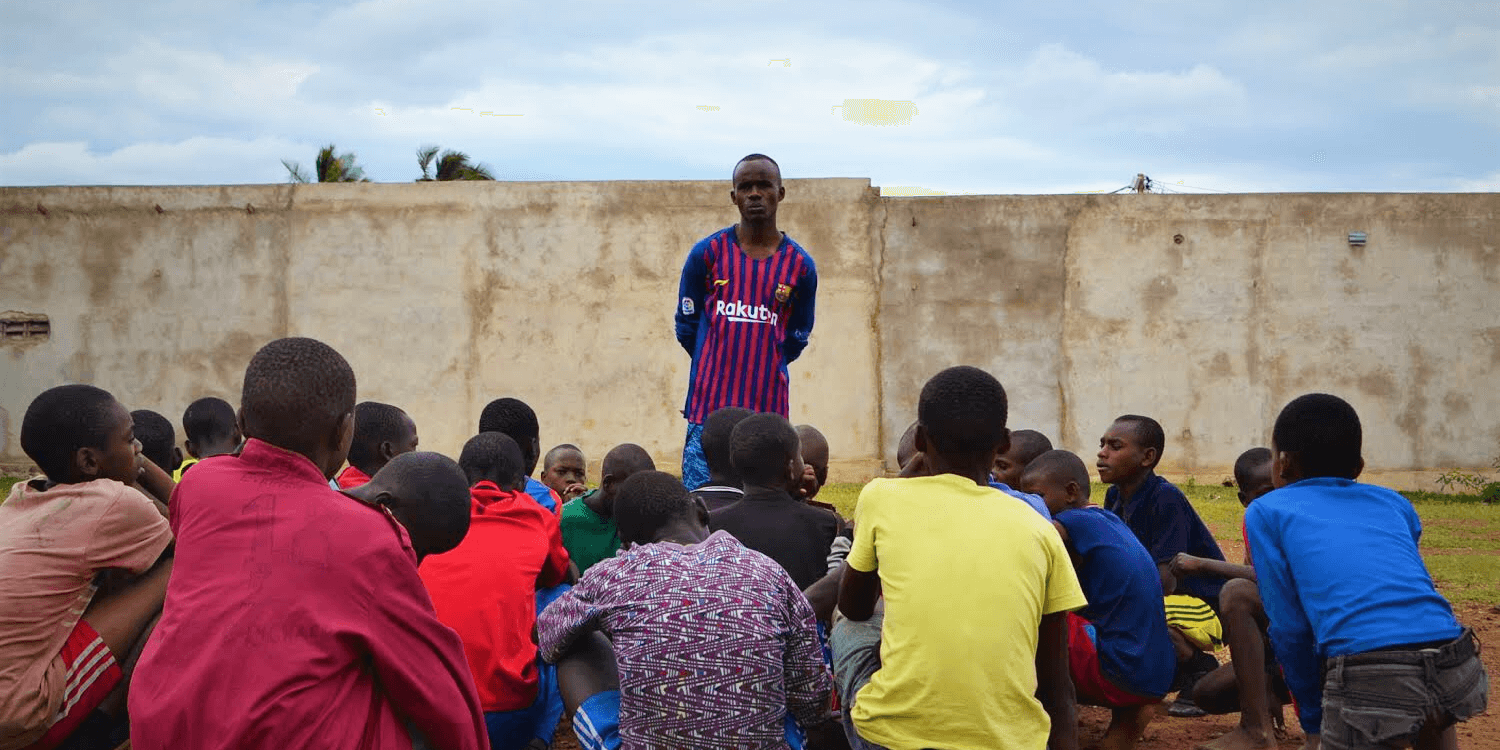 Moses Nyamhanga gives the UMC Our Father's House soccer team a pep talk before a game. PHOTO: COURTESY OF THE WILKE FAMILY
---
Matthew and Jennifer Wilke spent eight months in Tanzania as mission volunteers. They learned much, loved a lot and discovered new ways to trust in God.
By Christie R. House 
February 3, 2021 | ATLANTA
Jennifer King and Matthew Wilke met while on a cultural immersion event in Jamaica when Matthew and Jennifer's sister were students at Wesley Theological Seminary in Washington, D.C. "I guess you could say mission work was part of our relationship from the very beginning," Jennifer explained.
The seminary students traveled to Jamaica to serve with a deaf children's ministry, and since Jennifer was studying to become a sign language interpreter, her sister invited her along.
The couple married in 2018 and decided to spend a year in volunteer mission service. Through a family friend, Matthew connected with Angel House, a United Methodist project in Tarime, Tanzania. His friend advised, "You should spend as much time volunteering there as you can, and you should go through Global Ministries."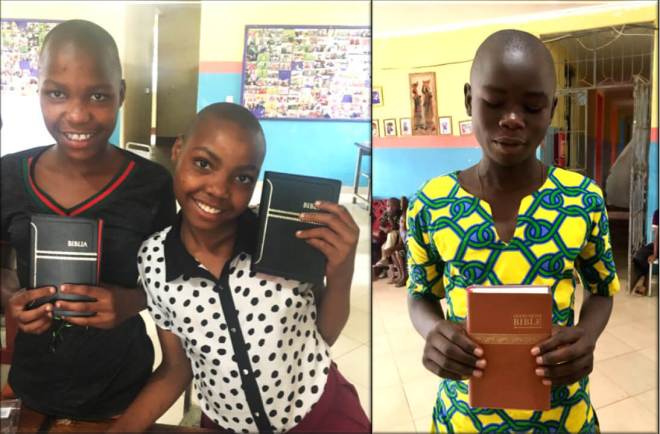 After graduation, the Wilkes worked extra jobs and finally moved into Jennifer's mother's basement to save enough money to fund their year-long trip. After attending Global Ministries' Mission Volunteer training event in Phoenix, Arizona, they set off.
Una Jones, Global Ministries' Mission Volunteers director, described the Wilkes as an amazing couple: "Eight months have stretched them to see life in a new way. They were flexible enough to handle the culture shock and learned much on their journey."
Settling into "our home village"
Angel House, founded in 2005 by Methodist missionaries, has an orphanage, secondary school and kindergarten on the grounds. Matthew's official job description was to serve as a Bible Knowledge teacher. The Tanzanian government provides education through 8th grade, but secondary school is not funded, so many families cannot afford it. Most Angel House kids attend kindergarten on site, primary and middle school in town and secondary school back at Angel House.
Matthew said: "In addition to Bible Knowledge, I also taught topics that they thought might be interesting to hear from me, such as 'Globalization.'" With the help of an interpreter, he occasionally taught in another school and preached in a few of Tarime's seven United Methodist churches.
Jennifer worked on Angel House communications. "I facilitated communication between sponsors and kids," said Jennifer, "and I sent letters and photos back to the U.S." She said the children receive cherished letters back from their sponsors, and some sponsors even make the trip to Tanzania to visit.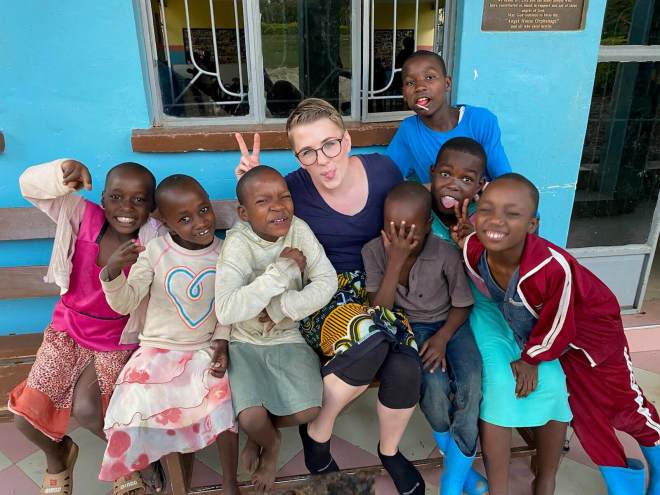 In their free time, they found other mission opportunities that God seemed to offer on a regular basis. They spent time with the kids at the orphanage, just building relationships. Matthew gave guitar lessons, working out the chords to traditional Swahili songs the kids requested.
"One of the things that really stuck with us from the mission volunteers training was, 'mission is a relationship and not only serving a project,'" said Matthew.
God offers opportunity
The Wilkes connected with another Methodist-founded organization in town called Our Father's House, directed by Moses Nyamhanga. His remarkable journey with the UMC began when he entered Angel House at age six, went through the secondary school and on to college. He returned with a degree in education and dedicates his life to this Advance project, which works with kids like him, growing up on the streets of Tarime. The Wilkes created a promotional video for Our Father's House.
Jennifer described Moses as a counselor, social worker, pastor…"and soccer coach," Matthew interjected. Our Father's House team is called "UMC" and plays in a league with private schools.
After a few months, the Wilkes learned enough Swahili to talk with people in town. "We worked really hard on that. And we had so much fun, just talking with people. We weren't good Swahili speakers, but we learned," said Matthew.
"Once in the community, we felt God pulling us to different places as we got to know people," said Jennifer.
While teaching Bible Knowledge, Matthew noted that the class had very few Bibles. "The ones they had were tattered," said Jennifer, "and of different translations," Matthew finished. They prayed about that.
Then one day in town, they met a missionary from the Kenya Bible Society who had boxes of Swahili/English Bibles that he didn't want to take back to Kenya – problem solved. The children at Angel House were delighted.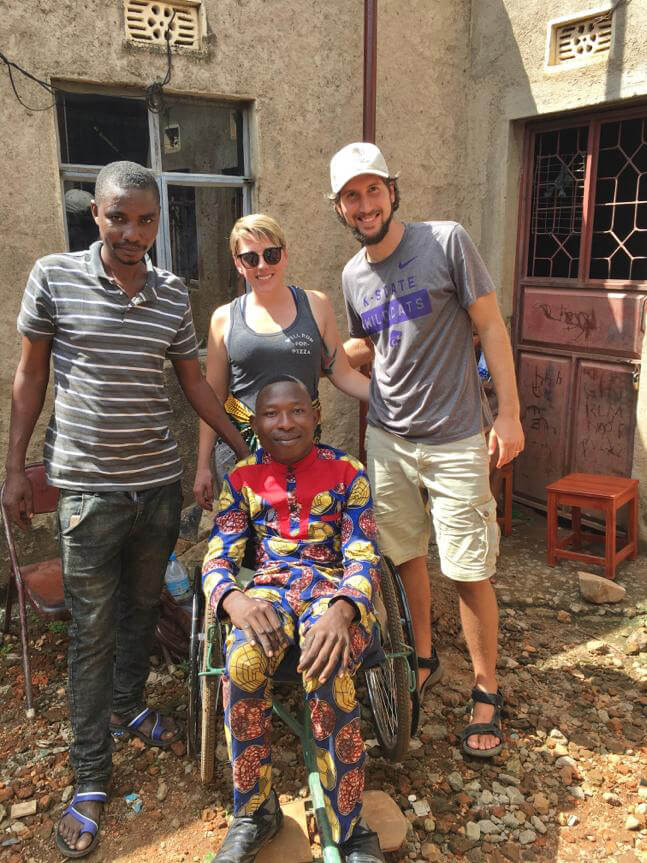 On another foray, Jennifer wanted to visit a public school in town that had initiated a Tanzanian sign language class for deaf children in the community. Talking with the principal, they discovered there were many physically disabled children in the area who could not attend school because there were no wheelchairs appropriate for the terrain.
Another takeaway from the mission volunteers training was that starting a project that local church members can't maintain once you leave is pointless, so Matthew connected with a metal worker at their local UMC. They helped that member find training to build multi-terrain wheelchairs using available bicycle parts.
"Things like that made it so cool and fun to be there," noted Matthew.
The shop completed five wheelchairs before COVID-19 forced the Wilkes to return home in March. The workshop continues to make wheelchairs today.
The Wilkes were visiting the eastern coast of the country on the Indian Ocean for a short vacation when Tanzania and many other African countries went on lock-down. They couldn't even return to Tarime to pack their belongings. They left directly from Dar es Salaam after three days of searching to find one flight out. Every leg of their journey home, flights were cancelled. But they made it. And the day they arrived home, Matthew's district superintendent called about an appointment to a church in Tonganoxie, Kansas.
"It was an incredible experience of trusting God," Matthew noted. But would they recommend the mission volunteers program to other people willing to venture out in mission? You bet, 100%.
To learn more about the Mission Volunteer program, attend a two-hour mission discovery event in March or June. Visit this page for registration. If you have questions or would like more information, email mv@umcmission.org.
Christie R. House is a consultant writer and editor with Global Ministries and UMCOR.