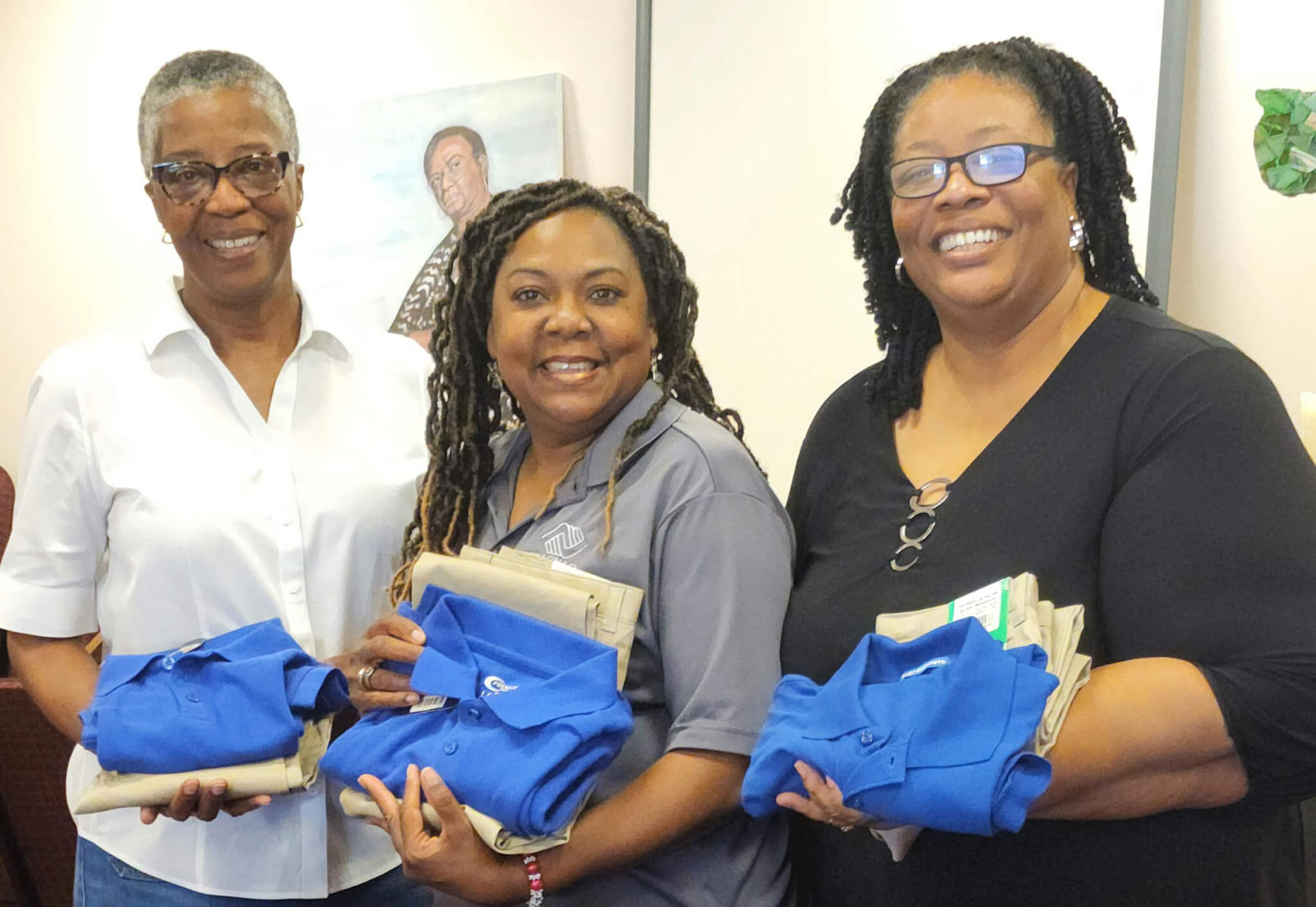 Left to right: Cheryl Thompson, executive director for Gulfside Assembly; Wanda Hilliard, director of Hancock County Boys and Girls Club; and Althea Belton, Community Outreach Coordinator for Gulfside and CCW missionary, prepare a school uniform distribution for Hancock County families. PHOTO: ALVIN BELTON
By Althea Belton
November 1, 2022 | WAVELAND, MISSISSIPPI
By God's grace, I have settled into my new position as Community Outreach Coordinator with Gulfside Assembly of Waveland, Mississippi, and I absolutely love it. I am surrounded by the best of the best who have helped with my transition. Acclimating to a new state, job and culture can be emotional and challenging. Getting started in this position, I wondered where to begin. There was so much to do and only two of us to get it done. The needs of the community are great, and our resources seemed limited. However, I prayed and trusted God to make plain the vision. In a way that only God can do, God has not only given the vision but has amazed me with his provision.
We are working with a diverse group of nonprofits, grassroots and religious organizations comprised of different generations and cultures. These organizations have embraced Gulfside's mission, vision and purpose for their communities, primarily to advocate and provide opportunities for underserved, excluded and discriminated-against people. We discovered these groups offer many gifts and talents but also have challenges and old conflicts. We learned that the challenges and conflicts served as lessons and preparation for greater outcomes.
As a representative of Gulfside Assembly and Global Ministries, I had to think about the dynamics of this group and quickly realized that we had to teach and model the behaviors we expected. It is important that our behavior exhibits Christian conferencing.
In doing so, we had to remember that our individual and collective focus is on the mission. As old conflicts were aired and dealt with, relationships in the group moved to a different level; the healing process began. I have grown so much from this experience of forming purposeful, impactful partnerships and collaborations to bring hope and healing to the Hancock County community.
An example of a ministry we are currently working on is family-centered support. Our faith-based group began an educational series offered by United Methodist Discipleship Ministries entitled "It Takes a Church to Raise a Parent." Gulfside Assembly has a rich history and an enduring legacy. As such, the community has embraced our continued ministry and mission initiatives. My biggest lesson came from not only realizing that I was enjoying the fruit from the seeds that were planted through the years but also the importance of modeling the change we want to see in our society.
As I fellowship with local churches, Valena C. Jones United Methodist Church and Church of the Living God Resurrection, members often ask if Gulfside Assembly needs any help. What a mighty and amazing God we serve! Although we started as a small workforce, God has provided willing vessels to advance our shared mission and ministry. I am energized by this renewed movement of community unity focusing on families. I am also reminded of God's promises. The magnitude of what God has done, and is doing, blows my mind. 1 Corinthians 2:9 gives the best summation, "What no eye has seen, what no ear has heard, and what no human mind has conceived – the things God has prepared for those who love him." (NIV)
Originally from South Carolina, Althea Belton was commissioned as a Church and Community Worker in 2021 and serves as the Community Outreach Coordinator for Gulfside Assembly, a historic African-American mission center founded in 1924. Though its facilities were destroyed by Hurricane Katrina in 2005, Gulfside, with the support of the Mississippi Annual Conference and the Southeast Jurisdiction, has continued its mission to serve the community of Hancock County.
Global Ministries Church and Community Workers
Church and Community Workers (CCWs) are commissioned missionaries of Global Ministries who serve within disenfranchised communities in the United States. The program was founded in 1885 by women of the Methodist Episcopal Church. CCWs take the church into the community and bring the community into the church, equipping churches and communities to work together to address deep-rooted issues that cause human suffering.
Support the ministries of missionaries working in the United States.