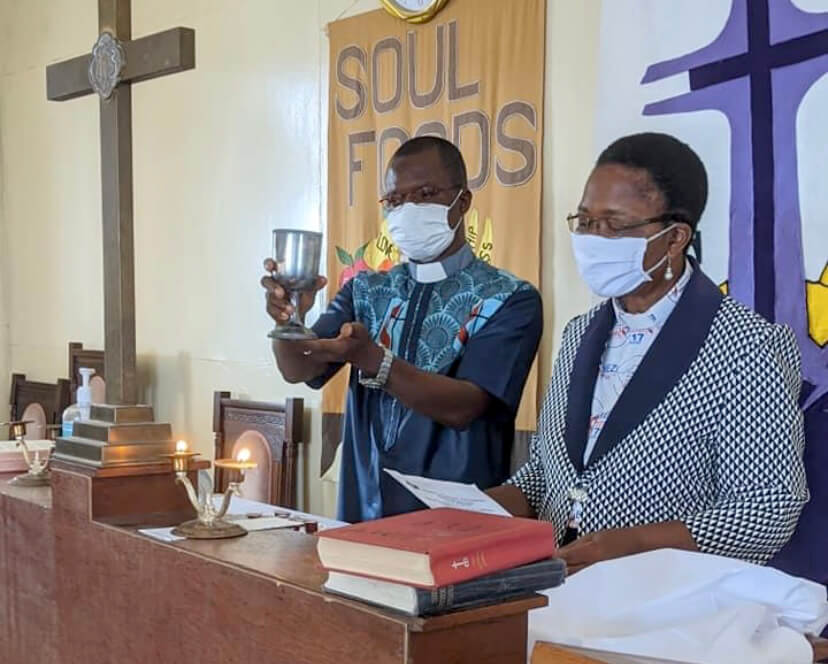 The Rev. Natallia Manyeza officiates communion in her classroom. PHOTO: COURTESY OF NATALLIA MANYEZA
By Natallia Manyeza
November 2, 2022 | FREETOWN, SIERRA LEONE
One of the greatest necessities and challenges for Christians is to genuinely love those whom we serve, especially those whom we do not know. Such Christlike love makes our service much more effective and enables us to faithfully serve even when we are serving far away from familiar places.
About a year ago, as chaplain of the United Methodist University, I did my usual weekly routine of conducting a midday communion service. I forgot to take with me the leftover wafers as usual. When I went back for them a few minutes later, they had disappeared. I inquired about what had happened to them, but all the students were silent – the kind of silence with guilt in it. I expressed my disappointment with them and left.
The Student Representative followed me to my office with an apology. In humbleness he said: "On behalf of the whole class, we are sorry for eating the wafers. We ate them because we were hungry. We do not have enough food and normally we have our one and only meal in the late afternoon daily."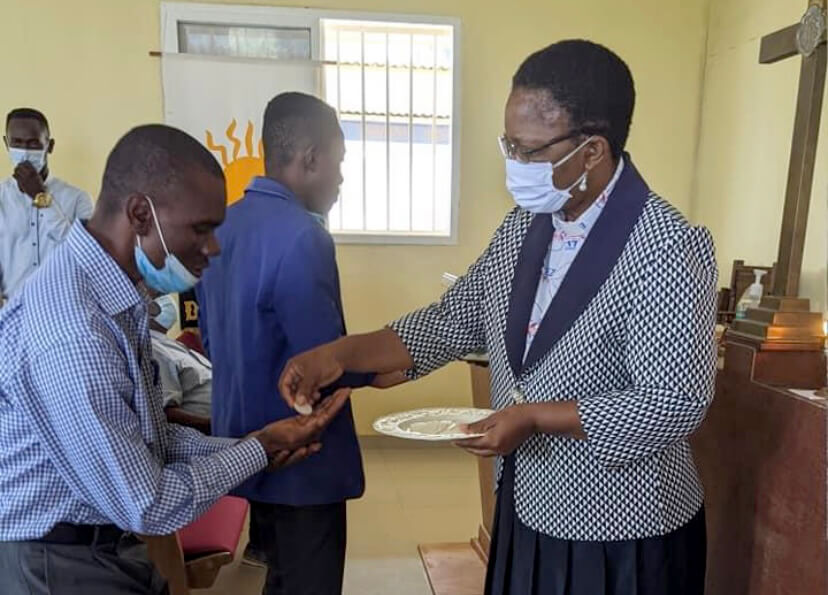 I stared at him in shock and in disbelief. Having wafers to satisfy hunger? It was unimaginable. Tears gathered in my eyes, and I quickly accepted the apology and dismissed him. I closed my door and cried as I reflected on the seriousness of their situation. On further investigation, I learned that they do scramble for the left-over communion elements at the end of most chapel services.
I shared the story with my husband and a few trusted friends. We pulled resources together and helped the students by providing for at least one decent meal daily in the evenings and a smaller meal in the mornings. Their health needs were also addressed.
Some of the students from that class have graduated and left, some are still here, and new students have started classes recently. From that time onward, I have made sure my students and I form a family together. Doing God's work requires us to demonstrate love in the way Jesus did and taught. It does not matter whether you have known the person before or not. Jesus said we should love and help our neighbors as in the story of the Good Samaritan (Luke 10:25-37). Demonstration of Jesus' type of love helps us to build lasting relationships.
Those loved can also extend their love to others and it goes on like that, spreading the love of God.
The Rev. Natallia Manyeza is a missionary serving as a lecturer at United Methodist University in Freetown, Sierra Leone. Her husband, Dr. Tendai Manyeza, is a missionary doctor with The United Methodist Hospital in Freetown.
Global Missionaries
Global Ministries missionaries are a tangible connection between The United Methodist Church and mission. Through denominational or ecumenical ministries, missionaries bear witness to God's presence all around the world. They are called by God and sent out to serve by the church, usually placed in a new cultural context beyond their country of origin. Missionaries engage in ministry that is defined by mutuality and partnership, seeking to expand the mission of God already present and active in people and places.
Support the ministries of missionaries working around the world.