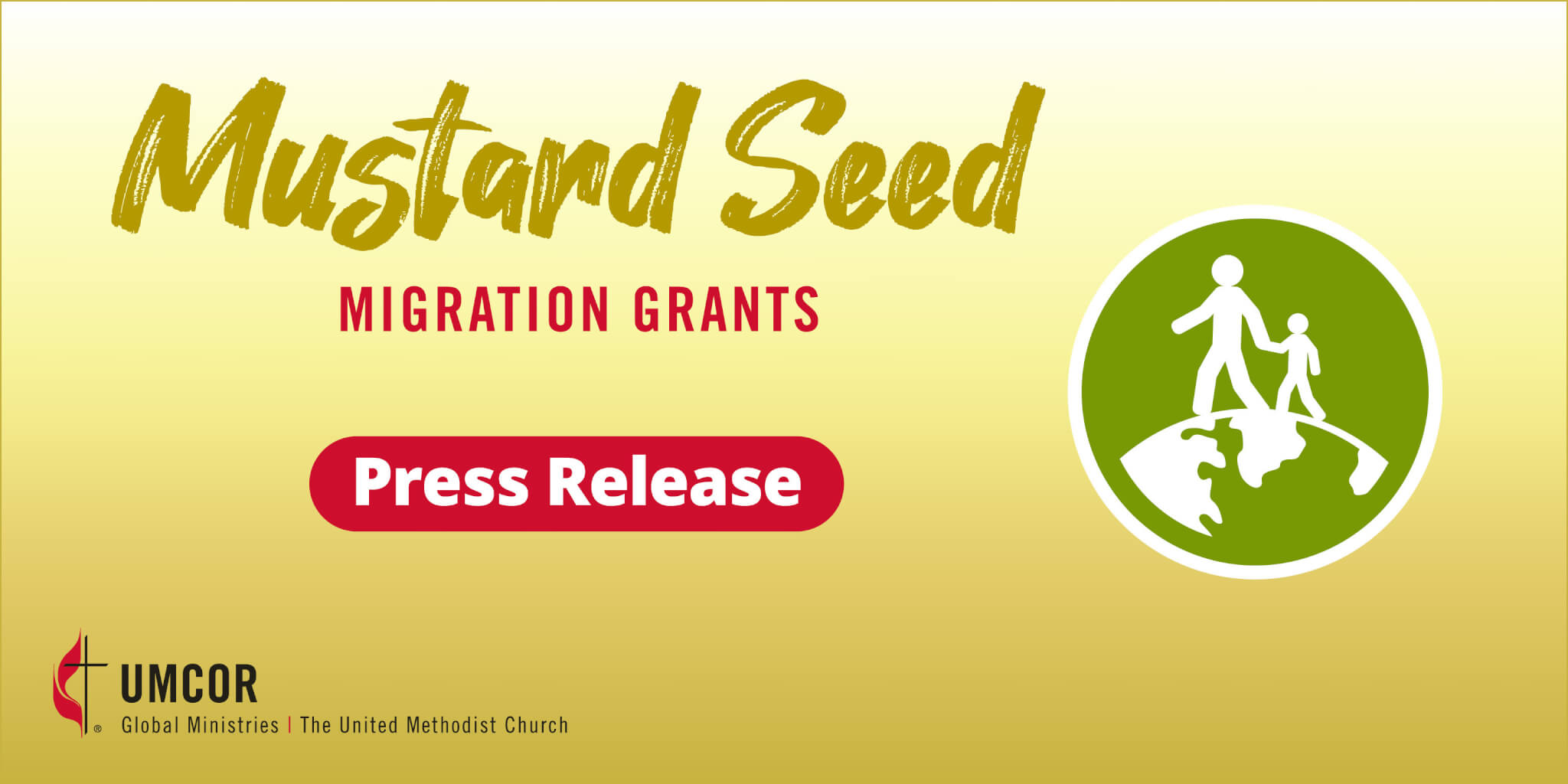 Atlanta, Ga. (March 14, 2023) – More United Methodist churches will have the opportunity to help immigrants, migrants and refugees living in their local communities thanks to an expanded Mustard Seed Migration Grants program from the United Methodist Committee on Relief (UMCOR). For 2023, the number of grants awarded will be increased from 50 to 100. Applications will be reviewed on a rolling basis until October 1, 2023, and grant monies will be awarded within four weeks of grant application approval. The grants program, now in its third year, continues the agency's 80-year tradition of helping refugees, immigrants and migrants seeking to build new lives.
The Mustard Seed Migration Grants, inspired by the well-known parable about growth, provide United Methodist congregations with up to $2,000 to support one-time, community-based service projects. Churches receiving the grants will be able to assist refugees, asylum seekers, undocumented persons and migrants of all types in their own cities and towns.
"As Jesus shares in his parable, small mustard seeds have the potential to grow into something pervasive that spreads throughout a field," said Roland Fernandes, general secretary of United Methodist Global Ministries and UMCOR. "Since the start of the grants program, we have seen United Methodist churches learn more about immigrants, migrants and refugees in their local communities and address their needs through these Mustard Seed Migration Grants, the 'seed' of welcoming strangers has been planted in new and unique ways in congregations around the country."
"Mustard Seed Migration Grants provide an opportunity for local churches to learn more about and have a greater impact on ministry with refugees, immigrants and migrants," said the Rev. Jack Amick, director of Global Migration for UMCOR. "UMCOR, and those who contribute to it every year, are excited to support these churches caring for the most vulnerable in their midst."
Examples of recent work of United Methodist churches supported by Mustard Seed Migration Grants include:
In California, Echo Park United Methodist Church in Los Angeles supported its new Immigrant Youth Entrepreneurial Empowerment Program, a youth mentoring program designed to help them learn how to become successful small business owners.
In Florida, Gray Memorial United Methodist Church in Tallahassee used a grant to support Love on Wheels, their ministry to provide Afghan refugee families with bicycles they can use to be independent, find employment and go shopping.
In Michigan, members of First United Methodist Church of Birmingham used a grant to build on their tradition of purchasing home furnishings for Afghans in need. To date, they have furnished 26 homes housing 102 refugees.
In Pennsylvania, members of Haws Avenue United Methodist Church in Norristown used a grant to fund their Grace & Mercy for All program, supplying Latino immigrants with baby supplies for newborns and with rent assistance.
In Texas, members of McKinney Memorial United Methodist Church in Houston purchased school supplies and food vouchers for 60 immigrant and refugee families.
In Vermont, members of First United Methodist Church of Brattleboro used their grant to purchase carpets for the homes of Afghan refugees in their community. The church decided to buy the carpets after getting to know the refugees and learning how important fabric floor coverings were to them.
For samples of eligible Mustard Seed Migration Grants projects and to apply online, visit HERE. For a list of past recipients, please visit HERE.
##
About the United Methodist Committee on Relief (UMCOR)
Founded in 1940, the United Methodist Committee on Relief (UMCOR) is the global humanitarian relief and development agency of The United Methodist Church. A part of United Methodist Global Ministries, UMCOR works in more than 80 countries worldwide, including the United States and its territories. The agency's mission, grounded in the teachings of Jesus, is to alleviate human suffering with open hearts and minds to all people. Working in the areas of disaster response and recovery and migration, UMCOR responds to natural or civil disasters that are interruptions of such magnitude that they overwhelm a community's ability to recover on its own. Learn more about Global Ministries by visiting https://umcmission.org/or by following www.facebook.com/GlobalMinistries and Twitter.com/UMCmission.
Dan Curran for Global Ministries/UMCOR
770-658-9586
media@umcmission.org