---
Relief supply kits help provide care for the most vulnerable during times of crisis. UMCOR collects school kits, cleaning buckets and hygiene kits assembled by United Methodist volunteer for distribution after disasters in the United States and its territories. UMCOR Sager Brown is located in Baldwin, Louisiana and works with a network of depots across the United States.
When kits are donated to our relief-supply depot or an affiliate warehouse, volunteers assemble, verify, and pack the kits. They are then stored until we receive a request. Once a request is processed, the kits are shipped to those who need them.
For more information, please contact the affiliate warehouse directly.
Due to the COVID-19 pandemic, UMCOR Sager Brown is not hosting short-term mission trips until further notice.
---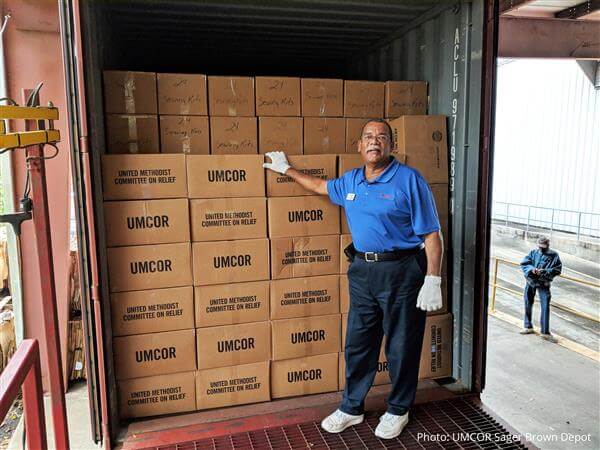 Kit Assembly
You can help keep our relief supply kit inventory ready to go to people in need by sending completed kits or giving towards the purchase of needed supplies.
Get more information on how to assemble and ship each UMCOR Relief Supply Kit.
Donations can be shipped to: UMCOR Sager Brown, 131 Sager Brown Rd., Baldwin, LA 70514.
Download donation packing list
---
Material Resources in the United States
UMCOR works in partnership with local United Methodist churches, ACT Alliance, ecumenical and interfaith partners to respond to disasters. As part of a comprehensive disaster response strategy, UMCOR encourages these partners to purchase local materials for cleaning, school and hygiene kits that are appropriate to the context and support the local economy.
Give towards the purchase of needed supplies.
---