Material Resources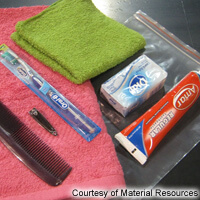 Project Information
Enhancing the purchase of emergency response and disaster relief supplies
Describe the need affecting community
UMCOR relief supply kits make a big difference to families facing emergency situations. Each kit is targeted towards a specific response. From School bags and Hygiene Kits to Cleaning Buckets, the contents provide to children and adults alike.
How will this Advance project help to address the need?
To procure and distribute relief-supply kits to help provide care for the most vulnerable people during times of crisis. UMCOR collects 3 types of kits for distribution within the United States. Kits help sustain everyday life for people who lack ready access to essential supplies. They provide vital support for UMCOR's development work and make a tangible difference in people's lives.
Describe the primary goal of the project
UMCOR responds with relief kits donations by Annual Conferences and churches to community partners as kits are available. Partners will provide detailed reports showing the impact that relief kit provide for the beneficiaries on a yearly basis.
Contact Information
Global Ministries Contact
Amy B. Fuselier
3379236238