Providing basic necessities to those who are most vulnerable during times of crisis. Hygiene Kits are distributed during disasters, whether socio-economic or as the result of a natural occurrence.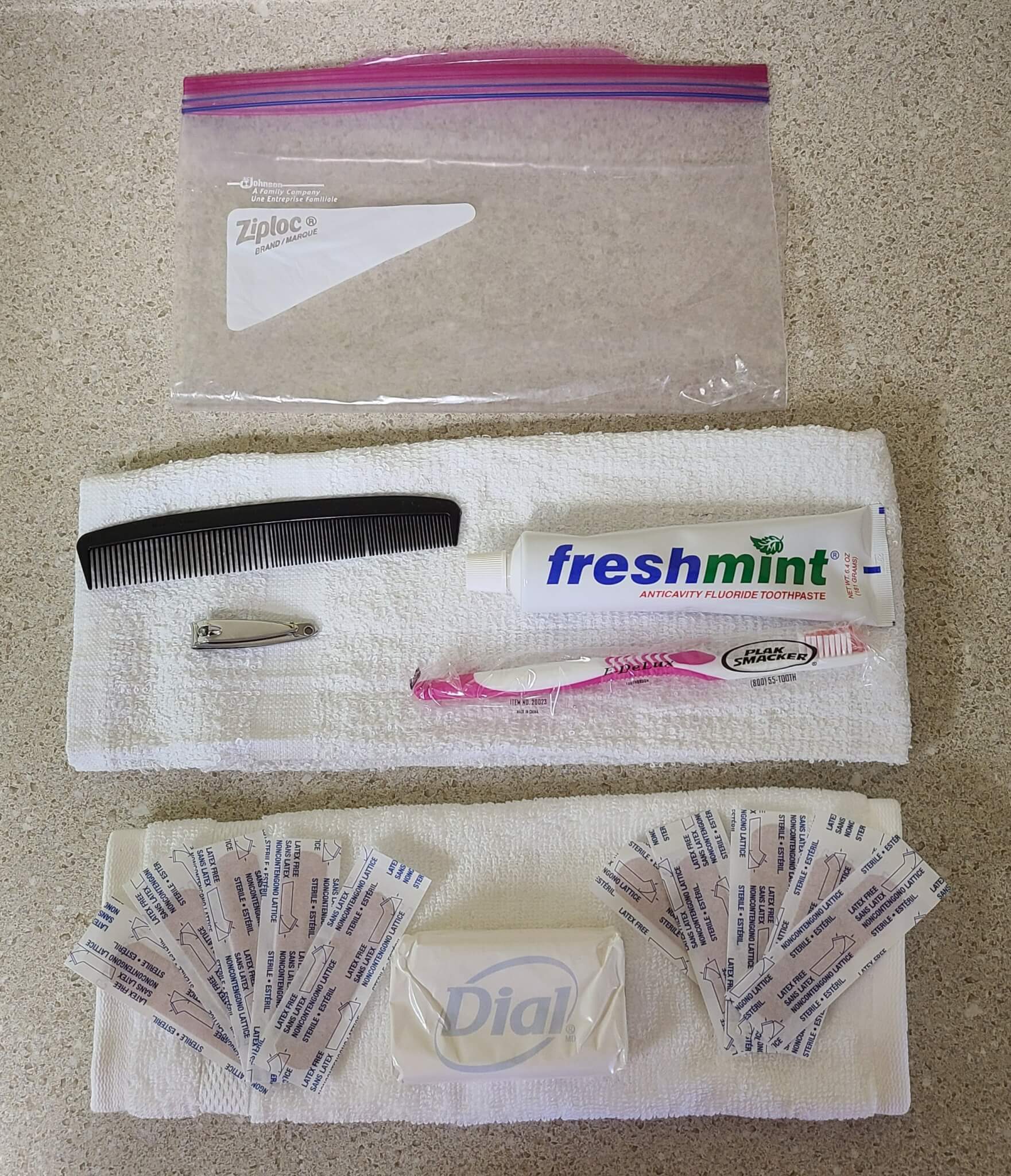 View and download/print the UMCOR Hygiene Kit Instructions
UMCOR Hygiene Kit Assembly & Shipping Instructions (Kit approximate cost: $12 per kit)
One hand towel (15 x 25 –17 x 27 inches)
No kitchen, cleaning, or microfiber towels
One washcloth
No kitchen, cleaning, or microfiber towels
One comb
Must be sturdy with at least 4-7 inches of teeth
No pocket combs or picks
Rattail and combs without handles are acceptable but must have at least 4-7 inches of teeth
One toenail or fingernail clipper
No emery boards or metal nail files
Bath-size soap (3 oz. bar or larger)
No Ivory or Jergen's soap
Do not remove from packaging
One adult toothbrush
Do not remove from packaging
Personal advertising not acceptable
10 adhesive bandages (¾ by 3 inches)
Common household bandages acceptable
One one-gallon size re-sealable bag
*Do not add toothpaste when assembling kits
Lay hand towel flat on a table.
Lay the washcloth in the center of the hand towel.
Place all remaining items on top of the washcloth (except the plastic bag).
Fold the sides of the hand towel to cover the items.
Grasp the bundle tightly and roll over the remainder of the towel.
Place the tightly rolled bundle in the plastic bag, remove air, and seal.
All items must be new.
Do not wash any of the items as they will no longer be considered new.
Do not include any personal notes, money or additional materials in the kits.
Contents of kits or the containers of kits should not be imprinted with cartoon characters, advertisements, religious, patriotic, military or camouflage symbols.
Packing & Shipping Instructions
Please send a single check to the Sager Brown Depot or the affiliate warehouse that will receive your donation of hygiene kits. The check amount should cover the total number of kits times $2.00 for the cost of toothpaste and shipping. On the memo line, please indicate that the funds are an additional donation to cover costs associated with relief supply kits.