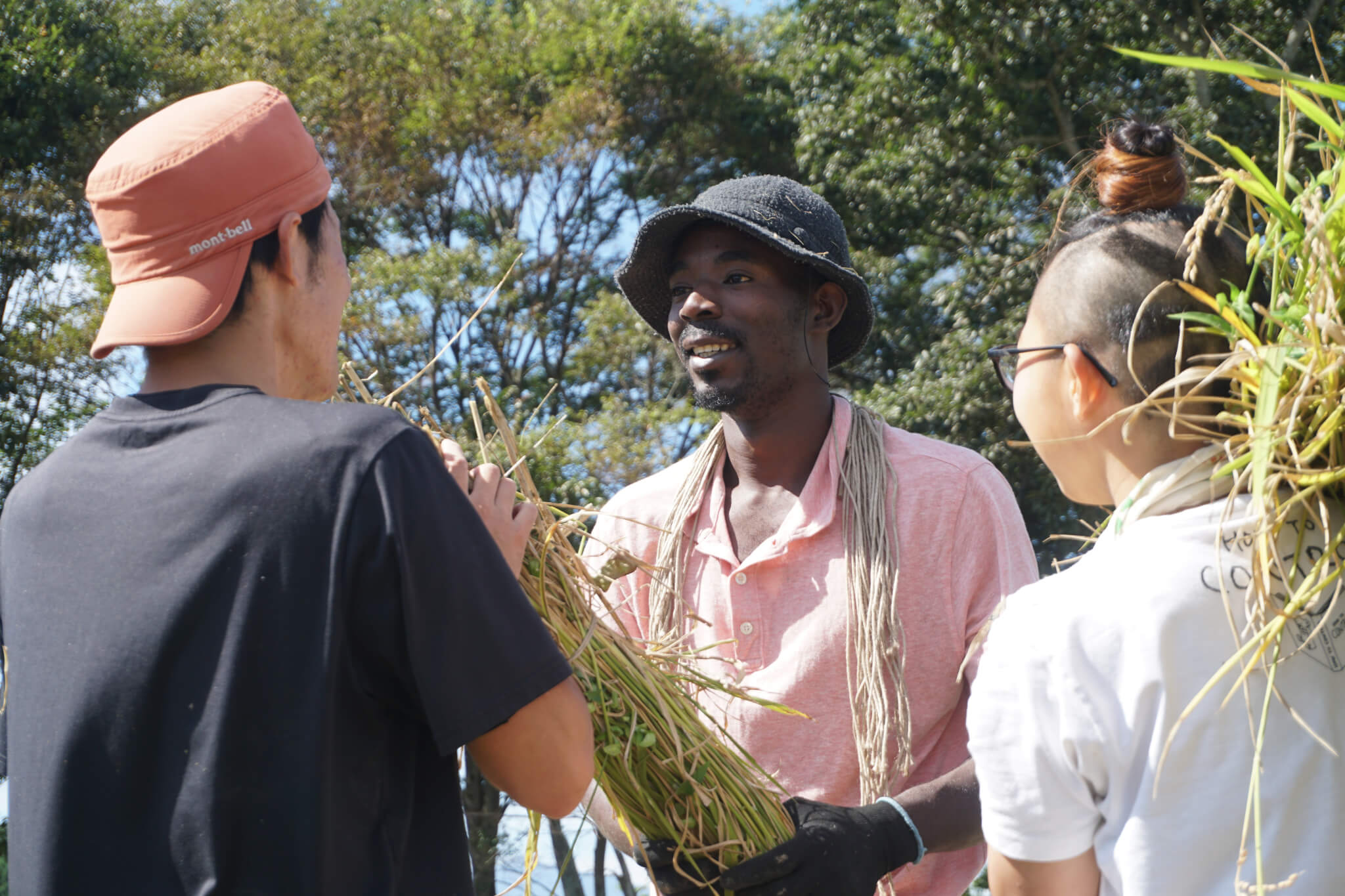 Suttah and fellow ARI participants manage fields and crops on the 15-acre campus. PHOTO: COURTESY OF KATHY FROEDE
---
By Barbara Dunlap-Berg
April 21, 2021 | ATLANTA
In 2020, Joshua Nii Ofori Suttah traveled 8,500 miles from his home in Ghana to attend the Rural Leader Training Program at the Asian Rural Institute in Japan. For this young man, every mile was worth it.
"Through this long journey," he said, "I acquired a lot of new skills and ideas to transform my community."
Suttah hails from Adenkrebi, population 400, near Accra, Ghana, in West Africa. He works with the Presbyterian Church of Ghana and worships with the Adenkrebi Gligal congregation. Thanks to a scholarship from Global Ministries, he had an opportunity to embark on nine months of intensive training at ARI.
Ninety-eight percent of the people in Suttah's village, located in the mountains of eastern Ghana, are farmers. They "leave home in the morning to [labor in] their farms and come back in the evening to take care of their children and livestock," he said.
The staple food is corn and cassava. Suttah cultivates vegetables and raises sheep and chickens. His knowledge as an electrician also helps to support his family.
"The positive achievement I get from farming," he said, "is that most of the foodstuffs used at my house is from my farm without buying from outside."
Because much of the land near the community was sold to outsiders, many local farmers rent land from caretakers who work for landowners. Compounding the problem is the expense of transporting products from the community to sell at market.
Still, the villagers are determined.
"The members in the community support each other," Suttah said, "by rotating from one farm to another to help each other and show love among themselves."
Encouraging youth with better farming methods
Suttah uses his love for football to attract community youth. They've grown to respect him as a mentor. He encourages youth to stay in the community rather than moving to the city in search of nonexistent jobs.
"The youth-in-livestock project," he explained, "was introduced by the United Methodist Committee on Relief and later handed over to my sending body [Presbyterian Church] to take care of for sustainability.
"I am the leading organizer of the youth in my community in running this livestock program," Suttah said. The young people raise sheep and goats. The project also supplements family incomes.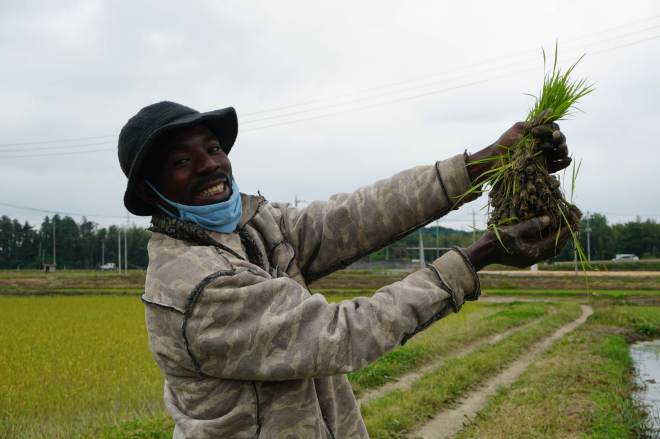 Suttah's reach is intergenerational. He networks with experts who help lead quarterly seminars for farmers. Topics range from climate change to diseases affecting crops and livestock. "I sometimes serve as an interpreter, providing oral interpretation to the facilitators of the program by translating from English to the native language of the farmers," he said. By blending lessons in organic crop farming, animal husbandry and leadership growth, people gain self-sufficiency.
In 2015, Suttah was selected to participate in a weeklong seminar where he was introduced to the moringa tree, called a "miracle tree" because of its health benefits; soybean production and utilization; and beekeeping. It was here that Suttah decided to enrich his knowledge at Asian Rural Institute.
Perspective gained from half a world away
At ARI, combining classroom sessions with field experiences encourages participants to practice servant leadership in many settings, whether listening to lectures, raising livestock, planting vegetables, practicing cooking skills in the kitchen or gathering for a meal in the dining hall.
"Before coming to ARI," Suttah said, "I was relying on others to change our community. Through this program, I realized that I can start with what I have to make an impact on my community. I now believe that anyone can lead if given some opportunity, training and support.
"I have not only learned about servant leadership and sustainable agriculture," he added. "I also had lots of opportunities to learn other things like food processing and soap making, which will also transform the youth of my community and their lives in general."
Indeed, leadership development is key to ARI's ministry.
"My way of thinking about leadership totally changed," Suttah said. "Leading the people is not important, but working with the people is the way to be a good servant leader because I can understand their feelings and thoughts and gain their trust. Supporting each other and finding the strength of each person are important for transforming my community."
Suttah's experience has opened windows to his future. "I have chosen to do this kind of work," he said, "because the development of my community is on my heart. I feel happy to assist my community with my skills and knowledge acquired."
He offered an example. "Organic farming without using pesticides and chemicals on our land is completely new to me," Suttah said, "but of such great relevance to my community as chemicals are used rather indiscriminately with its consequent effect on the environment. Rearing of livestock organically is also completely new to me."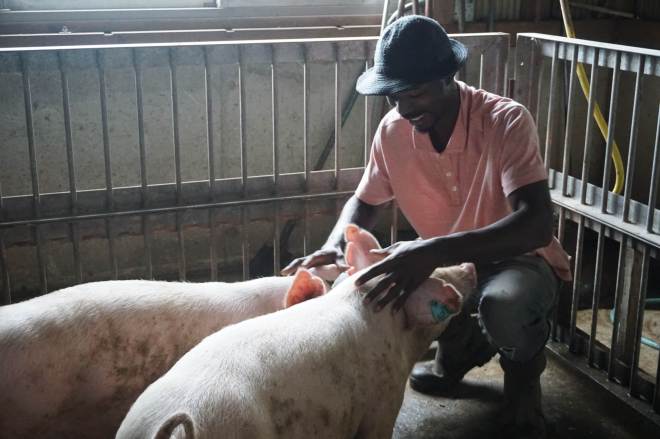 Because veterinary services in the community are sporadic and scarce, he would like to become an Animal Health Agent – and maybe even a veterinarian – to help people assess and improve livestock health.
"Now I know how I want the future to look," Suttah said. "I am grateful for this because having a vision without a proper structure will render that vision difficult to accomplish.
"My dream is to empower community-based leaders to promote rural life and organic agriculture through churches. My ultimate goal is to work with rural people to transform rural communities and to teach sustainable agriculture and sustainable living."
Tomoko Arakawa, the institute's director, agrees.
"Through Joshua, the skills and experience gained at ARI will be passed on to his people," Arakawa said. "Training of one local rural leader benefits a whole community."
Global Ministries supports the work of scholars in Africa, Asia, Europe, Latin America and North America. Suttah is one of 122 men and women who are currently learning and growing in the areas of leadership and congregational development, global health and ministry with the poor.
Barbara Dunlap-Berg is a freelance writer and editor for Global Ministries.