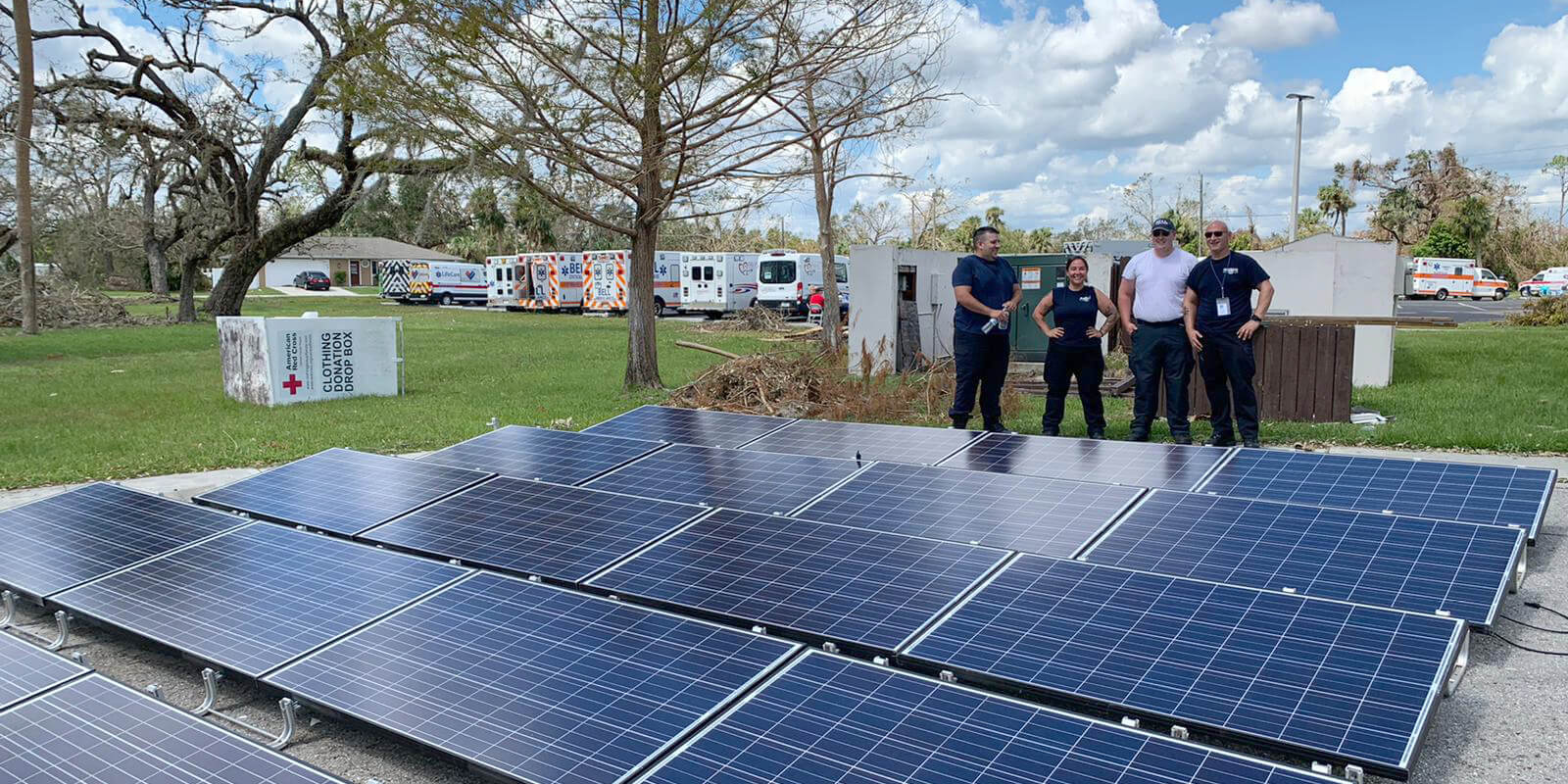 In the early days following Hurricane Ian, Charlotte County Emergency Management used this temporary microgrid at Port Charlotte UMC in Port Charlotte, Florida, to support ambulance triage. The equipment was delivered to the church with help from the Florida Conference, UMCOR and the Footprint Project. PHOTO: COURTESY OF FOOTPRINT PROJECT
By Jenny Phillips
October 12, 2022 | ATLANTA
Floridians are experiencing God's light in a new way now that United Methodist disaster response volunteers from around the Southeast have shipped, built and deployed solar energy systems in the days following Hurricane Ian. Working in partnership with the United Methodist Committee on Relief (UMCOR), the Florida Annual Conference and Footprint Project, the volunteers learned solar energy basics and benefits as they responded to damage from the storm.
Thanks to UMCOR grants to the Florida and North Carolina conferences, UMCOR, Footprint Project and volunteers from each conference were already planning to meet in Florida in early October for a two-day Build Power workshop to learn to build, operate and maintain their own solar generators. The training is a program of Footprint Project, a Minnesota nonprofit whose mission is to help communities #BuildBackGreener after disasters.
After Ian hit Florida, Trish Warren, Florida Conference Disaster Response Coordinator (CDRC), requested help getting power and supplies to places that needed it right away. North Georgia Conference volunteers shipped truckloads of flood buckets, tarps, plywood and cleaning supplies, as well as solar panels donated by Cherry Street Energy in Atlanta, Georgia. Footprint Project and UMCOR worked with Warren to deliver solar microgrids on loan from Tesla to places without energy. North Carolina volunteers, led by NC director of Disaster Ministries, Al Miller, met up with Footprint operations manager, Will Heegaard, ahead of the workshop to set up microgrids in the hard-hit Fort Meyers area. This is truly the United Methodist – UMCOR connection working at its best.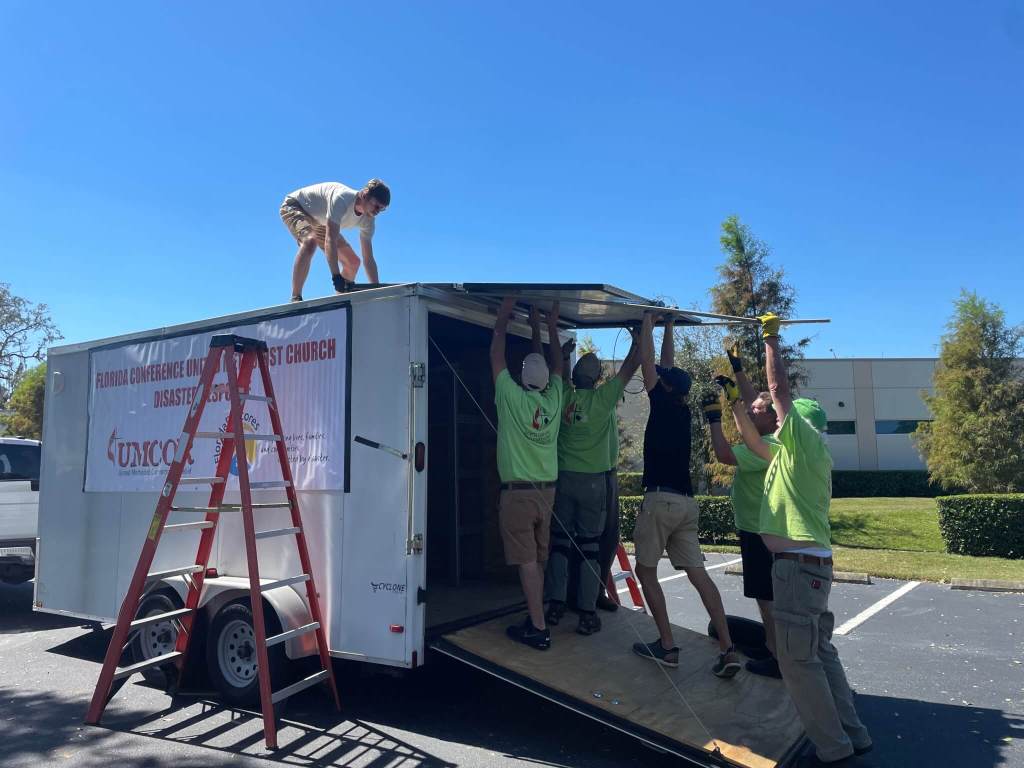 One of the places to receive two 5kW microgrids was Port Charlotte UMC in Port Charlotte, Florida, where key community sites were without power. One system was used by local EMTs to support triage, while the other provided the reopening of a preschool for children and much-needed cell phone and computer charging for their parents. Another site was a Veterans of Foreign Wars (VFW) in Punta Gorda, where the system heated water for a volunteer shower trailer. At the end of one workday, Heegaard arrived at a short-term rental house without power where he and volunteers from the South Georgia Conference were staying. He quickly set up a small solar generator, so the volunteers could have light, charging and cooling for the night.
By the time the workshop started, many of the participants had already gotten some practice with solar in the field. Participants included volunteers from North Carolina and a volunteer from Florida. They were joined by Lara Martin, UMCOR director of U.S. Disaster Response, and the Rev. Jenny Phillips, Global Ministries' senior technical advisor for Environmental Sustainability. At the training, they learned the basics of energy management and important safety information for handling solar energy systems. Then they got to work assembling and installing systems with help from Footprint Project staff and from Footprint volunteer Rachel Acevedo-Hoffman, a solar energy professional and member of Hennepin UMC in Minnesota. They built two systems over two days, with North Carolina volunteers installing a system on Florida's trailer for them so that Florida disaster response volunteers could continue meeting immediate needs in their communities.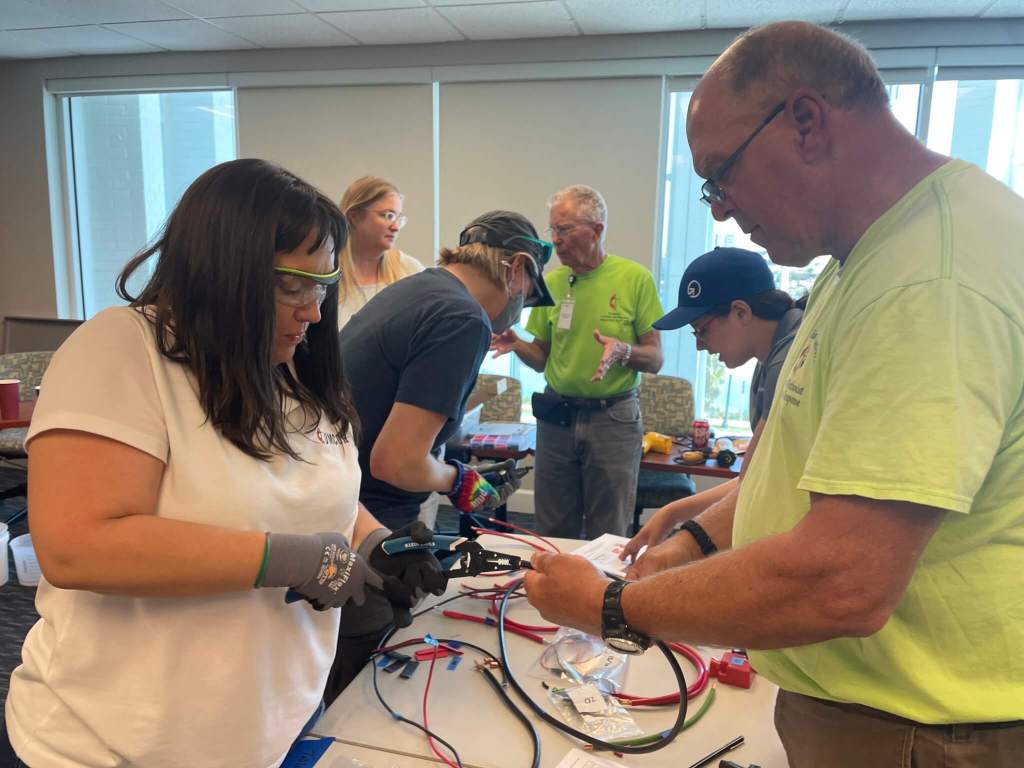 Solar technology makes disaster response cleaner and healthier, consistent with Global Ministries' commitment to just and equitable net-zero emissions by 2050.
Leaders from both North Carolina and Florida see solar as a game-changer for their disaster response ministries. Their disaster response volunteers are excited for the ways in which they can use solar energy to brighten the lives of people recovering from the storm.
There are a number of ways to contribute to Hurricane Ian relief and recovery. UMCOR is receiving donations for United States Disaster Response, Advance #901670.
If your church would like to help create cleaning and hygiene kits for those impacted by Hurricane Ian and other flooding events, please visit this page for more information: https://umcmission.org/umcor-relief-supplies/.
The Rev. Jenny Phillips is Global Ministries' senior technical advisor for Environmental Sustainability.
Global Ministries Environmental Sustainability
The Environmental Sustainability program leads sustainability initiatives within Global Ministries, in collaboration with other United Methodist agencies and in support of churches and ministries throughout The United Methodist Church. The United Methodist Committee on Relief U.S. Disaster Response (UMCOR USDR) seeks to alleviate suffering caused by disasters that strike within the United States and its territories.