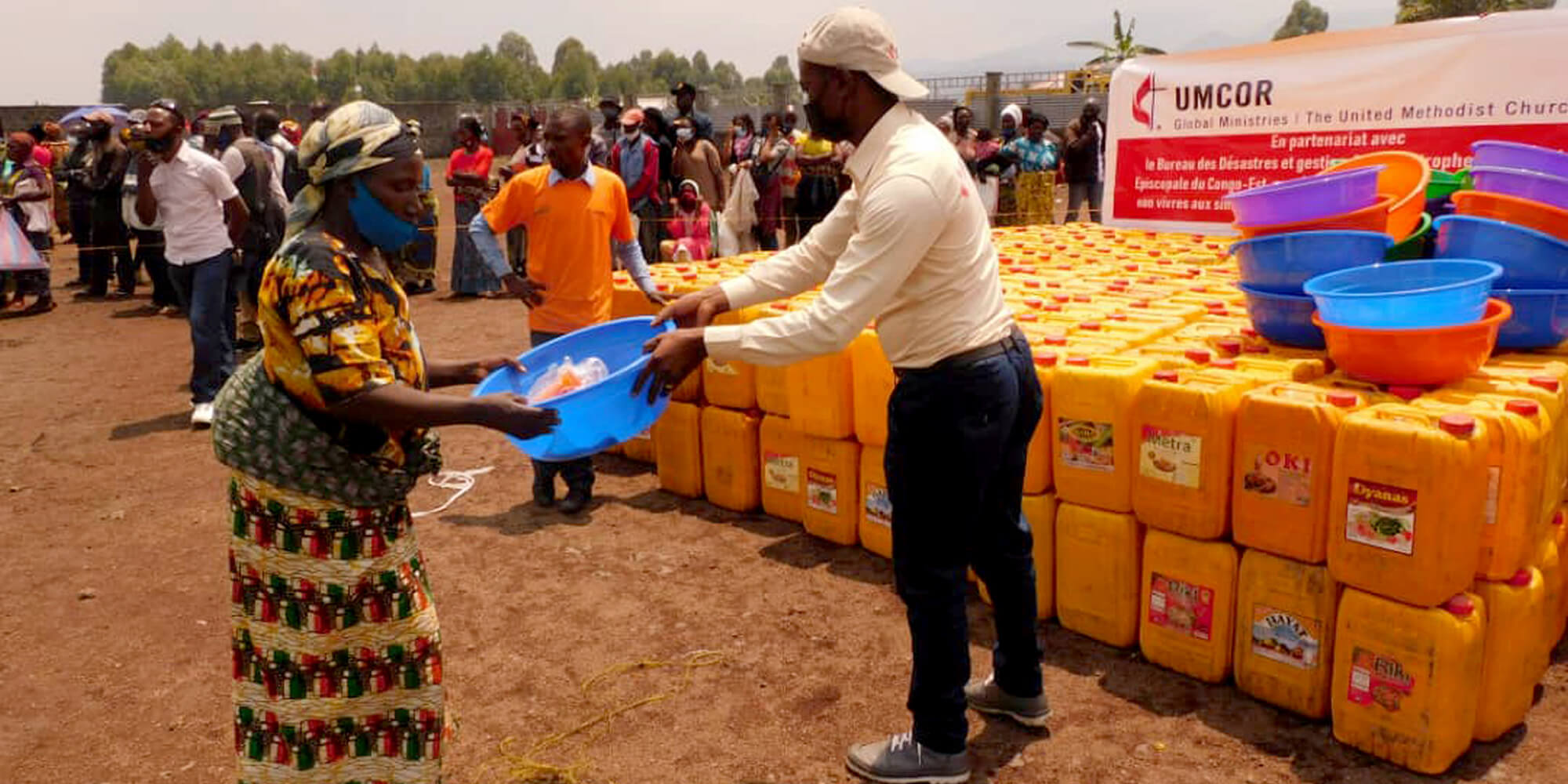 UMCOR-sponsored relief distributions in Goma, DRC, coordinated by the East Congo Disaster Management Office for people affected by the April 2021 eruption of the Mt. Nyiragongo volcano. PHOTO: EAST CONGO EPISCOPAL AREA
Read part one here.
Read part three here.
---
By Christie R. House
October 1, 2021 | ATLANTA
When a disaster strikes outside the United States, the United Methodist Committee on Relief (UMCOR) serves as the primary channel for United Methodist assistance. In the short term, UMCOR provides funds to partners to distribute food, hygiene supplies, shelter, and other basic supplies. In the long term, the agency works with local partners toward recovery and reconstruction.
Roland Fernandes, the general secretary of Global Ministries and UMCOR, has had long experience with UMCOR's international disaster grants and programs. "UMCOR has a wide reach internationally because we have a large network of trusted partners experienced in humanitarian relief that we can confidently support," he said. "Many are United Methodist-related, but others are ecumenical in nature, and a few are non-religious nonprofit humanitarian agencies. So even in places such as China or Afghanistan, we work with partners who can safely reach the affected populations."
Both 2020 and 2021 have seen catastrophic disasters, while relief and recovery work across the world has been hampered by the COVID-19 pandemic. Today, response inevitably includes personal protection equipment (PPE), soap and sanitizers, guidance on social distancing, and other pandemic-related precautions – an extra layer of concern for people affected by disaster.
Since January 2020, UMCOR IDR has awarded 22 grants involving significant COVID programming, through 17 partners in 12 countries. Most often these responses address the economic consequences of COVID-19 lockdowns, but this programming also includes support for public health education, medical supplies, and educational materials.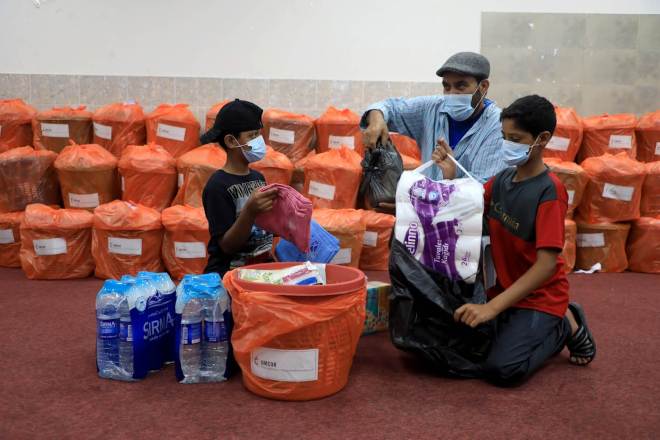 Earthquake relief
On August 14, a 7.2 magnitude earthquake struck Haiti, more powerful than the quake that devastated Port-au-Prince in 2010. The death toll was estimated at 2,200, while more than 12,200 people were injured and hundreds remain missing. Just a few days later, Haiti was also struck by Tropical Storm Grace, which triggered flooding, further slowing relief efforts. It is estimated that 40% of Haiti's total population needs humanitarian assistance.
Haiti reports more than 137,000 families (about 600,000 people) are affected in the hardest-hit areas. UMCOR joined an ecumenical response with ACT Alliance, of Geneva, Switzerland, to meet basic humanitarian needs with cash assistance, food, hygiene, health, shelter, protection, and livelihoods support. Responses immediately following the quake included grants for emergency medical supplies to the Église Méthodiste d'Haiti (Methodist Church in Haiti) for two medical clinics in Gebeau and Les Cayes and a grant to Service Chrétien d'Haiti (SCH) for the Les Cayes General Hospital.
In communities throughout Haiti, additional grants like the one to Prosperity Catalyst are providing food, hygiene, tarps, and plastic sheeting for vulnerable households.
Mexico and Indonesia have also experienced deadly earthquakes and UMCOR grants provided vulnerable households with clean water, hygiene kits, food, and supplies for shelter.
Aid for those facing conflict and political upheaval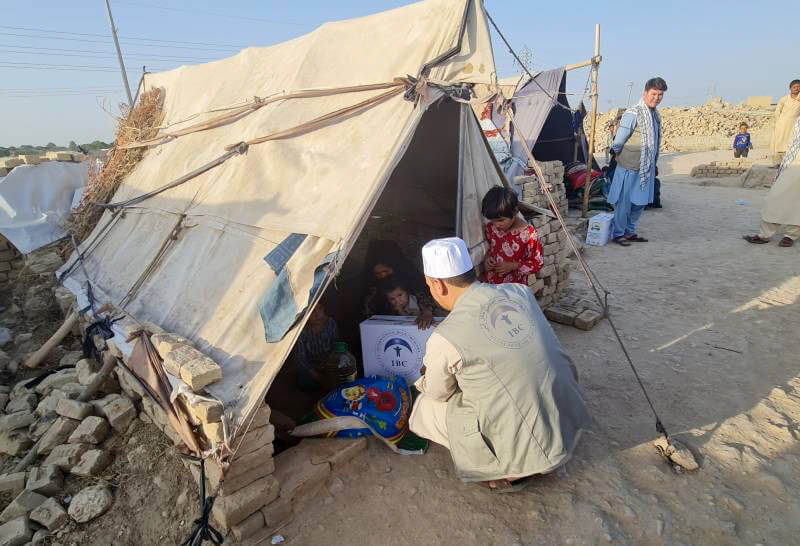 In response to unrest and uncertainty in Afghanistan, UMCOR is working with long-standing partners to provide humanitarian relief and is assisting with refugee resettlement through Church World Service, one of nine resettlement agencies approved by the U.S. Department of State. Grants are supporting displaced families in the Kabul, Kunduz, and Mazar-i-Sharif areas with cash assistance, so families can prioritize their most urgent needs, as well as food rations and hygiene kits.
Violent clashes in Israel and Palestine, the Democratic Republic of Congo, and Myanmar this year have led to deaths, injuries, and economic crises. UMCOR awarded grants to regional partners to provide critical relief for hundreds of families. In some cases, the need is for food, or for medical care, or hygiene kits, all of which are locally sourced whenever possible.
Relief work after cyclones, typhoons, and flooding
Rising waters around the world have led to more severe flooding, in both new and flood-prone areas. Disaster management offices in annual conferences in Africa and the Philippines, which UMCOR helped develop, received financial assistance to provide humanitarian relief.
Storms in Henan province in China, too, caused widespread flooding. An estimated 2.5 million acres of agricultural lands and infrastructure were impacted, and more than 300 people lost their lives. Connection with a long-standing humanitarian partner in China allowed UMCOR to participate in relief and recovery efforts.
In Central America, UMCOR is supporting eight projects in five countries following the destruction from hurricanes Iota, Eta, Amanda, and Cristobal in 2020. Mexico was in the path of Hurricane Grace, which made landfall in Tecolutla in August. UMCOR partnered with the Methodist Church of Mexico's Septentrional Annual Conference to support immediate relief, including food rations, hygiene kits, blankets, tarps, mats, and plastic sheeting for hurricane and flood-affected communities in Veracruz and Hidalgo.
Helping those close to volcanic eruptions
This year, 68 volcanoes have erupted around the world. While most of these eruptions took place in isolated, unpopulated areas, volcanoes have erupted also in more populated areas. UMCOR provided grants for partners working in three areas following volcanic eruption: East Congo, where Mt. Nyiragongo erupted in May, St. Vincent Island where La Soufriere volcano erupted in April, and Indonesia, where Mt. Merapi erupted in January.
Regardless of the disaster, your gifts and UMCOR's network of partners around the world ensure outreach to those in need when they need it most.
---
Christie R. House is a consultant writer and editor with Global Ministries and UMCOR.
To keep current on UMCOR updates, please visit the International Disaster Response webpage. New emergency and recovery responses are added as grants are developed and dispersed.
To contribute financially, use UMCOR International Disaster Response and Recovery, Advance # 982450