By Christie R. House
July 19, 2019 | ATLANTA
Every Dream Warrior has heard a young Native person say that we changed his or her life. Dream Warriors encounter young Native persons struggling with depression, suicide and thoughts of not being enough, who say that our art has saved their lives. Hearing firsthand how our art impacts individuals is one of our measures of success.

Dream Warriors Collective

When Tanaya Winder took an overseas semester from Stanford University to study at Oxford University in England, she received news that one of her best friends at Stanford had died of suicide. Her world shattered, and she had trouble continuing her studies.
"I was so sad," she said. "I'd never been that sad." Later that summer, she got involved with University of Colorado Upward Bound (CUUB), a program that she had attended while in high school. CUUB works with indigenous youth from eight different reservations. Tanaya is an enrolled member of the Duckwater Shoshone tribe. She grew up on the Southern Ute Reservation in southern Colorado.
"At the beginning, a lot of working with UB was that I couldn't save my friend, but I could work with these kids and explore their passions and dreams," Winder remembered. "I don't ever want anyone to feel that they have nothing left. Through this experience, I discovered that I have a gift to work with kids." She finished her B.A. in English at Stanford and earned an M.F.A. in Creative Writing from the University of New Mexico. Today, she is the director of CUUB in Boulder, Colorado, as well as an artist, singer, poet, writer and the founder of Dream Warriors.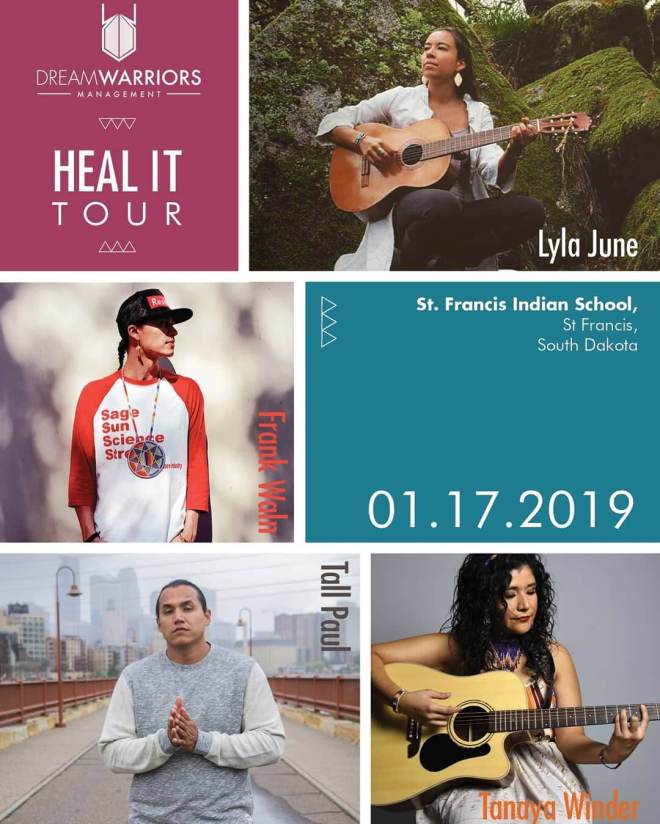 Rising suicide rates in the U.S.
Winder's experience of losing a friend to suicide is all too common in many Native communities. According to a June 2019 report by the Centers for Disease Control and Prevention's National Center for Health Statistics, the age-adjusted suicide rate in the United States in 2017 was 33% higher than the rate in 1999. Breaking the statistics down by ethnic groups and gender, the rate for Native American women rose by 139%, and the rate for Native American men by 71%. More than a third of those deaths were Native American young people between the ages of 10 and 24 years old.
Indian Health Services reports that the age-adjusted alcohol-related death rate for Native people is over six times the U.S. all-races rate. The suicide rate among Native youth ages 15 to 34 is 1.5 times the national rate.
"My work gives me insight into what Native youth struggle with but also what they hope for – and how important they are, and how many amazing things they have inside of them," Winder continued. "Through Dream Warriors, we create more paths of possibility. Youth begin to see, maybe I can be a hip-hop writer. Maybe I can be a role model."
Resilience, empowerment and healing
Dream Warriors is a collective of North American Indigenous artists who believe in uplifting others through storytelling, poetry, music, workshops and performance. They present culturally appropriate suicide and substance abuse prevention workshops, free concerts, linkages to mental health services, and instruction in writing and creative expression.
In January 2019, the United Methodist Committee on Relief partnered with Dream Warriors to support the "Heal It" Project, which the group developed to harness art's power to transform, heal and connect individuals, families, communities and society. They seek to reach youth in schools with predominantly Native American enrollment. Last year, they visited schools in Oklahoma. This year, with UMCOR's support, they were able to reach reservation schools in South Dakota.
"For some of these schools," Winder continued, "it's a financial burden to bring us in. Sometimes they can just bring one of us. But we would rather bring our collective – everyone has a gift, and all of us have different personalities, so youth might identify with one or another of our stories."
The "Heal It" Project encourages students to use poems and songs to find their dreams and create their own definition of success. Dream Warriors perform hip-hop songs and then tell the stories behind the songs – stories that resonate with the youth. They talk about growing up on a reservation, coming from a single-parent household, experiencing physical abuse or drug addiction and they share other stories of struggle and resilience.
When Native youth realize they are not alone in what they are feeling, a door opens. They can choose to walk through it to find a path to healing alongside others who celebrate and embrace their Indigenous heritage.
"The very fabric of Native American existence hinges on their youth," notes Lorrie King, program manager for UMCOR's WASH, Food Security and Livelihoods program. "The United Methodist 'Book of Discipline' states that, '…love of God is always linked with love of neighbor, a passion for justice, and renewal in the life of the world.' ("Book of Discipline," Doctrinal Heritage, ¶102) What better way to invest in life than to support sustainable futures, with lifeline programs like Dream Warriors. Their team provides unparalleled mentorship, support and services. Because they have lived it, they can heal it."
Healing 500 years of trauma
In Indian Country, depression and struggles with mental health are part of a legacy of 500 years of historical trauma, years in which generations have endured colonization, sacrifice, discrimination, forced relocation and violent attempts to separate indigenous people from their language, culture and heritage.
Dream Warriors believe that the project's measure of success cannot be viewed through a Western lens, but rather through an Indigenous lens. Success means that one day the people of Turtle Island, the Indigenous peoples of North America, will be happy, healthy and respected.
Winder describes the process of decolonization this way. "What we do now impacts not only us and our kids – but seven generations down the bloodline will be affected by the healing I choose to engage in now. That choice will impact all generations to follow. They will be healed, and no one will have to deal with the same issues we have today."
House is the senior writer/editor for Global Ministries. For more information on Dream Warriors and to view a video about a "Heal It" tour, visit http://www.dreamwarriors.co.