By Christie R. House
September 9, 2019 | ATLANTA
As Hurricane Dorian formed in the Atlantic Ocean, United Methodists collaborated to develop response strategies that could be used regardless of the storm's direction. All along Dorian's projected path – from Puerto Rico and the Virgin Islands, the Bahamas, Florida, Georgia and up to the Carolinas and Virginia – Methodist partners received encouragement and immediate response from the United Methodist Committee on Relief. UMCOR is a vital link connecting the church in times of disaster. It coordinates resources across the denomination and beyond to facilitate relief and recovery, avoiding duplication of efforts and filling gaps in service.
UMCOR offers a response that is consistent with global standards and best practices, developed over nearly 80 years of experience and collaboration. UMCOR's U.S. and International Disaster Response teams relate to conference disaster readiness and response coordinators in the U.S. and globally.
International Disaster Response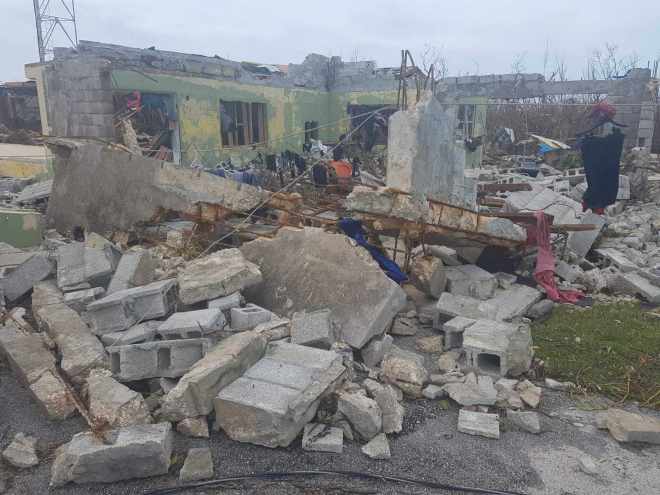 UMCOR's International Disaster Response team will often respond to storms affecting Atlantic and Caribbean islands before the storms make landfall in the U.S. This international unit serves as the primary vehicle for United Methodist assistance globally. In the short term, partners may seek solidarity grants to cover immediate needs, such as food, hygiene supplies, shelter and other basic needs to ease human suffering. In the long term, UMCOR works with local partners on recovery and reconstruction.
As Hurricane Dorian approached the Bahamas, UMCOR contacted partners and monitored the situation as the hurricane made landfall. A solidarity grant to Bahamas Methodist Habitat, the Disaster Ministry of the Bahamas Conference of the Methodist Church, an autonomous denomination, quickly arrived from UMCOR to provide emergency short-term funding for basic human needs.
"While the rescue stage is still in effect, we are preparing to be on the ground with our brothers and sisters," was one of the first social media posts from the Bahamas Methodist Habitat. Early on, the church's executive committee met and reported contact with UMCOR. "We will need one another to bear one another's burdens and testify that God is able to do immeasurably more than all we ask or imagine, according to God's power at work within us."
U.S. Disaster Response Readiness
In the United States, UMCOR works with Conference Disaster Response Coordinators to offer grants, expertise, mentoring and volunteer coordination. Ongoing UMCOR-led training, offered to all U.S. conferences, prepares people to serve on Early Response
Teams, ready to offer help before and after disaster strikes. A network of UMCOR depots and relief supply warehouses, coordinating with UMCOR's Sager Brown Depot in Louisiana, equips churches and partner agencies with relief supplies.
After a disaster, conferences reach out to discuss UMCOR-funded projects that might support disaster case management. Volunteer repair and reconstruction teams help communities adapt to circumstances altered by the storms. These projects might last a year or more, depending on the disaster's impact and the conference's capacity to assist.
Hurricane monitoring started early last week as Tropical Storm Dorian developed in the Atlantic Ocean. UMCOR staff in the U.S. and in Puerto Rico were closely monitoring the storm as it avoided most of the island and continued northwest. This was good news for Puerto Rico, still trying to recover and rebuild after Hurricane Maria.
Friday, August 30, as Hurricane Dorian gathered energy over warm Atlantic waters and approached the Bahamas and the United States, UMCOR's U.S. Disaster Response team connected with conference disaster response coordinators in the Florida, Alabama-West Florida, North and South Georgia, and North and South Carolina conferences – states where predications suggested the hurricane was likely to strike. All these UMC conferences are currently implementing recovery plans in response to previous storms.
The Florida Conference temporarily reassigned Irma recovery staff to support preparation and initial response efforts and activated its call center – once the immediate danger was past – to receive requests for assistance and offers of donations and volunteer service. An UMCOR solidarity grant was issued quickly to address urgent needs and to help with the distribution of relief materials at staging areas in the coastal regions.
In conferences across the Southeast, ERTs were standing by, ready to assist if requested. They also helped with state-mandated evacuations in specific coastal areas. A few churches along the evacuation routes served as rest stops and way stations for evacuees.
North Georgia offered warehouse and evacuation space. Two churches in the South Georgia Conference served as Red Cross shelters. The South Carolina Conference readied its ERTs for deployment, connected with churches along the evacuation routes, and distributed clean-up and hygiene kits to staging areas. North Carolina opened a call center and readied the 16 centers it had previously set up for hurricanes Matthew in 2016 and Florence in 2018. By Thursday Sept. 5, the North Carolina Conference requested and received an UMCOR solidarity grant. In addition to storm surge, power outages and flooding, Dorian spawned dozens of tornadoes affecting communities in that state.
The advance preparations, communications and networking across conferences are evidence of years of UMCOR's U.S. disaster response efforts to strengthen United Methodist support mechanisms for disaster response.
The international response in the Bahamas will take time, with assessment, evaluation and careful collaboration to help direct sustainable recovery efforts.

Christie R. House is the senior writer/editor for Global Ministries.