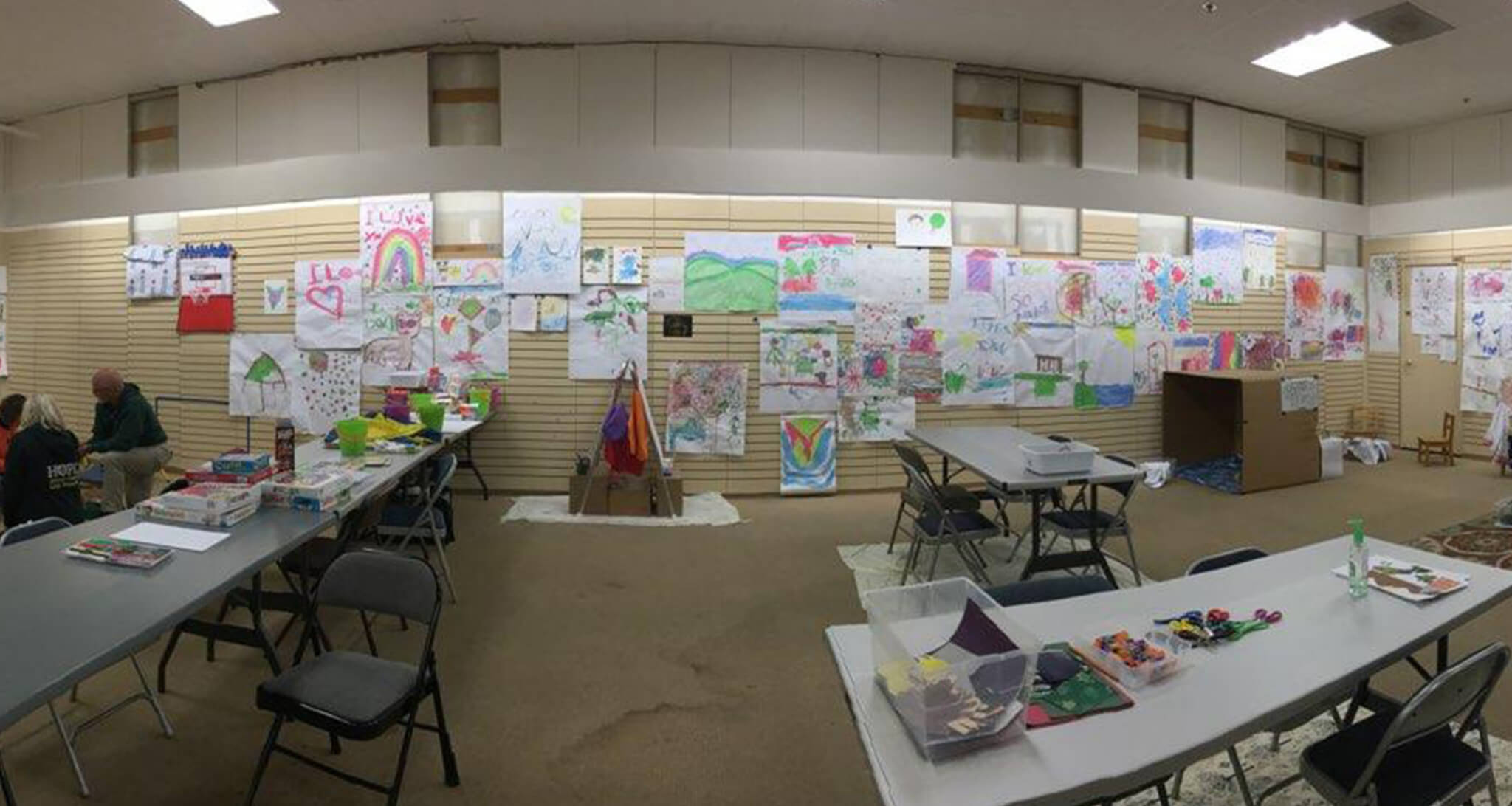 By Christie R. House
June 2020 | ATLANTA
When disaster strikes, everyone in a family is affected, even the youngest members. If a home becomes uninhabitable and evacuation becomes necessary, the adults begin the process of figuring out what comes next. Sometimes the process involves waiting in long lines for food, water, a chance to talk with insurance agents, counselors, Red Cross or Federal Emergency Management Agency staff. In this frenzied activity, often peppered with high emotion and deep concern, who cares for the children?
When the Red Cross sets up a shelter for evacuees, it calls in the Children's Disaster Services, a ministry of the Church of the Brethren. CDS calls on Brethren volunteers and members of partner networks, such as the United Methodist Committee on Relief. Today, the CDS coordinates nearly 900 volunteers, equipped with specialized training and experience to respond to the needs of traumatized children. Volunteers are diverse in religious and nonreligious backgrounds.
Through natural or human-caused disasters, volunteers provide a calm, safe and reassuring presence for children and parents in the middle of chaos.
The Church of the Brethren began this ministry 40 years ago when a disaster response coordinator took note of the many children standing with their families in endless lines waiting – just waiting. Children need a safe place and a chance to process their experience the way they process most of life – through creative play.
Support in many forms
Lisa Crouch, associate director for CDS, says the United Methodist Committee on Relief has made a difference in the lives of children through this partnership for many years. "UMCOR is a great supporting partner," she confirmed, "through prayer, grants and a good network of resources."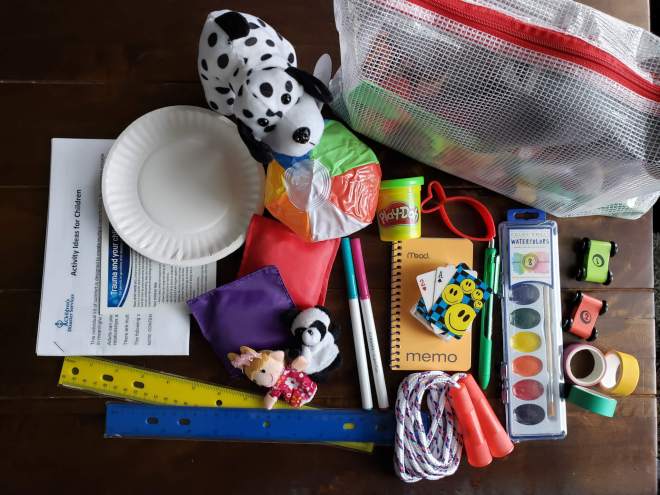 This specialized service, coordinated by faith-based groups behind the scenes, conducted without proselytizing or pressure, is open to all the shelter families needing childcare.
Catherine Earl, UMCOR's director of U.S. Disaster Response and Partner Relations, describes the relationship as a wonderful way to demonstrate how working together
makes everyone's response stronger. "Not one of us can do it all," said Earl. "This partnership presents opportunities for United Methodists to be in mission in this special way. Not everyone can be a heavy lifter on an early response team. Some can train to work with children."
Occasionally, UMCOR is called to support critical CDS projects, such as in 2018, when California set up a disaster resource center in response to wildfires in Chico. CDS teams served at the request of the California Office of Emergency Services, but the state agency provided no funding.
"Because of the overwhelming nature of the disaster and the great needs of the children affected, CDS felt called to serve," Crouch said.
Utilizing UMCOR grants for local deployments, CDS quickly assigned teams to begin daily care for the children coming to the center. Over 28 days, CDS volunteers cared for 949 children. They were instrumental in helping the children process what they experienced during this fast-moving fire that destroyed their homes.
Project manager Mary Geisler reported back to CDS that the children's paintings started out dark and abstract in nature in the early days of the response. As they continued to play and express their emotions through the CDS play stations, the paintings became progressively lighter, more defined, and showed bright colors, with houses, flowers, and rainbows.
Every situation is unique
With partner volunteers trained across the nation, CDS can call on people regionally to drop what they are doing and answer the call to care for children.
"Blessed are the flexible, for they will not be bent out of shape," is the advice Judy Lewis gives for this kind of work. Judy and her husband Doug, Disaster Response coordinators for the California-Pacific Conference, have both taken the training and served in shelters.
Judy Lewis' first call was to Moore, Oklahoma, after devastating tornadoes leveled whole sections of the town. Both worked with CDS centers in Texas after Hurricane Harvey. They were also called into shelters for wildfire evacuees in Ventura and Mariposa in California in 2018 and 2019.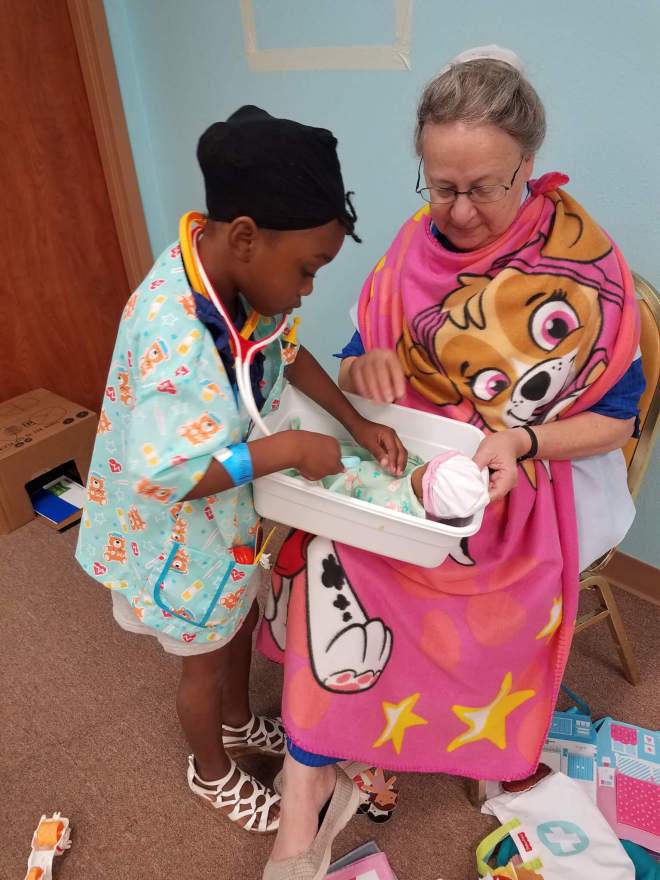 Doug and Judy have also taken the next level of training for traumatic events – originally developed for mass transit accidents but today, increasingly used after mass shooting events.
Judy's first trauma call was to Gilroy, California, last year, after an active shooter walked onto the grounds of the Gilroy Garlic Festival, killed four people, including himself, and injured 17 more. A shelter was set up because no one could leave until the FBI had interviewed everyone at the festival. Cars were impounded for days. Attendees, intending to spend the day, had little to care for their families.
Lewis likes to use "found things" as well as planned materials and encourages the children to design and build their own meeting space – a literal shelter inside the shelter. She prefers Red Cross blankets and especially the boxes they are shipped in and stacks of packaged water bottles. CDS volunteers also bring a suitcase full of activities and helpful craft supplies to engage children in creating and talking.
"When we see them using the supplies and equipment we bring, we know they are calming down – enough to look at a book, take an afternoon nap – or create an adventure, like, an indoor picnic," Lewis said.
"We don't tell them what they should feel, or 'you're going to get over this.' We allow them to move through their own grieving process," Lewis continued. "Pets, especially, are a big concern for children. We're just there to walk beside them."
Because of the coronavirus pandemic, shelter logistics are changing, and families may end up in hotel rooms or other quarters, separated from other families. CDS now creates individual suitcases for children who need a little extra care and encouragement to play, given the extra added stress of social distancing.
For more information about becoming a CDS volunteer, visit the CDS website at www.brethren.org/cds and email cds@brethren.org.
To provide UMCOR with the flexibility to answer a call for support from partners like the CDS, give to U.S. Disaster Response, Advance # 901670.
Christie R. House is a consultant editor and writer with Global Ministries.