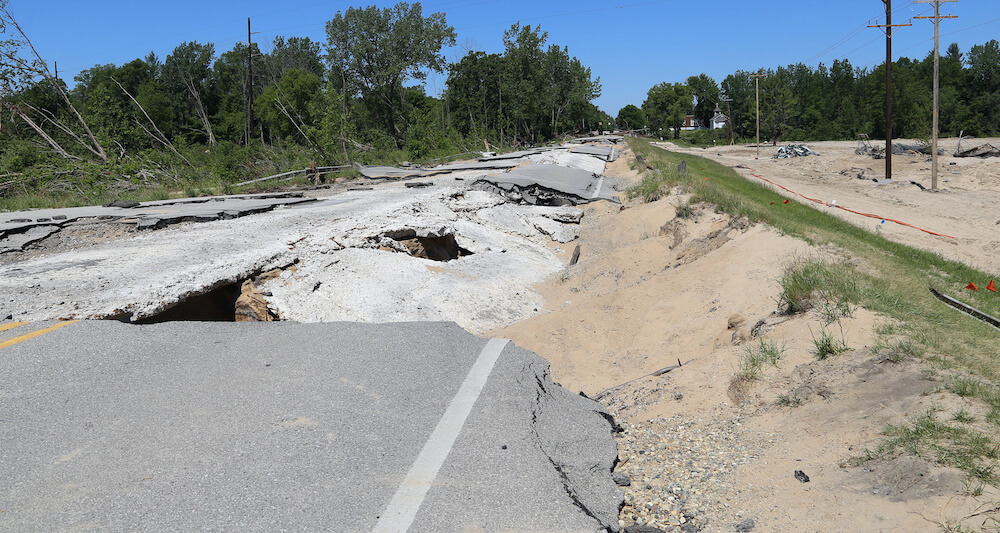 By Christy Smith
July 2020 | ATLANTA
For Michiganders devastated by May flooding, the road to resilience is paved with support coming from federal, state and local sources – and from United Methodists.
The massive flood is estimated to have impacted over 1,000 homes as well as churches and businesses, including United Methodist properties. Many of those whose homes flooded are still unable to return.
The affected Michigan communities have faced two 100-year floods and one 500-year flood in the last 15 years.
This spring's flood received a federal disaster declaration and immediate support was offered from the United Methodist Committee on Relief (UMCOR) in the form of a solidarity grant to the Michigan Conference.
The grant is providing material support for the UMCOR-trained Early Response Teams (ERTs) active in three of the most-affected counties – Gladwin, Midland and Saginaw – and in the hard-hit city of Sanford. Equipped to provide timely relief and jump start recovery, the ERTs have stabilized, secured and cleaned out the homes of many survivors.
The UMCOR grant is also providing personal protective equipment to responding United Methodist churches. Sanford United Methodist Church, Faith United Methodist Church in Coleman and Freeland United Methodist Church have joined the relief effort by offering debris removal, muck outs and cleaning kits.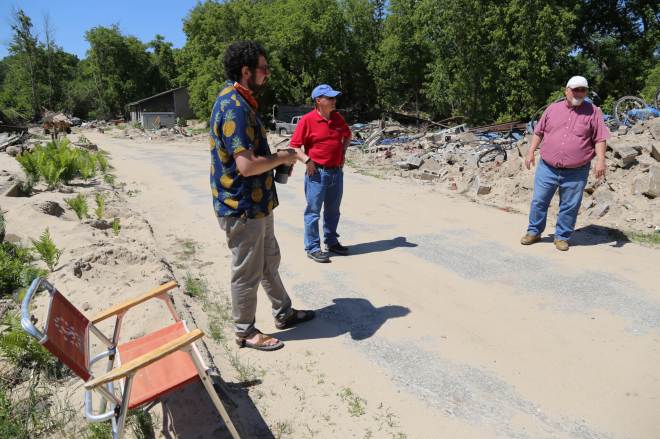 Learning from each disaster
Only three years ago, Midland County experienced a large flood. The two-person response team of the Michigan Conference – Dan O'Malley, conference disaster response coordinator, and Nancy Money, coordinator of disaster response ministries – both say the experience gained from their response in 2017 is proving to be pivotal as they respond to this year's flood. And this is a welcome fact for Money since she sees
the flooding through an intensely personal lens as a long-time resident of Midland County.
After the 2017 Midland flood, a 52-page plan was developed by emergency management and the community so organizations could seamlessly transition to the response roles they had previously identified. "Buy-in was already established," Money notes.
UMCOR provided a grant in 2017 to train and support two disaster case managers. They met with homeowners and renters, guiding recovery planning and helping to navigate inevitable obstacles. Fortunately, those two UMCOR-trained disaster case managers are still in Midland and, in addition to two new hires, are expected to take a significant role in the continuing recovery effort.
Another residual effect of the 2017 flood is that local churches have learned how important their support is to a community's rebuilding effort and identified ways to invest in community resilience by supporting the conference's rebuilding ministries. "I can hardly contain their energy now," Money laughs.
Ready to work as a trusted partner
The Rev. Paul Perez, associate director for mission and ministry for the Michigan Conference, agrees that area churches, districts and the conference clearly have "a real desire to be the church in the midst of disaster. They are chomping at the bit," he says. United Methodists have a clear sense of who they can be and are developing a certain clarity around how local long-term recovery organization can bring communities together in response to the needs of their neighbors.
And because the conference has provided UMCOR disaster case management training and support for long-term recovery development in the past, "we're now a trusted partner," Perez says. "We have built on-the-ground relationships that are paying dividends. Key conference leaders understand this is not a sprint, but a marathon."
O'Malley, Money and Perez, along with Bishop David Bard, visited the affected areas after the disaster and are now involved with developing long-term recovery strategies. "We've learned a lot of lessons that will help us rebuild," said O'Malley. "We've had a lot of help from the community because so many people are at home due to COVID-19. That's given us a lot of volunteer support."
As it seeks to alleviate the suffering of Michigan's most vulnerable citizens, communities will witness firsthand that resilience is in the Michigan Conference's DNA. "We have hope," Money says, "and a way to move forward together."
Christy Smith is a consultant for UMCOR U.S. Disaster Response.