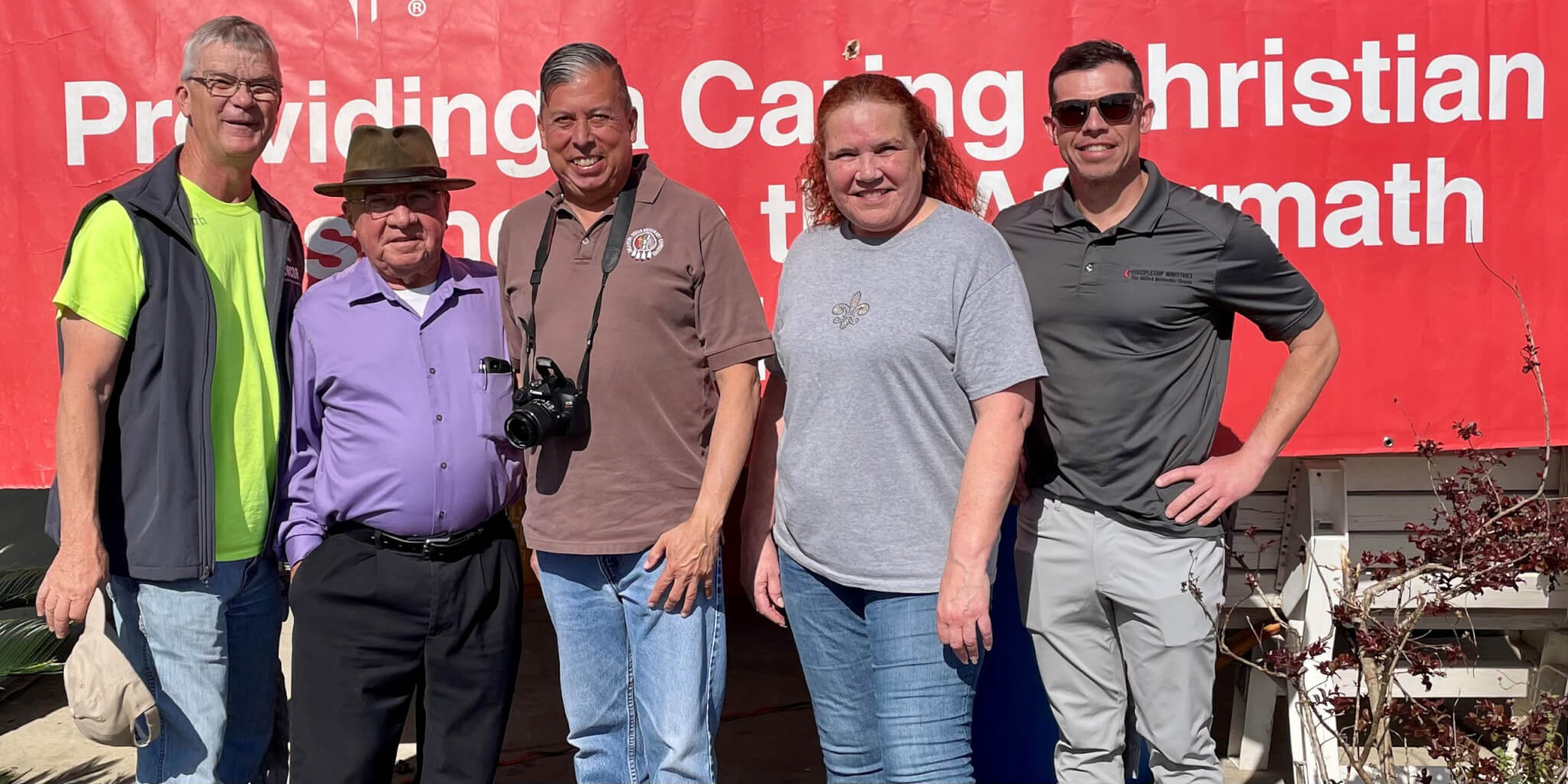 By Christie R. House
April 11, 2023 | ATLANTA
Hurricane Ida, the most damaging storm to make landfall in Louisiana since Hurricane Katrina in 2005, sent 150 mile an hour winds and a 14-foot storm surge over the southern coastal areas of the state on August 29, 2021. Terrebonne Parish in Lafayette District, home to the UMC Clanton Chapel, was one of the hardest hit areas. Then on September of 2021, Tropical Storm Nicholas flooded the entire area again before many had a chance to recover from Ida.
Clanton Chapel in Dulac suffered major damage, first from the hurricane and then from the soaking rains. Shingles were torn off the church's roof and siding, the roof collapsed, and the steeple crashed down into the yard. This unique multicultural congregation, led by retired pastor, the Rev. C. Kirby Verret, includes members of the United Houma Nation along with Black, Hispanic and Vietnamese parishioners. Although they found alternate spaces to meet for worship, meetings and ministry after Hurricane Ida struck, they still aren't back in the building.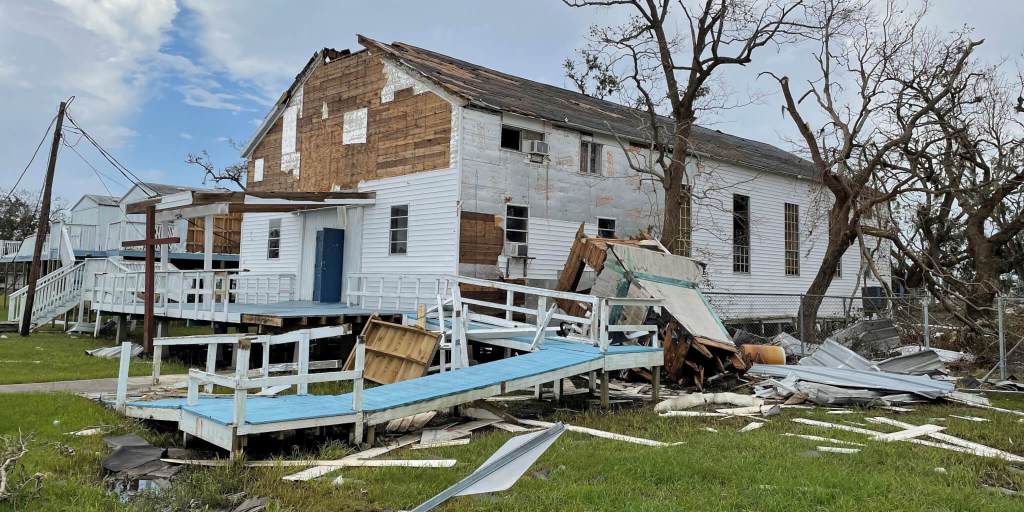 But they have not faced these challenges alone.
After the hurricane, a unique coalition came together, which included the local Dulac community, the Louisiana Conference, the Oklahoma Indian Missionary Conference and the General Board of Global Ministries. Each contributed different resources and areas of expertise to aid in the recovery of this congregation and community.
Resilience despite hardship
The United Methodist Conference Disaster Response Coordinator (CDRC) for Louisiana, the Rev. Bob Deich, led a small assessment team down to Dulac within a week of the hurricane.
"Dulac is the farthest you can go before you are in the Gulf of Mexico," Deich said. "Hurricane Ida brought the Gulf of Mexico into Louisiana in a way it had never done before. Louisiana lost 139 sq. miles to Ida, much of that in Dulac. Areas of marshlands and some of the barrier islands are gone."
Deich explained that the core method of disaster response work is building and strengthening relationships. Terrebonne Parish is often hit by storms and major hurricanes, so he knew Verret and the parish well and felt it was important to be present to see how the conference could accompany the recovery.
Deich continued: "The conference was there for Dulac and Clanton Chapel. It was apparent that the community of Dulac did not have the resources to ensure a full recovery. The main income in the area is from shrimping and working the land – a sugar cane and seafood industry economy. But shrimp and fishing boats were beached and thrown into the marsh and the cane fields were flooded. So, we made contact with people in Louisiana and beyond who have caring hearts and the resources the Dulac community needed."
Verret and much of his congregation had evacuated North to Houma as the hurricane hit. They knew to do this from years of experience. They moved down to Dulac after the storm passed, where, fortunately, the United Methodist Dulac Community Center, a National Mission Institution, had weathered the storm and was able to open as a distribution center. They joined the Dulac community efforts to distribute emergency relief and supplies from the community center.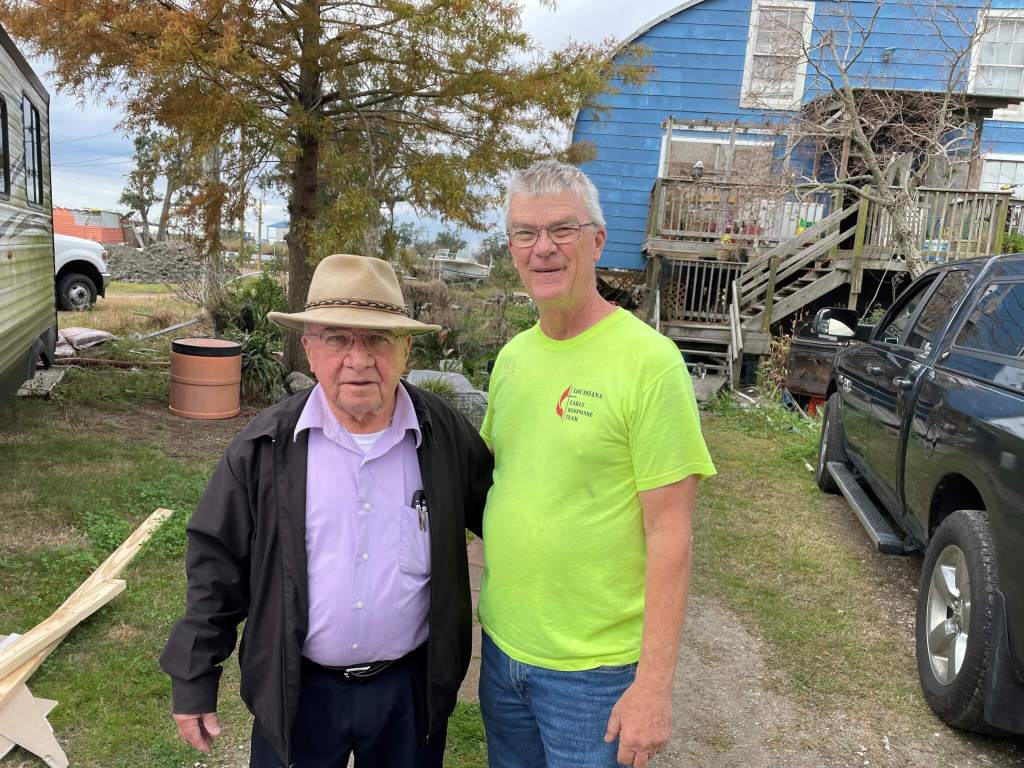 The center lost power, but the United Methodist Committee on Relief (UMCOR) made arrangements to transport a solar array to Dulac so they could continue operations and residents had a secure place to recharge their phones and other electronic necessities.
Pastor Verret, a member of the United Houma Nation, also contacted the Rev. Dr. David Wilson, a friend and member of the Choctaw Nation in Oklahoma, to talk about the destruction they experienced. Hurricanes and storms are so pervasive in this area that insurance is unavailable or prohibitively expensive. Wilson, from the Oklahoma Indian Missionary Conference (OIMC), who is now a United Methodist bishop serving the Great Plains Episcopal Area, knew from his years of service with the Global Ministries Board of Directors that funds from the Native American Special Sunday offerings could be used to help a congregation like Clanton Chapel recover from devastating circumstances to resume and extend their ministries.
"Clanton Chapel is historic to the Houma people of Dulac," Wilson noted. "It has provided not only a worship place but has also played a role in education and more. It may be the only Houma UMC in Louisiana. The church is a gathering place for many events and is very important to the Houma people."
The United Houma Nation is concentrated in just six parishes of the southern Louisiana coastline, of which Terrebonne is one. Much of Clanton Chapel's mission ministry, such as its preschool and kindergarten, serve a predominantly Houma population.
Moving mountains…of debris…with a little faith
After initial conversations, Global Ministries sent the application for funding to the Louisiana Conference and a $75,000 grant was secured for Clanton Chapel. Deich's team gave recommendations for proceeding and Early Response Teams arrived to help, not just from Louisiana, but from North and South Carolina and Pennsylvania and other places across the country.
The roof damage was so extensive that reconstruction required the services of a professional roofing company, which was covered by the grant, and opened space for another miracle. Deich took the responsibility of finding a contractor, which would not be an easy task with so much destruction among wealthier communities also looking for contracting services. But Deich was able to find a Houma contractor who was familiar with Clanton Chapel because he had attended the preschool and kindergarten there and his family had a connection. He set aside other offers and made space to work sacrificially on the chapel with his crew.
To date, the roof, siding and porch reconstruction have all been completed by the contractor within the parameters of the grant. Extensive indoor reconstruction is being provided by volunteer teams, subject to their availability. Verret says he even has an Indian team coming – a team in the U.S. with members who are immigrants from India!
"No, we are still not back in the church," Verret confirmed, "but we did get our preschool going again." The preschool is a welcome help to working parents in the surrounding Houma community.
These are the wonders and the miracles that God works through Christian connection, building on relationships and networks of care. Gifts made through United Methodist churches across the connection on the Native American Ministry Sunday last year made possible the grant received by Clanton Chapel. For information on this special Sunday, visit Native American Ministries Pastor and Leader Kit (resourceumc.org).
Christie R. House is a consultant writer and editor with Global Ministries and UMCOR.
Multiethnic Ministries
Grants from the Native American Ministries Special Sunday offering each year support congregational growth and mission outreach among Native American congregations. This funding assists local churches and conferences with outreach and community ministries, revitalization and discipleship formation, salary supplement, and building repairs and expansions. Global Ministries receives a portion of these gifts to channel back into Native American communities across the United States. Visit https://umcmission.org/multiethnic-ministries/ for more information.