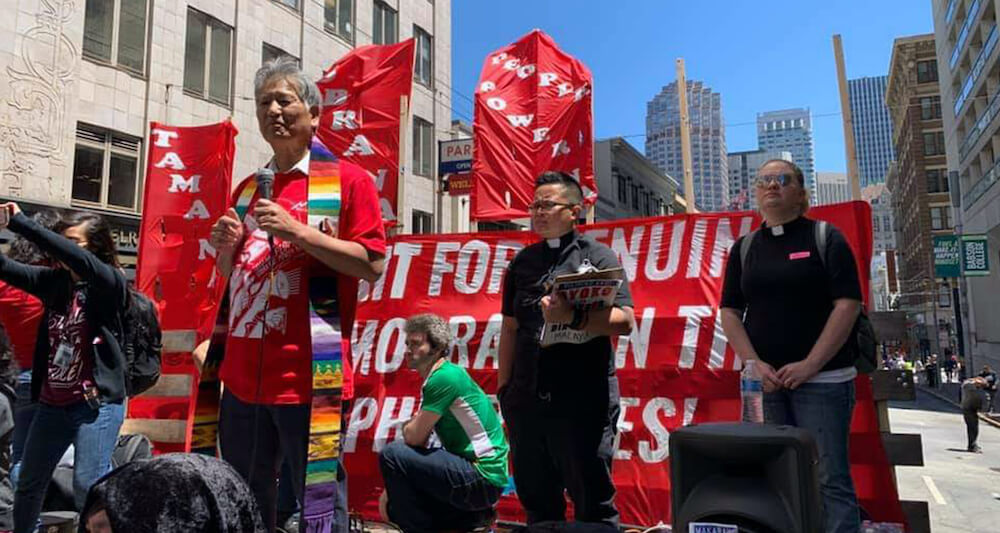 By John W. Coleman
August 2020 | ATLANTA
Early Japanese immigrants to the U.S. journeyed to Alameda, California, in the late 1800s and then to a Methodist women's mission formed there in 1898. Their Japanese American descendants journeyed back in 1945 after spending several years imprisoned in World War II internment camps. The mission they called home later became Buena Vista United Methodist Church.
The church still welcomes sojourners today, offering hospitality and hope to new immigrants, including some leaving prison and seeking to avoid deportation back to countries and situations they escaped in search of a better life.
Buena Vista UMC has historically served the Japanese American community and other racial-ethnic groups in Alameda and the East Bay. In 1942, because of widespread fear and prejudice during the war, the U.S. government removed members from their homes and incarcerated them in distant internment camps. When released after the war, they returned to their abandoned homes to carry on with their lives. But before resettling, some had to live initially at the church, which provided them with sanctuary in more ways than one.
The 250-member, intergenerational congregation is now multiethnic, with predominantly Asian and Pacific Islander membership. But it is becoming decidedly more multiracial, too, including the appointment in July of a Black pastor, the Rev. Myrna Bernadel-Huey, who came to the U.S. as a refugee from Haiti. Indeed, Buena Vista is well-known for its hospitality and advocacy on behalf of immigrants and refugees, including those who are undocumented and formerly incarcerated.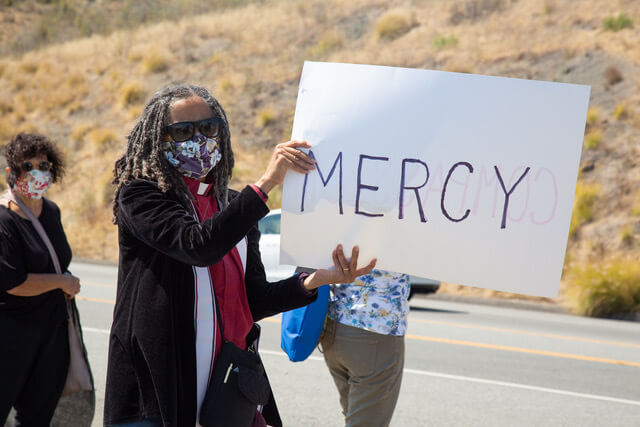 Community Developers Program aids church's outreach ministry
The United Methodist Board of Global Ministries, through its Community Developers Program (CDP), is helping to fund the church's immigration ministry, which offers supportive "accompaniment," temporary housing in its former parsonage and advocacy for immigrants' rights.
The national UMC program began in 1968 as a vital funding, training and networking resource to help racial-ethnic churches develop their communities through partnerships and creative ministries. Churches and organizations in the CDP network are in active ministry with local communities experiencing socioeconomic difficulties such as homelessness, job insecurities, lack of access to food and lack of healthcare. Advancing the church's capacity to be in mission through local congregations, the CPD has sites in 16 states across all 5 jurisdictions.
The Rev. Michael Yoshii, who just retired after serving as the church's pastor for 32 years, learned about the CDP in 1992 while seeking help to address racial injustice in Alameda. Buena Vista UMC applied and was accepted into the national program in 1993 and was funded as a local CDP project. The congregation formed the required local policy committee of church and community members and hired a Community Developer, Roy Mita, a former labor organizer.
The new project tackled two racial justice conflicts that called for a community organizing approach. One was the public exposure of blatant, abusive police disrespect for Black citizens. The other was the Alameda school board's decision to remove a young Chinese American teacher, Nielsen Tam, from his internship as a school administrator. That decision angered many Asians who felt underrepresented among leadership in a changing school district where Asians were the fastest growing racial-ethnic population.
The two incidents revealed for many the underside of Alameda's long history of racial discrimination. Through a strategic analysis of its community, required of all new projects, the policy committee revealed the need for an organization to coalesce and amplify the voices of Asian residents. The Organization of Alameda Asians (OAA) became a vehicle to get more Asians publicly involved and politically empowered.
OAA was the first of several community organizations birthed by Buena Vista's CDP project that soon became independent, affiliated nonprofits to draw broader participation and support from outside the church. In addition to social change, the CDP's primary goal is community development, not congregational development, although the latter can be a desirable byproduct of a church's involvement and Christian influence.
In fact, Tam, initially a stranger to Buena Vista Church, joined and became a leader there, as well as the school district's first Chinese-American school principal and eventually president of its school board.
Buena Vista's CDP project also helped create the Coalition of Alamedans for Racial Equality (CARE) to ensure multiracial engagement in the community's response to racial injustice, like the police department's mistreatment of Black citizens. CARE and OAA helped form a coalition that examined the challenges of socioeconomic diversity and issues of racism in the city's government and institutions.
Eventually, the Chief of Police, City Manager and Superintendent of Schools all resigned, and diversity became a new priority for community and institutional leaders. OAA and CARE helped the school district complete a diversity audit and create a diversity office.
Buena Vista and CARE then developed multicultural youth leadership, a focus also of the national Community Developers Program. With foundation funding, high school youth were trained to understand institutional racism and develop leadership skills to address it.
One of those young trainees was Austin Tam, the son of Nielsen Tam. Austin would go on to become involved with the National CDP program and is now Buena Vista's community outreach coordinator.
Members' own histories inspire their support for immigrants
For nearly three decades, Buena Vista has tackled numerous community concerns, often with CDP support. While the CDP initially funds a locally hired community developer's salary for up to five years, active projects can receive additional program funds for their crucial work. Most CDP funding comes from the denomination's annual Human Relations Day offering.
In 2014, with CDP support, the church explored current immigration justice issues in the East Bay community. But in small discussion groups their exploration became more personal.
"The congregation went through its own journeys and stories of family migrations," said Gala King, former chair of Buena Vista's immigration committee, "and it connected with the legacies of Japanese American members who could trace theirs back five, six generations."
These efforts led them to partner with the Interfaith Movement for Human Integrity (IM4HI) to engage in joint immigration advocacy. Members have co-sponsored "Know Your Rights" trainings, lobbied for human rights legislation and attended monthly protest vigils on behalf of incarcerated immigrants. Working with IM4Hl and its East Bay affiliate enables the church to network and advocate with other congregations.
With CDP support, the church's immigration committee in 2016 began its accompaniment ministry and provided temporary housing to the Alva-Garcia family from Guatemala. That allowed the family to establish residency in Alameda and to welcome other family members entering the country seeking asylum.
The next year Buena Vista became a "Sanctuary Congregation," as part of a national immigration support movement. Meanwhile, Alameda declared itself a "Sanctuary City."
Lynette Lee, chair of the Buena Vista Community Institute, and Alton Chinn, the immigration committee's new chair, want to increase participation and indigenous leadership in the ministry and do more to protect and support immigrants, especially as U.S. Immigration and Customs Enforcement (ICE) deportation efforts increase.
"Even though we can't gather at the church because of the pandemic, we can still provide shelter to released inmates who need it," said Chinn. "COVID-19 doesn't change our commitment to this ministry."
When Buena Vista welcomed its second immigrant released from prison into the church's parsonage on July 1, it was Bernadel-Huey's first day as the new pastor.
She is learning about her new congregation through video chats with members organized in tonarigumi (neighborhood groups). She also is leading their involvement in Alameda's active Black Lives Matter movement.
"In this multi-Asian, multi-ethnic, multi-generational church," she said, "I've lost count of the number of times people have said they were drawn to Buena Vista for two primary reasons: 1. The congregation's tremendous hospitality and openness; and 2. Its social activism, born out of firm values as the Body of Christ.
"This congregation's slogan is, 'Building Beloved Community,'" she continued. "They take it to heart, and they do it very well."
John W. Coleman is the director of Communications for the Eastern Pennsylvania Conference and a former member of Global Ministries' CDP National Advisory Committee.