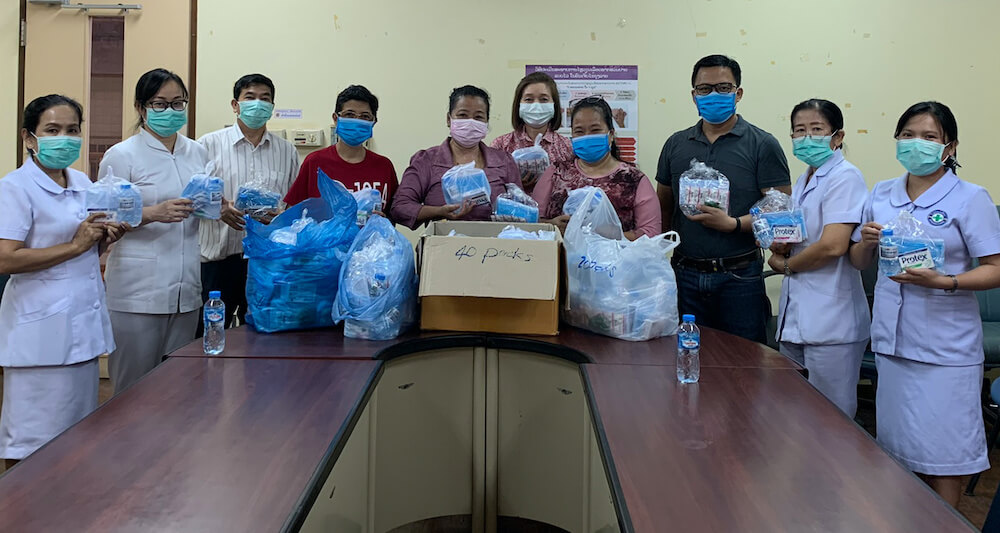 By members of the Laos mission team
August 2020 | ATLANTA
Global Ministries' Laos Mission Initiative (LMI) mission team shares the many and diverse ways God's faithfulness is evident in the lives of the people through its mission and ministries.
Celebrating two decades of God's mission in Laos
"It was an awesome, inspiring and jubilant celebration of God's faithfulness to all." That's how the mission team described the fruitful conduct of the 11th Annual Meeting of the Lao Samphan Methodist Church, meeting in Udonthani, Thailand, earlier in 2020. The meeting was presided over by Bishop Scott Jones of the Texas Episcopal Area. For the first time, the event was attended by more than 100 pastors, laypeople, guests and valued partners, including the Rev. Paul Kong from Global Ministries' Asia Pacific Regional Office in Korea and the Rev. Amy Valdez-Barker, executive director for Global Ministries' Global Mission Connection in Atlanta.
The annual gathering was highlighted by reports from the Lao Samphan Methodist Church council chairperson, Pastor Somphone, and the missionary country director, Israel Painit. During the cultural night program, the tribes of Khamu, Hmong, Lao and Bro presented cultural demonstrations and missionaries and guests also offered unique performances. The emphasis of the annual meeting centered on how God has faithfully journeyed with the LMI despite our cultural differences. We unite to worship Christ together with esteemed partners. This has resulted in the increased membership and faith communities as reflected in the chart.
In all these developments, the Board of Ordained Ministry of the Texas Annual Conference has been instrumental in mentoring and developing parameters for the training of our local pastors.
Women and children's ministry
Partnering with a World Race Christian Mission Trip team, the LMI staff, through the Children's Ministry, spearheaded tree planting events in two public elementary schools in February. The grade school children planted 25 trees on their school premises. Caring for Mother Earth is an important value that we want to instill in the minds of young children. The events also highlighted children's songs, dances and games.
Women's group participates in the Southeast Asia Mission Summit
The president of the Lao Samphan Methodist Church women's group, Ms. V., traveled with Israel Painit to the United States to interpret the mission to partner churches in Houston, Texas, and later in North Carolina at the South East Asia Mission Initiatives Mission Summit this winter.
Ms. V.'s visits to West University UMC, First Conroe UMC and St. Paul UMC gave her opportunities to share information about the Lao women's situation and their programs.
"Our mission partners showed great interest in learning and being updated about our programs. They are committed to keeping us in their prayers and supporting and partnering with the Laos Mission Initiative," she said.
In Raleigh, North Carolina, her participation in the Southeast Asia Mission Summit also inspired our partners, especially the Hmong American women, when they heard updates of our work and the challenges we face, particularly on property issues, Lao women's leadership and building church capacity.
"Water of Life" for the people of Laos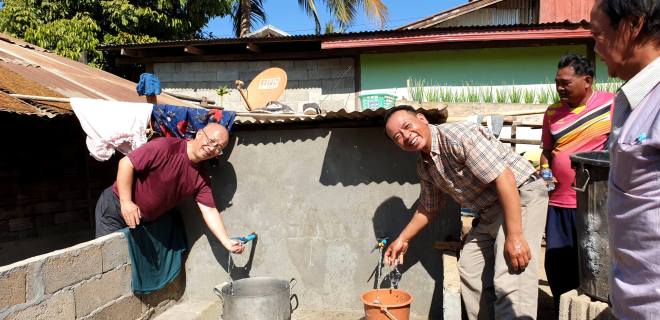 "Water" in the United States brings to mind amazing waterfalls, beautiful water fountains, and the rivers that flows from one town to another. In the U.S., water is often taken for granted because it is brought from the water source to people's homes, from the pipes to the sink and even flows uninterruptedly to front lawns and backyards, ensuring that gardens will receive a bountiful water supply.
But when the Lao people talk about water, they talk about the lack of access to clean water for drinking, cooking and bathing. In a typical Laos village, people must think every day about where to get clean water to cook their food. One late evening, one of the local leaders called and said: "Ajan Daniel, we have no water in our village. We need to walk 10 kilometers to the next village to get our water. Now that the village has a shortage of water, we don't know where to source our water needs."
Because of the generosity and support of mission partners, the Lao Samphan Methodist Church, in partnership with the local communities, assisted two water projects in Luang Prabang Province and another one in Vientiane, the capital. Thanks to the Minnesota Annual Conference for making these projects a reality for the communities we serve. We continue to seek partners so that we can build more wells in far-flung villages. The Water of Life flows from partner homes to each village here in Laos.
Reaching hospitals and communities during the COVID-19 outbreak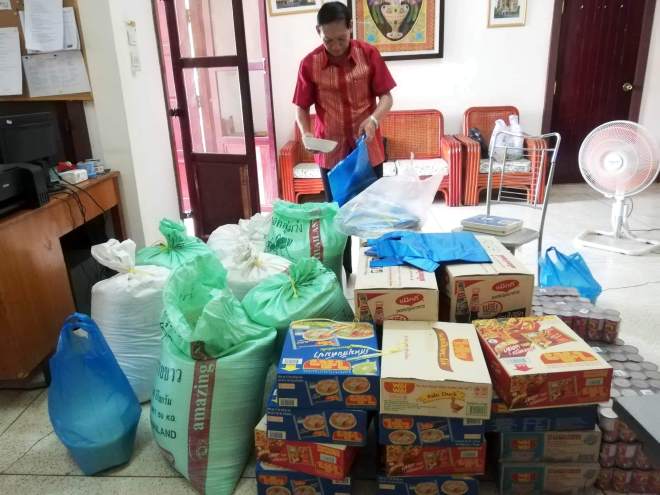 The Lao government officially announced that it was suspending classes at all levels on March 18, 2020, and subsequently closing its borders. A lockdown took place March 30 to April 19, 2020, to contain the spread of COVID-19. The mission team immediately met to respond to this emergency situation.
With our meager resources, the LMI and the Sunbeam Language Vocational School staff packed 170 health kits plus 50 packs of Vitamin C for kids. A grant from the Asia Pacific Regional Office in Korea helped us supply the kits. The health kits include alcohol, surgical masks, bath soap, Vitamin C, and paracetamol tablets, which we distributed to Setthathirath and Mittaphab hospitals, two large institutions identified as referral hospitals for the treatment of COVID-19 patients.
Our English students, who are also medical practitioners at one of the hospitals, helped us distribute these health kits to some of the frontline workers and patients as well.
The LMI team also distributed health kits to two churches and one local village office that are nearer to the capital, helping to allay fears posed by being close to those identified as COVID -19 positive patients and some patients under investigation. We distributed food and health kits to 941 families in the eight provinces of Laos, to some who were Lao Samphan members, but many were families of other faith communities near our churches. Wesley Foundation in Japan, Scranton Women's Leadership Center in South Korea, United Methodist Women and Global Ministries Asia Pacific Regional Office sponsored this mission outreach.
The Lao Samphan Methodist Church also contributed almost $1,000 to this project and members were active in preparation, distribution and giving feedback about the relief effort.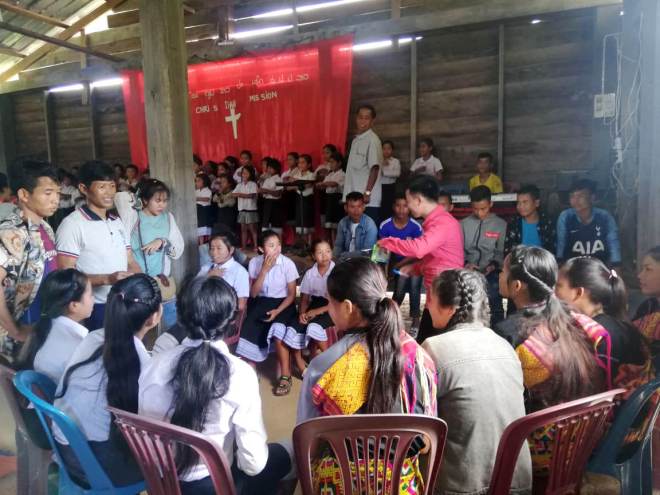 Painit noted that, in Laos: "It is not a normal ministry to distribute goods here, especially during this pandemic. Local village officials and other people in the community recognized that LSMC is doing great work in this time of pandemic. It has become a living witness as a church in the community."
Walk with LMI in its faith journey
God's work in Laos is growing and expanding. There are many stories to celebrate and opportunities to maximize, and yet, there are also challenges to navigate. The Lao Samphan Methodist Church leadership is steadily working on the challenges. The local village officials in some places have begun to recognize the churches as partners in community building. Though official recognition is not imminent at this time, gradually the LSMC leadership is paving the way for future recognition.
With the outbreak of COVID-19, the church is more than ever challenged to respond in varying capacities to help its people. We now see people helping each other and strictly following government restrictions, health guidelines and protocols to mitigate the impact of the COVID-19. Families and churches are seeking ways to stay as one while collectively praying for one another. Paul's letter to 2 Corinthians 4:8, says: "We are hard pressed on every side, but not crushed; perplexed, but not in despair."
Let us continue to pray for all the frontline workers, families and communities at risk, governments and the world as we invoke God's healing grace for all God's people and creation.
To walk alongside us, give to the Laos Mission Initiative, Advance # 14927A.