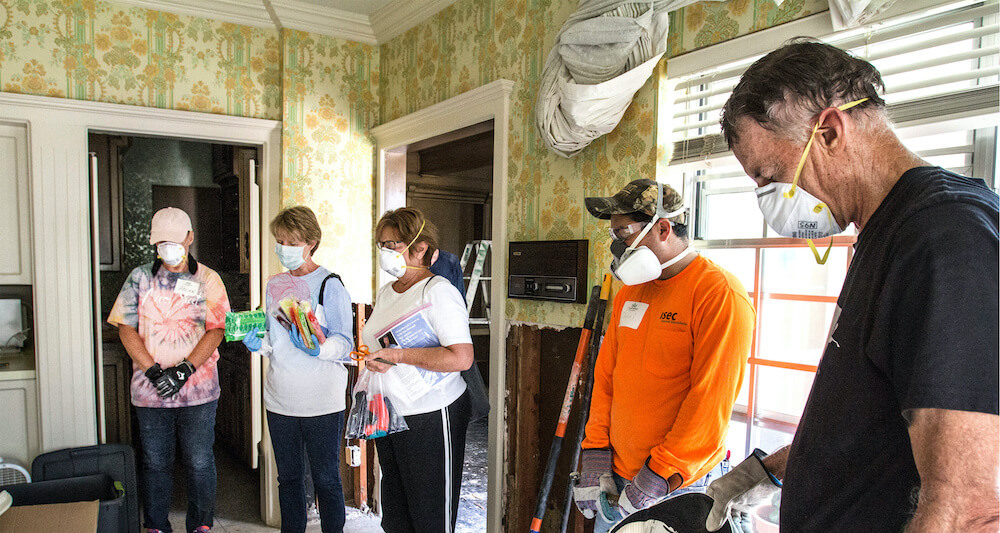 By Stacey Jones
August 2020 | ATLANTA
Just as the COVID-19 global pandemic began to spread in the United States in March and April, the United Methodist Committee on Relief (UMCOR) was wrapping up its nearly three-year commitment to another disaster, Hurricane Harvey response and recovery.
The Category 4 hurricane made landfall twice in south central Texas in late August 2017, bringing tremendous damage from its 130-miles-per-hour winds and torrential rain. The slow-moving storm dumped some 50 inches of rain – 27 trillion gallons of water – over affected parts of Texas, leaving catastrophic flooding in its wake, most memorably in the city of Houston. The storm left more than 100 dead and caused some $125 billion in damage, including to 135,000 homes in Houston and along the state's Gulf coast.
Working on long-term recovery efforts for cities and towns impacted by Harvey was a wide-ranging community effort by UMCOR through the Rio Texas, Texas and Louisiana annual conferences and its ecumenical partners, Mennonite Disaster Service and the United Church of Christ. Along with these organizations were many other local aid and community groups and churches working to repair the damage Harvey caused.
Setting up the response
"We were having conference calls before the storm hit because we knew it would be a big one," said Eugene Hileman, an UMCOR disaster response coordinator based in Ohio who arrived in Texas before the storm subsided.
Trained and certified volunteers traveled to Texas as part of early response teams. These initial volunteers worked to contain additional damage to homes and structures by tarping roofs, removing trees, cleaning up debris and providing thousands of UMCOR flood bucket clean-up kits to individuals and families. They cut out wet dry wall, insulation and carpet to keep mold from overtaking homes in the late summer heat. "Through all that, there's the planning for what's to come next, lining up resources to move into the work of case management," Hileman said.
The work of recovery
The Texas Annual Conference, which serves Houston, and the Rio Texas Annual Conference, which serves Texas's south-central coast, provided recovery services to Harvey survivors. All of the case managers were in place by Thanksgiving 2017, setting up intake and assessment for families and individuals to figure out needs for food, shelter, clothing and health care as well as the longer-term needs of repairing, rebuilding or replacing homes.
"No matter how quickly you stand up an agency, it's never fast enough," said Nikki Leaverton, the Rio Texas case management director. Unsuspecting individuals and families were taken advantage of by unscrupulous contractors who did shoddy work or took their insurance or FEMA proceeds altogether without conducting any repairs. "In most of these areas, this is the first Category 4 hurricane they've seen in 30 or 40 years, and most people don't have the experience to know help is coming," she explained.
After the Federal Emergency Management Agency (FEMA) provided funds through its Disaster Case Management Program, UMCOR and its agency partners were able to use those funds to hire, train and pay staff. The FEMA funding allowed the agencies to use their initial UMCOR grants to fund unmet needs, primarily for those impacted in areas for which no long-term recovery organizations existed.
All told, UMCOR allocated nearly $15.1 million in emergency and recovery grants to Hurricane Harvey relief and recovery. While final totals are still being calculated, preliminary results show more than 1,800 individuals and families received comprehensive case management services and more than 9,000 received assistance from various programs supported in part by UMCOR grants. Approximately 4,500 volunteers came from around the country to participate in the recovery effort. In addition, UMCOR helped fund 10 homes in the Hope Meadows subdivision, a new community that arose from Harvey's devastation.
Building a community
Harvey had a tremendous impact in Bloomington, Texas, within the Rio Texas Conference. There, 600 homes were severely damaged, with an estimated 20% of those left uninhabitable. Hope Meadows, a planned 40-home subdivision in Bloomington, was the result of a consortium of partners including the Rio Texas Conference, Habitat for Humanity, Samaritan's Purse, Mennonite Disaster Service (MDS), and UMCOR, bringing their best skills to build and fund homes for those who needed them. "This project exemplifies UMCOR's position that local community members are in charge of their recovery from disasters," said Greg Ellis, UMCOR's U.S. Disaster Response program manager. "Working together with the people of Bloomington, a sustainable recovery has been initiated for 40 families."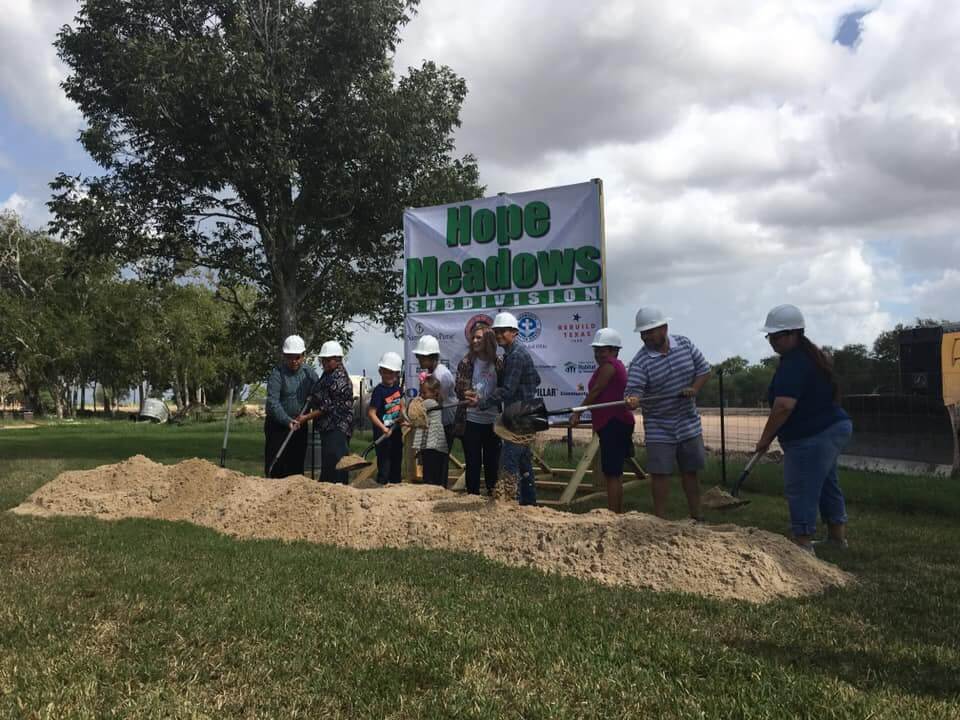 Construction work began on Hope Meadows in October 2019. UMCOR partner MDS helped build the homes with the help of Amish volunteers, who worked in two-week shifts. During the build, up to 50 of these volunteers were onsite at a time, traveling by bus from Ohio. Work was 98% complete by March of this year, when the volunteers returned home because of COVID-19. Thirty homes were built, roughly one a week, including the 10 funded by UMCOR with a $700,000 grant. Golden Crescent Habitat for Humanity funded and built the remaining 10 homes.
The subdivision provides stable housing for people such as Linda Villarreal and her husband, Jimmy Nunez, profiled in the Victoria Advocate newspaper in April 2020. The couple's mobile home was completely destroyed by Harvey. Insurance covered their mortgage payoff but not replacement costs for their home. Ineligible for multiple assistance programs, Villareal submitted an application for Hope Meadows in July 2019 and was approved a month later, her Rio Texas case manager, Roslyn Murphy, said.
Said former Rio Texas Recovery Director Vicki McCuistion, as UMCOR wound down its efforts in Texas, "It is really going to help these people be more sustainable to be in safe and secure housing. So many less worries to be able to live in a house that's well made and secure and to live in a community with other people who've received the same gift."
"The community is going to be better off in the long run," she added. Those served by Rio Texas have built strong relationships, not just with the conference but with their local emergency
management coordinators and recovery partners as well. It's a far-reaching community, to be sure, but one forged in a shared commitment to making lives better.
Stacey Jones is a freelance writer and editor for Global Ministries.