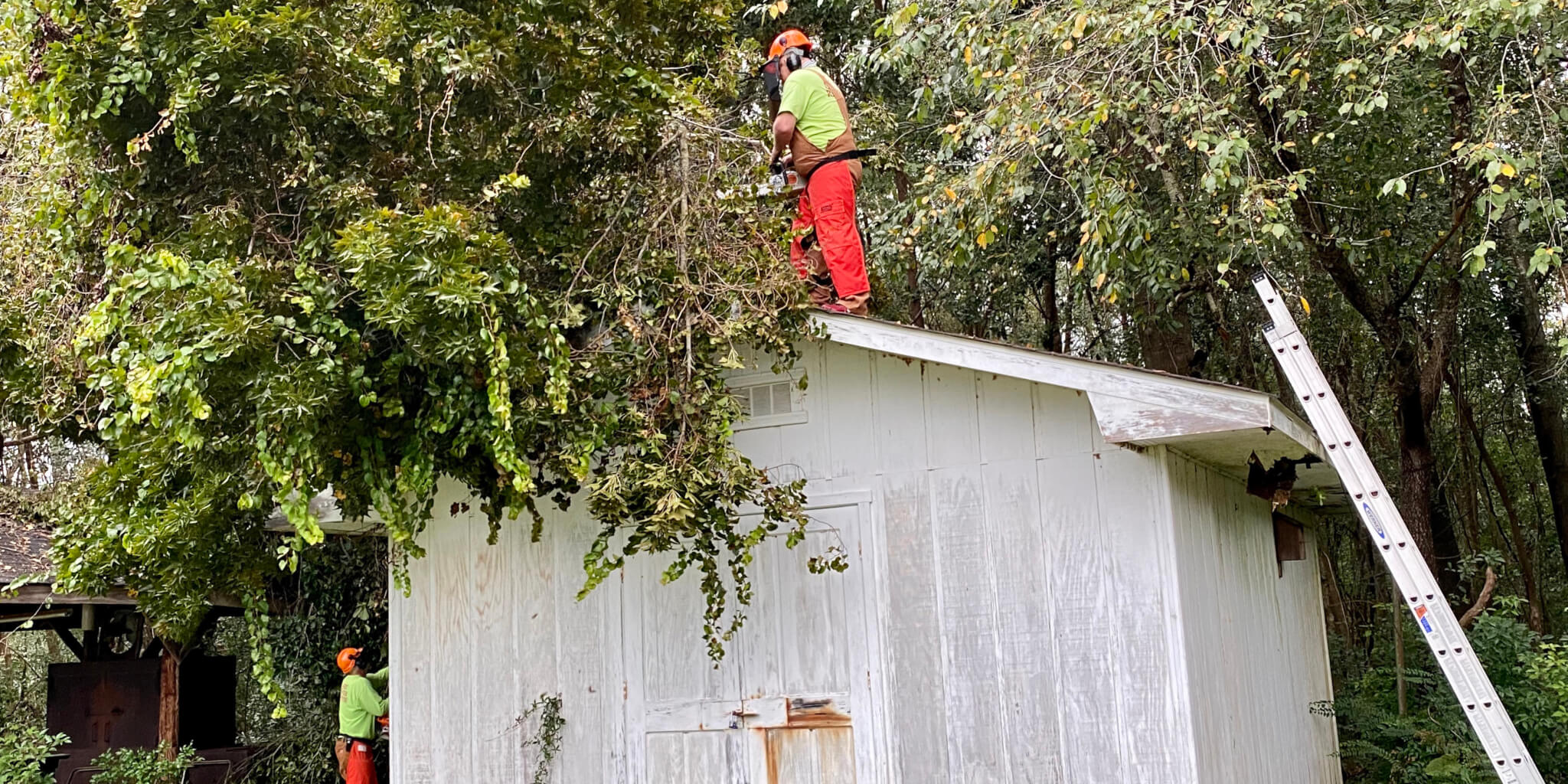 An UMCOR-trained early response team (ERT) from South Carolina works on repairs at South Brookley United Methodist Church in Mobile, Alabama, following Hurricane Sally. PHOTO: JILL EVANS
---
By Dan Curran 
March 12, 2021 | ATLANTA
Hurricane Sally may have been just one of the seven major hurricanes in 2020, but to UMCOR and its local partners, it was an example of how the agency brings the power of meaningful response and recovery to areas suffering the brunt of repeated disasters.
2020 produced the most active hurricane season on record, with 30 named storms. In September, Hurricane Sally started its journey in the Bahamas, traveled to the U.S. Gulf Coast and then wreaked havoc on the Southeastern United States.
In the Gulf, Sally brought maximum sustained winds of 105 mph to the area between Mobile, Alabama, and Pensacola, Florida. Widespread wind damage, storm surge flooding and over 30 inches of rainfall were made more severe because Sally crawled ashore at an agonizingly slow pace. This resulted in the hurricane-force conditions lasting for more than 24 hours, causing damage estimated to be at least $7.3 billion.
In the days leading up to the storm, UMCOR was in contact with local partners to help them prepare. Right after the storm, UMCOR awarded a grant to the Alabama-West Florida Conference of The United Methodist Church to help with immediate needs. Funding was used to provide emergency needs in evacuee support, direct assistance to survivors, relief supplies and materials distribution. Supplies were shipped from the UM Disaster Warehouse in Decatur, Alabama, for use in the impacted area.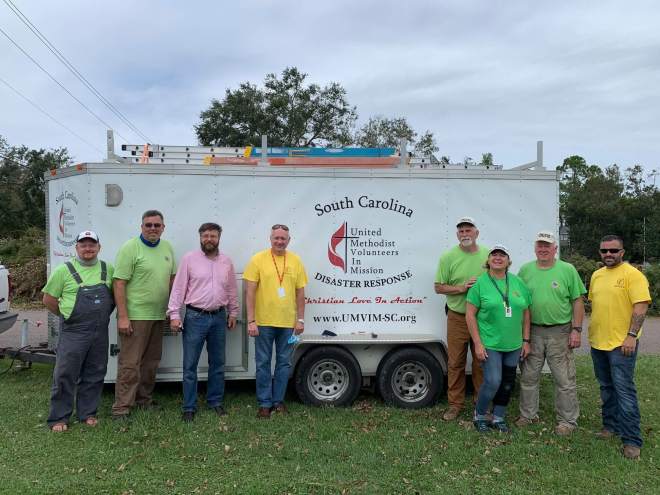 While cleaning up from Hurricane Sally, Hurricane Zeta (October) crossed Alabama, leaving close to half a million residents without power and causing at least one fatality.
To support long-term recovery, UMCOR awarded a substantial grant to assist with the reconstruction needs of 37 households. Later, an additional, more significant grant was awarded to provide support for case management of 320 households (approximately 736 individuals) for 2020 Hurricane recovery.
"These grants to the Alabama-West Florida Conference can be considered as part of one large recovery program that is focused on assisting communities experiencing repeated challenges," said Lara Martin, interim director of U.S. Disaster Response for UMCOR.
"Donations made on UMCOR Sunday, celebrated each year in March, have a cascading effect in that they help our partners deliver comprehensive disaster response and recovery efforts that impact people both today and tomorrow," said Roland Fernandes, general secretary of Global Ministries and UMCOR. "Uniting to support UMCOR's work truly helps those dealing with natural or civil disasters that are interruptions of such magnitude that they overwhelm a community's ability to recover on its own."
Friends of UMCOR often refer to its work as being "early in, last out." It is the case management – helping survivors navigate the system so they can rebuild their lives and develop and implement realistic disaster recovery plans – that fulfills the" last out" mission.
This speaks to the UMCOR difference — UMCOR journeys with its local partners from early response to recovery and onwards, no matter how many times a particular region is impacted.
The Alabama-West Florida Conference used its UMCOR connections and resources throughout all three of the conference's districts of Mobile, Bay Pines and Pensacola.
The Alabama-West Florida Conference applied knowledge and skills obtained from a successful, ongoing Hurricane Michael recovery to respond to hurricanes Sally and Zeta rapidly and effectively.
"Having our team from Hurricane Michael on hand made it so much easier to get our Hurricane Sally recovery program up and running," said Chris Ackerman, Alabama-West Florida Conference's disaster response/director for Hurricane Michael recovery. "By using experienced disaster case managers previously trained by UMCOR, we didn't have to start from scratch. Our Hurricane Michael work continues to make us better prepared for hurricanes like Sally, Zeta or whatever comes our way."
As devastating as 2020's season was, scientists are now warning that the 2021 tornado season could be unusually potent in parts of the South and Southeast, ramping into overdrive during late March into April. In fact, it could be the third consecutive year to feature a particularly active April, according to researchers at Northern Illinois University who have created the Extended-Range Tornado Activity Forecasts, or ERTAF.
A good way for United Methodists across the connection to help United Methodists prepare for storms forming on the 2021 horizon is to support UMCOR with an annual gift. You can give a gift to support UMCOR Sunday (Donation) or through the Advance, #999895, UMCOR where most needed.
Dan Curran is a communications consultant for Global Ministries and UMCOR.