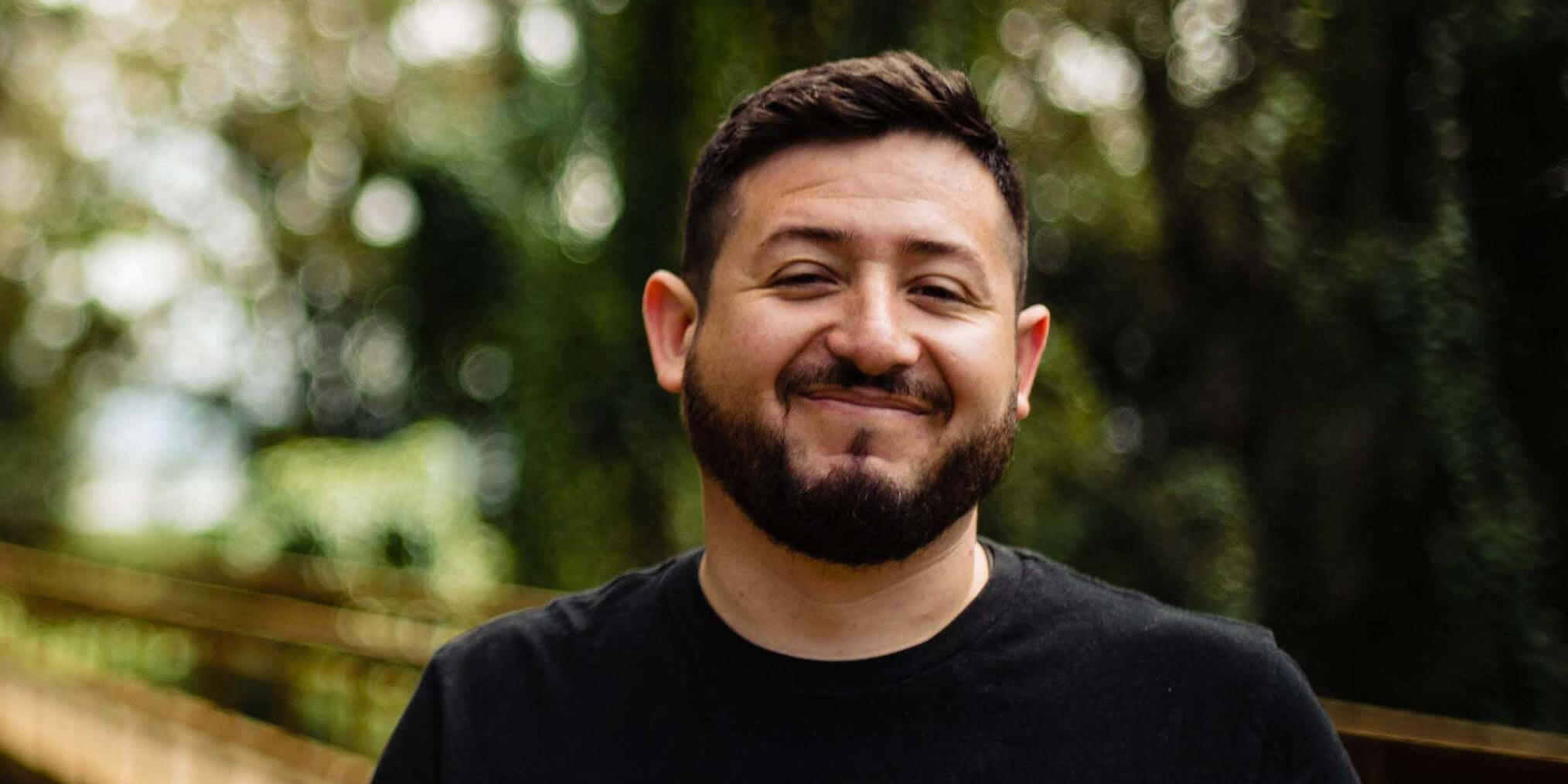 Cristian Schlick, a missionary from Chile serving in Mexico, expresses gratitude for Covenant Partner Relationships and the congregations that support him in ways beyond their financial pledges.
By Christie R. House
October 29, 2021 | ATLANTA
"Having a relationship with a congregation on a regular basis is really helpful," Cristian Schlick said of Global Ministries' Covenant Partner Relationship program. "The covenant program helps to create sustained relationships with local churches, because they walk with you in your mission work."
It is good for Cristian to have people who "walk with him," as he walks with migrants in Mexico and Central America. He lives in Mexico City and is assigned to serve with the United Methodist Committee on Relief's Global Migration Team – missionaries and church leaders in the U.S. and Latin America who provide a Christian presence of care and concern for migrants who have fled their home countries to seek safety or better opportunities in the United States.
Another part of his missionary work relates to Global Ministries' Latin American office, with which he develops programs around social justice and ecumenical relationships.
Finding the right fit
In some ways Cristian's missionary journey began when he was a child growing up in Chile, where he attended Second Methodist Church in Iquique, and the Chilean Methodist school, Colegio Ingles. There he learned English, but he also met missionaries who came to accompany Chilean Methodists and a host of U.S. volunteers who spent a few weeks or a few years helping to improve the school's resources and programs.
After graduating from Colegio Ingles, Cristian attended college and then earned a law degree from University Arturo Prat. He applied to be a Global Mission Fellow in 2017 and was assigned to the Human Rights Institute of the Central American University in El Salvador to support its immigration program. But when he arrived, they learned he was already a lawyer with experience in International Human Rights and invited him to become part of their legal team.
It was this combination of concern for human rights, living his Christian faith and law experience that drew the attention of the mission committee at St. Paul's United Methodist Church in Tulsa, Oklahoma. The Rev. Earlene Reedy, a retired pastor who assists the Rev. Kathy Brown, St. Paul's senior pastor, said the church was interested in border ministries and immigration. "We felt he would be a good fit with this congregation. One of the things that really impressed us was that he had legal experience as well as a passion for ministry. And he is from South America. So often we think of missionaries as people we send. We felt good that he was from Latin America."
St. Paul's began its Covenant Partner Relationship with Cristian in January 2020, just as the COVID-19 pandemic began to spread worldwide, so the congregation has never met him in person. But he keeps in touch through email and social media, especially with the pastors, and he also receives messages from congregation members on his birthday, holidays and when he expresses prayer concerns. In July, for instance, Cristian contracted COVID-19, and he had plenty of prayer support. He's now fully recovered.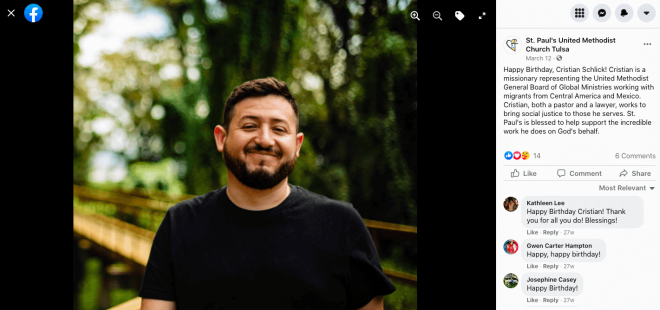 Because of COVID-19, St. Paul's started streaming services on Facebook, so Cristian can also take part. This year, Reedy asked him to send a video message that was played during worship. The mission committee is planning to connect with him online in an upcoming meeting, so the church is finding ways to build their relationship.
"Hopefully, the congregation is gaining new awareness through this relationship," Reedy said. "When we are watching the news, and we see clips of migrants at the border, like those from Haiti, knowing Cristian is there gives people hope. We have someone who is speaking on behalf of Christ amid all this political turmoil – Methodists like Cristian, who have that heart experience for human rights. We can't go there and do something ourselves, but we can support him with our gifts and prayers."
Little messages go a long way
Cristian gained another Covenant Relationship partner in his work through a long-time friend he met in Chile. Becky Harrell Wright had volunteered and then worked as a missionary in Iquique at Cristian's school, and they practiced English when he came to the library, where she was working to automate the catalogue system. She is retired now and living in Texas.
Her church, Gruene (pronounced "green") United Methodist Church in New Braunfels, Texas, agreed through its mission committee to begin a Covenant Partner Relationship with Cristian.
During Vacation Bible School this year, Becky had a chance to introduce a wide range of kids to the idea of a Covenant Partner Relationship with Cristian. Kids from kindergarten through high school created notes and cards, which were scanned and sent to him. They got to him right about the time he was recovering from COVID-19.
"Being in covenant with the St. Paul UMC at Tulsa, Oklahoma, and Gruene UMC in Texas, has been a story of not feeling alone in COVID times," Cristian explained. "From emails from their members to public posts of gratitude on Facebook, or drawings from Sunday School and VBS kids, they make me feel loved and lifted in ministry."
For more information about how to begin a Covenant Partner Relationship with a missionary, visit umcmission.org/covenants.
Christie R. House is a consultant writer and editor with Global Ministries and UMCOR.