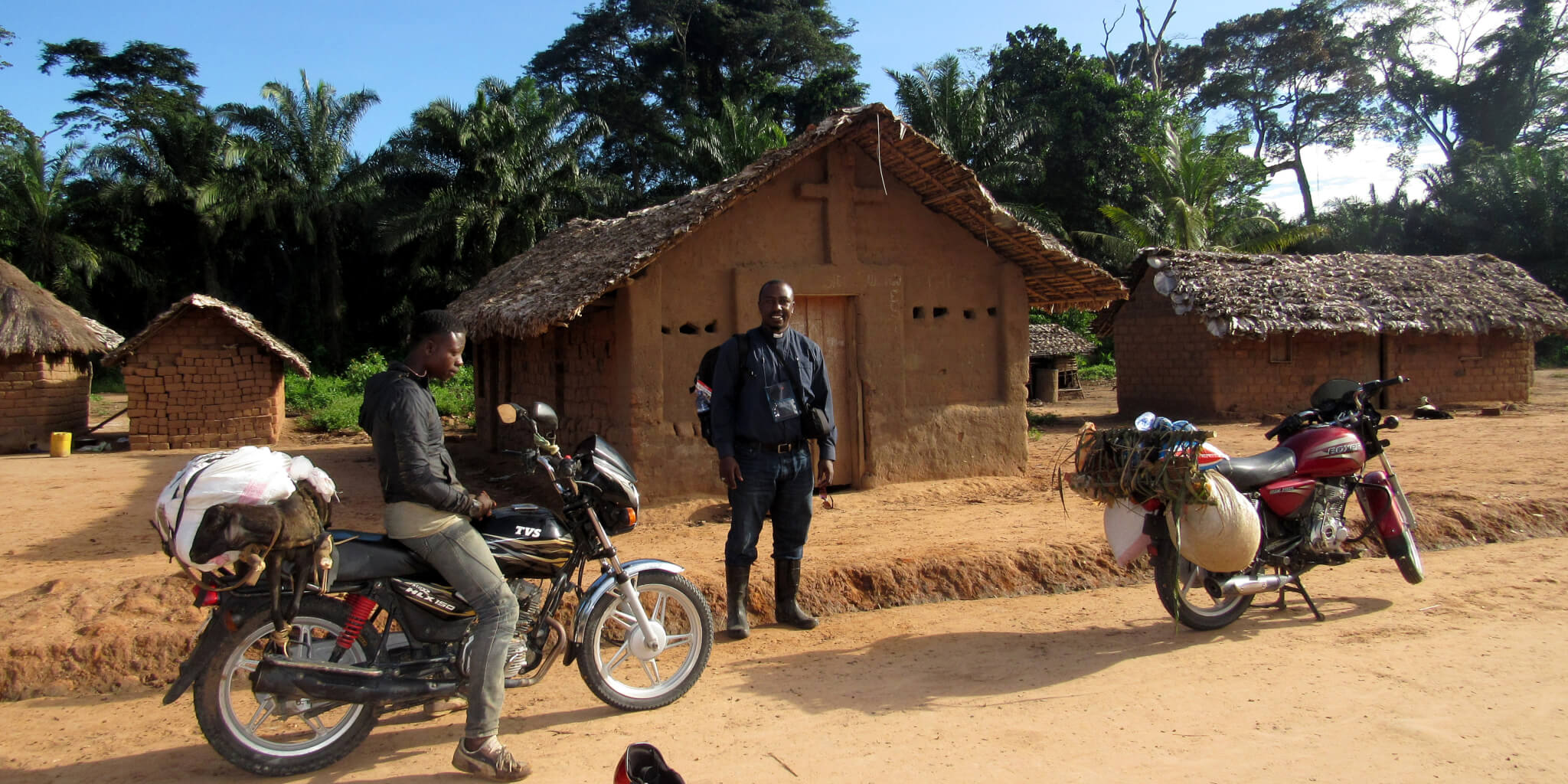 Missionary Collins Etchi Ako from Cameroon, standing, ready to ride in East Congo. PHOTO: COURTESY OF COLLINS AKO
---
A missionary who discovered United Methodism through the Cameroon Mission Initiative uses experience gained in 17 years of lay leadership and church development to help strengthen these areas in the East Congo Episcopal Area.
By Christie R. House
June 29, 2022 | ATLANTA
Collins Etchi Ako from Cameroon has met and worked with more United Methodist missionaries than the average UMC member. He joined the church in his country when Methodism was just beginning through the Cameroon Mission Initiative.
"My first encounter with the Methodist Church was from the invitation of a university classmate," Collins explained. Then he laughed, "So I would go to this Methodist Church, and we worshipped in a classroom."
That classroom witnessed the birth of the first UMC in the country, a church planted by the Rev. Ayuk Victor, a Cameroon native who was introduced to United Methodism in the United States while studying in Michigan. When Global Ministries assigned its first missionaries in Cameroon, Ayuk had already established the church in Yaoundé and about eight others in surrounding villages.
Collins was raised in the Presbyterian church. His grandfather on his mother's side worked for the church and he and his siblings attended church with her in Buea. They were engaged in many church activities, including singing in the choir. But Collins' mother died when he was 18.
Collins and his siblings were taken in by his mother's sister in Yaoundé, Cameroon's capital. The Presbyterian church they attended was big, not only in membership, but many of the members were also officials in the government. Collins didn't feel comfortable in this setting, and so he accepted the invitation to the Methodist Church from his friend at Yaoundé University. He stayed even after his aunt found out and threatened to cut off his allowance.
Even after the pastor was relocated for his work, Collins continued to attend the church, becoming, at a young age, one of the lay leaders who organized and developed the new church and preached occasionally. Eventually, he started a youth group.
Missionary pastors
The Rev. Ehaso Lokombe Kipuke and Beatrice, his wife, from the Democratic Republic of Congo, arrived in Cameroon in 2001 as the first United Methodist missionaries for the mission initiative. They were followed by Bill and Grace Warnock in 2002, who were called out of retirement to serve this new faith community.
The classroom was soon too small to hold the congregation and they moved to a rented hall. Collins became the president of the first local UMC in Yaoundé and a young woman named Nkondock Mbondy Anne Greta became the vice president. They worked closely together, and after a few years, they married. Today, the couple has four children.
While the Warnocks were in Cameroon, the Women's Division, which was then part of Global Ministries and is now known as United Women in Faith, offered funding for projects that met certain criteria. Warnock asked Collins if he had any ideas.
Collins exclaimed: "I said 'Yes!' with the hope that I could go home and surf the internet to figure out what a project is and how you organize one."
He did his research and came up with a project idea related to sensitization about stigmatization related to HIV and AIDS. After his application was approved for funding, he organized young people from United Methodist churches in different areas for training with a renowned doctor. Finally, they went into villages and conducted the HIV sensitization campaigns.
That project worked out well, and in time, they added a malaria prevention campaign, and later a mobile eye clinic. Collins's project became the base for what developed into the current health department of the United Methodist Church in Cameroon.
Likewise, his work with leadership development for young people eventually formed the core of the youth and young adult department of the UMC in Cameroon.
The Warnocks returned to the U.S. and a younger missionary couple from the U.S., Wesley and Leah Magruder, arrived to guide the mission initiative. They hired Collins as the Volunteer in Mission Coordinator to receive U.S. teams and work out the logistics of getting them where they needed to be with accommodations and transportation. He developed good relationships with U.S. teams and team leaders, who today form the core of his missionary support.
But he also credits some of these good friends with helping him to find his way and hear more clearly the call God was making on his life. Collins thought he wanted to be a doctor, and at one point, he even went to Ukraine to study, but it was not as he expected. The Rev. Abe Smith, a team leader from Texas, suggested he study for a Master of Divinity degree instead.
Prepared for God's purpose
As Collins looks back on his life, he can see now that God was very clearly preparing him for a specific purpose, though he could not see it at the time. In addition to his Master of Divinity degree, he also earned a bachelor's in political science, a bachelor's in theology, and a master's in social science and international relations. Some of these he accomplished with the help of Global Ministries' leadership development scholarships.
After the Magruders departed, the Ndjungu family, Nkemba and Mbwizu from the DRC, arrived. Rev. Ndjungu Nkemba urged Collins to enter the pastorate and appointed him to a church. During this period, Collins was struck by Wesley's statement; "I consider all the world as my parish."
"This statement of John Wesley really resonated with me. I felt I was called not just to the local church, but to serve the world through the church. And this led me to move around in the world and make it my parish."
Collins' missionary application was accepted by Global Ministries. In 2018, he was assigned to serve the East Congo Episcopal Area, which was a new episcopal area established in 2012. It was also an area devastated by civil war.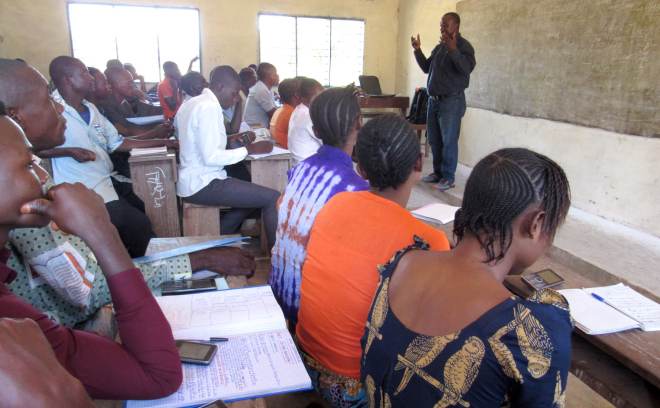 "My ministry in East Congo is in a post-conflict reconstructionist context," he explained. "This is because the DRC has been through two major civil wars. During these long years, a lot of infrastructure was destroyed – churches were destroyed, and rape was used as a weapon of war. In this context, a lot of rebuilding needs happen – at every level – from the level of infrastructure to the human level."
Today, Collins, a provisional elder of the Cameroon UMC, serves alongside the local East Congo leadership in different programs, such as the Mama Lynn Center for women and girls who are survivors of violence, and two orphanages, one in Kindu and the other in Goma. He works with youth and young adults to strengthen youth programs and teaches at the United Methodist University in Kindu. To provide different Christian perspectives, he invites guest teachers from other countries to address the students via Zoom. Wes Magruder, now serving in South Africa, has been one of those guests.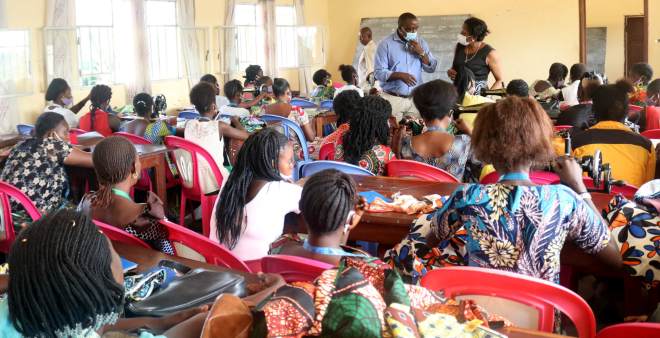 "All these missionaries I have met and worked with played a major role in my life in helping me understand my call, but also just offering me opportunities to serve and work on my leadership as an individual and on myself as a person. I am a better person today thanks to what all of them have been able to pour into me."
Today, Collins pours his knowledge and experience into others.
Collins Etchi Ako's work can be supported through the Advance, #3022413.
Christie R. House is a consultant writer and editor with Global Ministries and UMCOR.