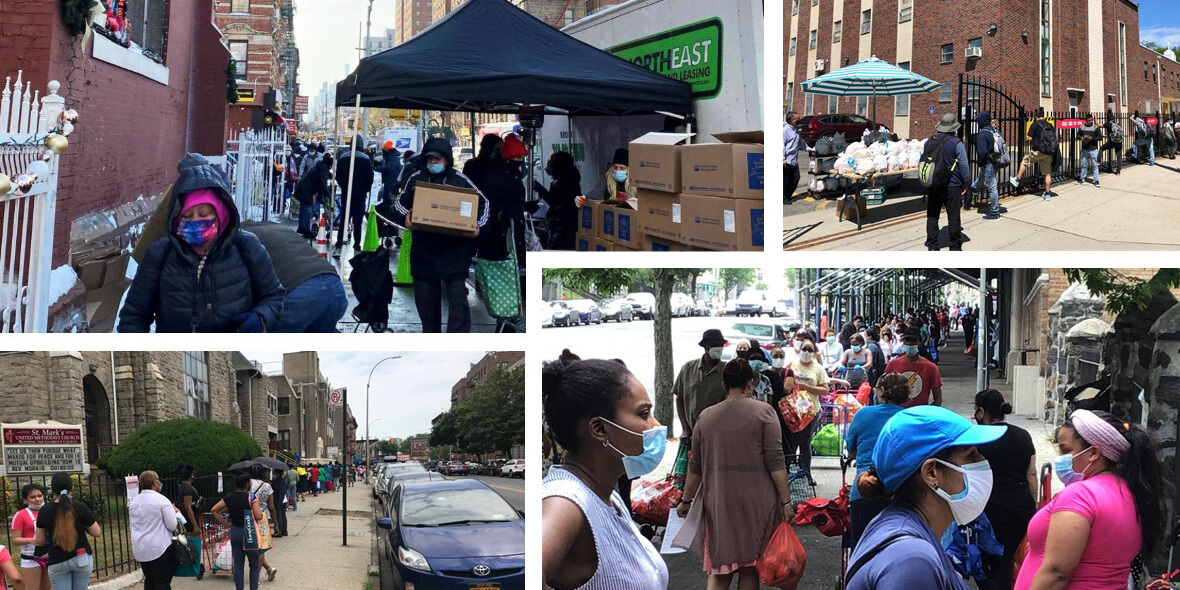 2020 was a difficult year for many New Yorkers. Above are food lines outside United Methodist churches (clockwise from top left) First Spanish UMC in East Harlem; First UMC in Flushing, Queens; St. Mark's UMC in Brooklyn; and Calvary UMC in the Bronx. PHOTOS: COURTESY OF THE CHURCHES NAMED
---
By Christie R. House 
January 15, 2021 | ATLANTA
A few grants and strong connections opened UMC food pantries and kitchens in key underserved areas of New York during the pandemic.
When COVID-19 cases started to rise in New York City in March 2020, state and city restrictions effectively shut down the city, causing job losses for many people, with the highest rates of unemployment experienced by communities of color. Within weeks, paychecks ceased, savings evaporated and no jobs appeared on the horizon. As the need for food rose exponentially across the city, nearly 75% of food pantries closed, unable to meet the need.
At the same time, churches saw rental income dry up overnight and congregational giving decrease. Yet, more people than ever needed food. Clergy and laity in the New York Annual Conference found themselves asking the same question the disciples asked of Jesus in Matthew 15:35.
Where are we to get enough bread in the desert to feed so great a crowd?
And so, as Jesus directed, they started their ministries with what they had, seven loaves and a few small fish.
Connecting the dots in the conference
In June 2020, the New York Annual Conference received one of the COVID-19 Rapid Response grants from Global Ministries, the denomination's mission agency. It was used for food ministries, and because efforts reached immigrant and ethnic-minority communities, where the gaps in service were the greatest, Global Ministries tapped funding from the Human Relations Day offering for this work and a second grant.
The Human Relations Day offering is a denominationwide offering of The United Methodist Church taken the Sunday before Dr. Martin Luther King Jr.'s birthday. Gifts received for the offering support the Community Developers and United Methodist Voluntary Services programs as well as the Youth Offender Rehabilitation Program. In 2020, gifts also supported ministries that met urgent needs in racial/ethnic communities related to poverty, hunger and homelessness.
In New York, Tom Vencuss, director for Missions and Disaster Response, set up twice-monthly conference calls in each district with congregations willing to step up and do what they could to open new food ministries.
In addition to the UMCOR and Global Ministries grants, New York Conference contributed mission funds of its own. Support also came from the United Methodist New York City Society and the United Methodist Frontier Foundation. A few churches in the city had well-established food pantries that were still operating and increasing service: Bushwick UMC in Brooklyn; St. Paul and St. Andrew UMC and the Church of the Village UMC in Manhattan; and Salem UMC in Harlem, and all were willing to accompany pastors and congregations seeking to open new food ministries. Each of the churches below received a start-up grant for their pantries.
The Bronx
The Rev. Wesley Daniel at Calvary UMC in the Bronx was compelled to action by what he saw on the streets. Calvary is a predominantly African American, Caribbean American congregation. "With pantries closing, people were roaming the streets to try to find food."
"We'd been trying to figure out how to partner in the community," Daniel continued. "Fortunately – and unfortunately – COVID gave us an answer. We started by offering whatever we had in the church. Soon, we realized this work demanded more than we were able to offer."
Calvary contacted Grace Episcopal Church in the Bronx, which had an active food pantry. Grace was able to supply food boxes to Calvary on a weekly basis and gradually increased its distribution.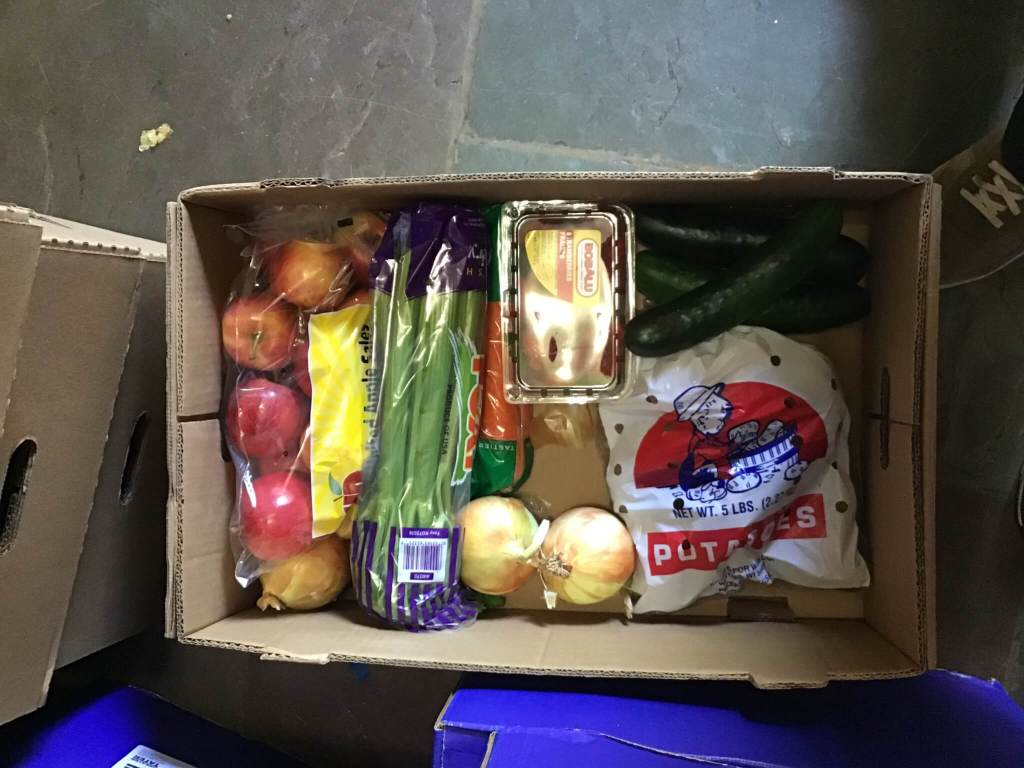 "We started with distribution to 40 people. Now we serve 130-150 households, about 300-400 people every week," Daniel said.
Calvary connected with Salem UMC in Harlem for additional food boxes and later with Trader Joe's. In addition, Calvary identified several families needing rent assistance, which the conference arranged to pay with funds from the Human Relations Day grant.
"Volunteers are the backbone of the operation," Daniel noted. "We have a church van and a church bus we converted for food hauling. We don't foresee this ministry being finished anytime soon. It is such a necessity in this community, with its people of all nations."
Brooklyn
In March, the Rev. Morais Quissico, pastor of St. Mark's UMC in Brooklyn, was looking at a bleak forecast for the church's 2020 income. No rentals, no offering plates, and he was concentrating energy on how to transition to online services. His wife, Fatima, had other matters on her mind.
"We were feeling pressure to respond to people losing jobs and becoming hopeless," Quissico remembered. "Fatima said, 'we will have to start a food pantry.' Where would we get money to feed people? But to her it was obvious – long lines of people were waiting for food at the few churches offering help. We prayed about it every day."
St. Mark's is part of the Brooklyn cooperative parish started by the New York Conference last year. During their Thursday online meetings, the churches lend support and advice to one another. Rev. Sharon Cundy-Petgrave of the Bushwick parish UMC offered to provide food boxes and shared where and how they sourced food.
St. Mark's also connected with Evangel Church on Long Island City, an Assemblies of God congregation. In a program called Nine Million Reasons, the church receives surplus food as well as farm-fresh produce from the federal government for distribution.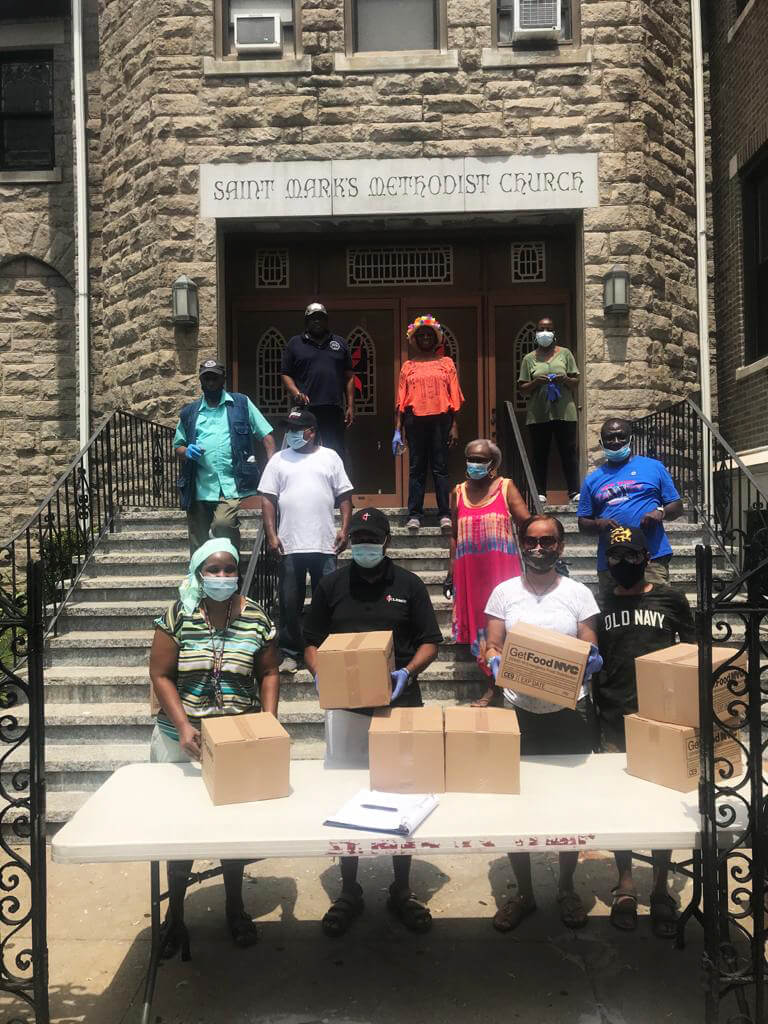 Today, St. Mark's is feeding up to 1,200 people a week. In November, the church's pantry was approved by the city as an Emergency Food Assistance Program. The New York City Society supported the renovation of a space in the church for food storage.
St. Mark's has a diverse congregation, with Caribbean, Asian, African American and African members. "All of the races we have in the city you'll find in the food line, really, to our surprise," noted Quissico.
Queens
First United Methodist Church in Flushing, Queens, a predominantly Korean congregation with the Rev. Chongho James Kim as senior pastor, started outreach into the community by making a thousand cotton masks. Mina Yoo, the English language minister for the church, says that small act, distributing to senior home residences, nursing homes, and family shelters beyond the Korean community, sparked a good energy in the congregation.
Members decided to share whatever they could to help day laborers with no work – one family bringing 100 bags of rice and another 100 frozen chickens to distribute 100 bags of food one day a week. Those first weeks they distributed food to about 50 Korean families, but also to 100 mostly Hispanic families in the community. Later, an influx of Chinese families lengthened the line.
"We were staring out with our hearts and with willingness and lots of love from the congregation," said Yoo. They had no prior experience with a food pantry.
The Saturday food distribution started at 9 a.m., but within a few weeks, people were lining up as early as 6 a.m. to receive food. By mid-summer, the line formed at 3 a.m.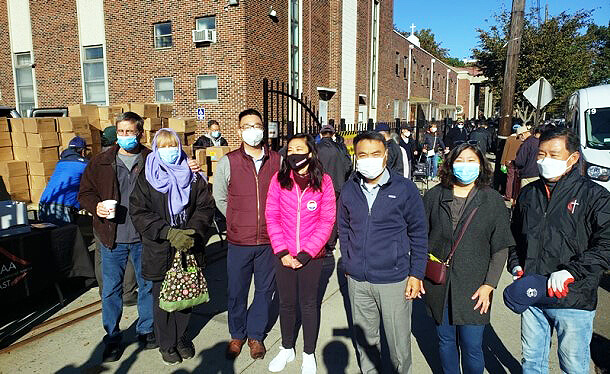 First UMC continues to serve 250-300 people each week and has applied for an Emergency Food Assistance Pantry with the city. In addition, the congregation is dreaming of future projects, like a food coop that will not only supply fresh food but also job training and nutritional education for the whole community.
East Harlem
First Spanish UMC in East Harlem was at first concerned for its own. "We were just trying to serve these three or four elders, and we ended up getting food from WSCAH (West Side Campaign Against Hunger) over with St. Paul and St. Andrew in Manhattan," said the Rev. Dorlimar Lebrón Malavé, the pastor.
Once the word got out that First Spanish, known in the community as "the people's church," had food, demand rose quickly. The congregation connected with the Church of the Village and then Evangel Church for food boxes. Today, First Spanish provides food for 400-450 households every week, or about 1200-1500 individuals.
First Spanish follows a mutual aid model, in which people receiving services are given the opportunity to volunteer to offer those services to others.
"We want to treat people in line with dignity and respect," Lebrón noted. "We invite them and make them part of the ministry. We are literally serving and loving our neighbors as we serve people."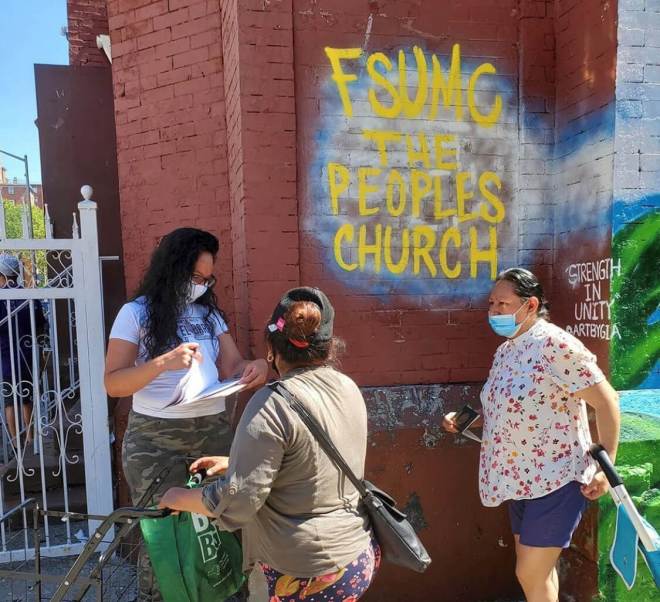 Even with the chaos of the COVID pandemic, Lebrón says God offered an opportunity to serve in new ways. "Now people ask when our doors will reopen because they want to come to worship. Our church is growing, not because of what we've said, but because of what community members have seen us do. One of the biggest things I've learned is that we already have enough to help those in need. Our problem is we try to work in isolation. But when we come together, we realize how much stronger we are and how much more we have to support our ministries."
The New York Conference aided the churches mentioned in this article and others, not just in New York City, but in rural districts of New York state and other cities across the conference.
This Sunday's (January 17) Human Relation's Day offering will support ministries in multiethnic congregations and communities of color. Click here to give to this UMC Special Sunday offering.
Christie R. House is a consultant writer and editor for Global Ministries and UMCOR.