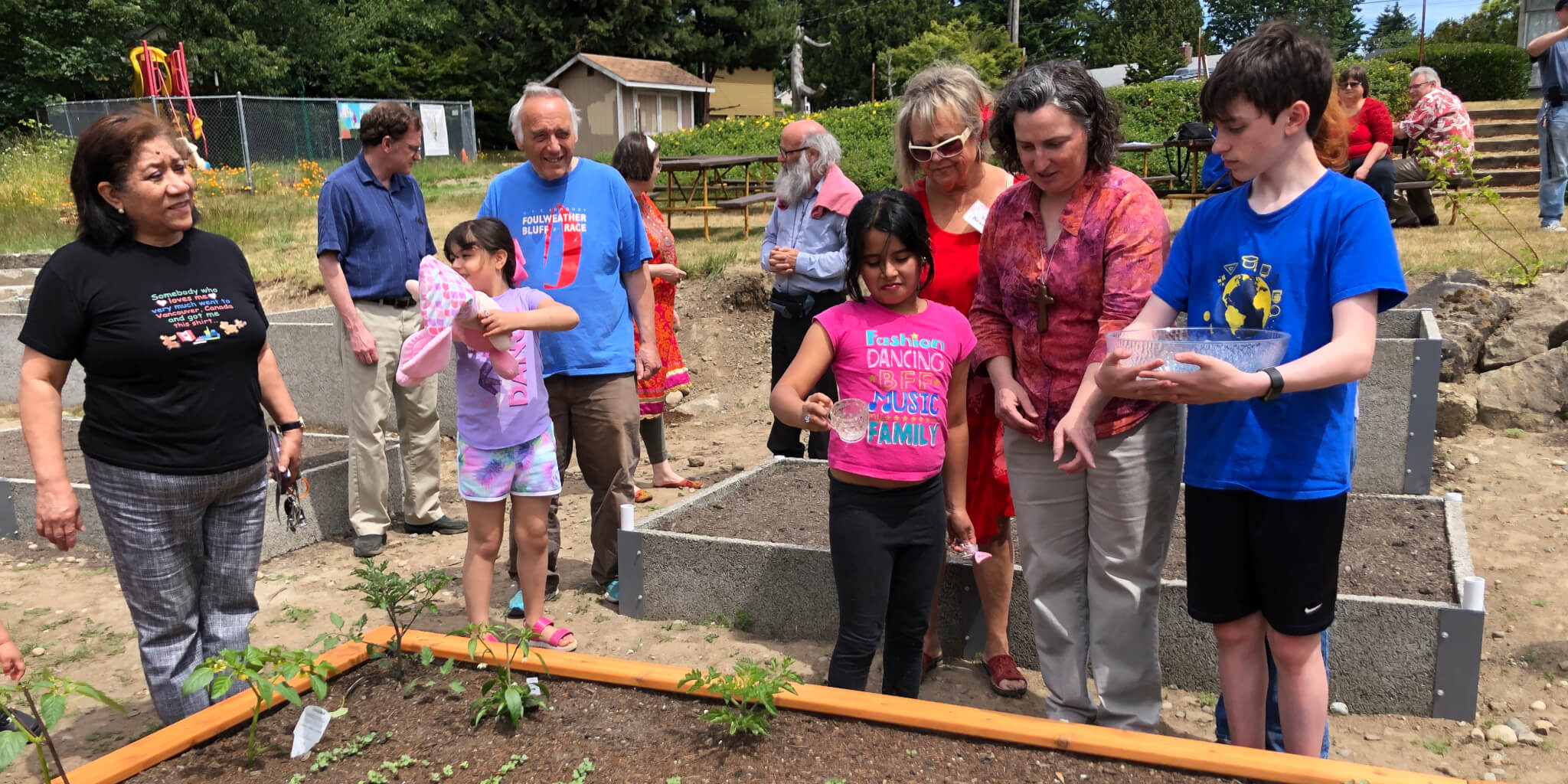 By Jenny Phillips
July 8, 2019 | ATLANTA
When the Rev. Jenny Partch, her son Henry, and layperson, Michelle Danagol, attended the Global Ministries EarthKeepers training in Salt Lake City, Utah, last fall, they worked on their vision for a community garden serving the international community in Burien, Wash. "The real dream of this garden goes back to another pastor in another time who saw ministry in this community through gardens and afterschool programs," said Partch. "That idea lived in people here in this church and they wanted to be in connection with their community through a garden."
Highline United Methodist Church is located in a food insecure community with lots of apartments in the area. People wanted a piece of ground to grow fresh, familiar food for their families. "We have people who have lived here for several generations," said Partch. "We have people who came when folks were immigrating from Vietnam. We have folks who have immigrated more recently from the Pacific Islands, from El Salvador, Guatemala, Honduras and Mexico. We also have neighbors who are Chinese and others from the Congo, from Kenya, Ethiopia and Eritrea – we're a very diverse neighborhood and so our neighbors come from all over the world."
Their church had the perfect space on its property for a garden. Partch made connections with partner organizations in the area seeking to address food security. Thirteen-year-old Henry had ideas for engaging youth with the garden. Michelle was dreaming of ways the garden might deepen relationships in the community. "The EarthKeepers program is all about capacity-building," said the Rev. Jenny Phillips, Global Ministries' Creation Care program manager. "The team from Highline UMC had already started making plans for this project. The training gave them resources and space to enrich their ideas and hone their strategy."
The congregation knew of opportunities to apply for small grants from community and government organizations but needed additional funding to bring its vision to life. After reviewing data that classified the neighborhood as a food desert and hearing of the team's detailed plan to address it, the United Methodist Committee on Relief provided Highline UMC with a grant to help bring the garden to fruition. "The Hazel Valley Community Garden is a microcosm of how asset-based community development can uplift and serve marginalized communities, bringing seemingly disparate groups together," said Lorrie King, UMCOR program manager for WASH (Water, Sanitation and Hygiene), Food Security and Livelihoods. "Also, it provided the opportunity to support the church domestically while highlighting the impact that the EarthKeepers program can have at the local level." This is the first EarthKeepers project to receive an UMCOR grant.
After hundreds of hours of digging and tilling, volunteers installed 30 raised beds and are beginning to plant food. They also installed infrastructure for rainwater cisterns and a rain garden to ensure healthy stormwater management. Volunteers are working to make the garden fully accessible so that neighbors and church members with mobility constraints can participate in growing food.
On Pentecost Sunday, June 9, church and community members dedicated the garden to God, praying for the healing of God's creation and the nourishment of the community. "It's sharing God's love and because God gives us this earth, it's the grace of God having this," said the Rev. Sophia Estevéz, special outreach evangelist for Highline UMC. "It is a gift to plant it and a gift to have the fruit…I'm so excited!"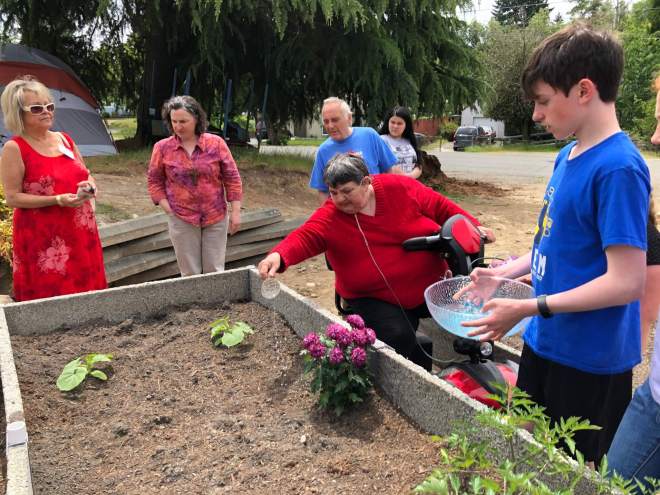 People of all ages participated in the dedication service and learned words of blessing in each other's languages. Henry Partch, the youngest Global Ministries EarthKeeper in the program, carried the baptismal font around the garden. As participants sprinkled water on each garden bed, the community blessed the soil in English and Spanish: "The waters of grace for the garden of God. Las aguas de gracia para el jardín de Dios."
The Rev. Jenny Phillips is the Creation Care program manager for Global Ministries.
New this year: all EarthKeepers will have the opportunity to apply for small grants to support their projects. Learn more and apply at archive.umcmission.org/earthkeepers.