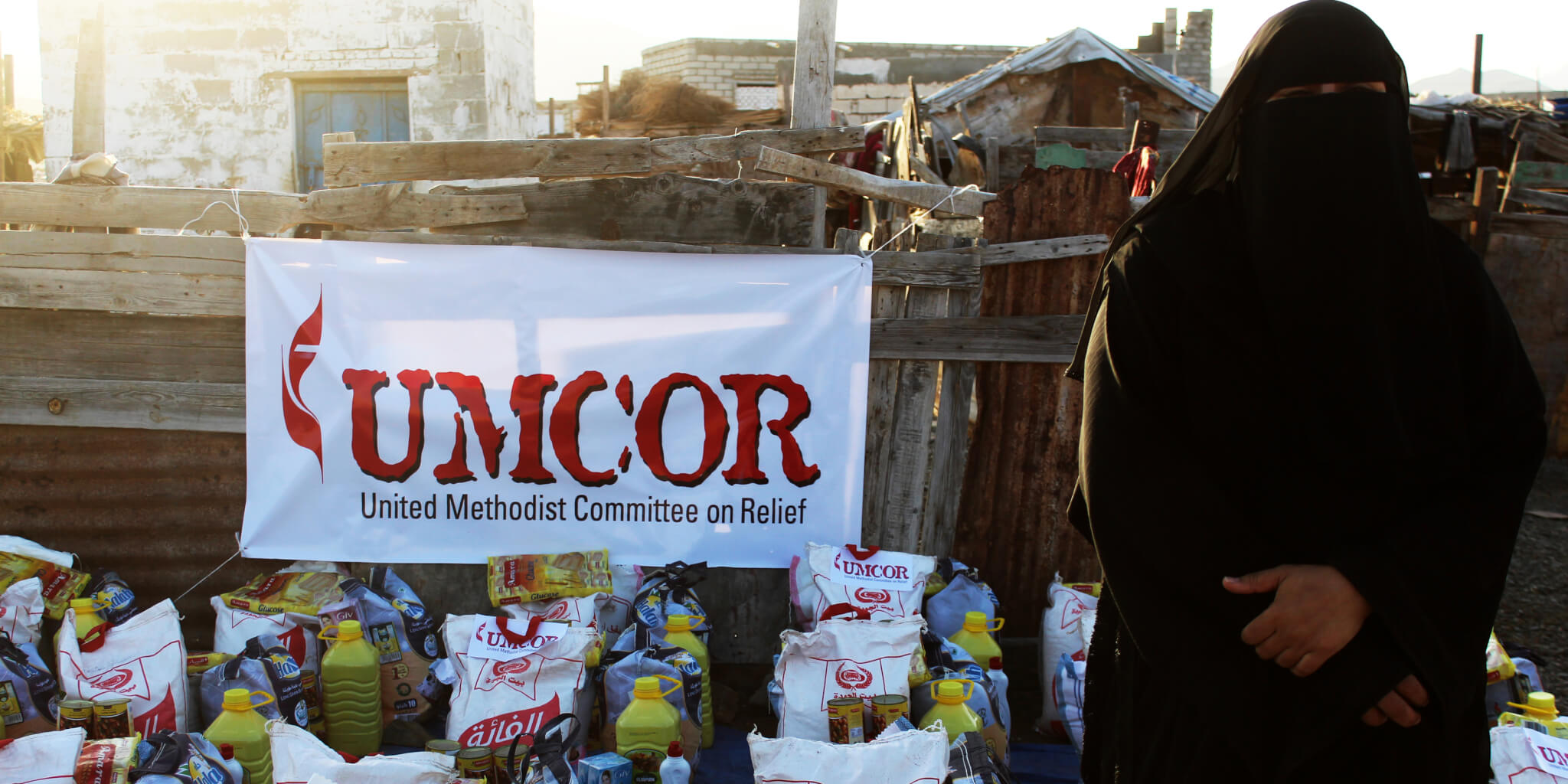 A mother at the IBC-UMCOR food and hygiene kit distribution outside Zinjabar, Yemen. Six years of civil war have produced over 4 million internally displaced people in this Middle Eastern country. PHOTO: IBC
---
By Christie R. House
May 6, 2021 | ATLANTA
Mohammad, age 10, checked out the food in his family's package first. It had just been delivered by International Blue Crescent workers, partners of the United Methodist Committee on Relief, in Yemen. His family lives in a make-shift tent camp, one of many outside the city of Zinjabar.
The aid packages contained a hygiene kit as well as flour, sugar, oil, rice and cans of beans. Beans…Mohammad's family hadn't eaten beans since they left their home village of Hudaydah three years ago. Their home, in the port city on the Red Sea, was destroyed in airstrikes. Mohammed's family then joined the 4 million other internally displaced people (IDPs) searching for safety during Yemen's civil war. Women and children make up 79% of the displaced.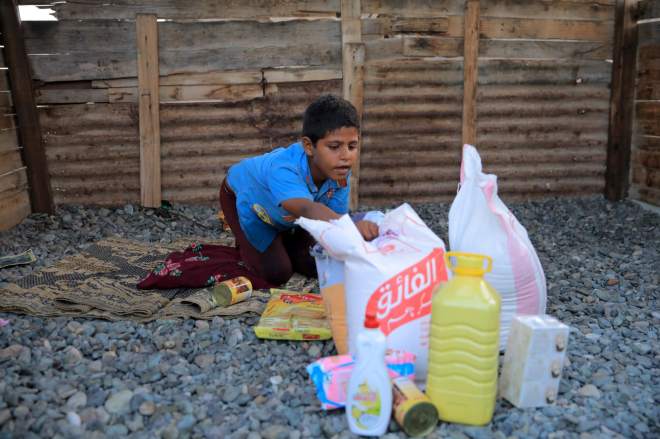 UMCOR was originally founded 81 years ago to care for people in multiple countries in Europe and Asia displaced by the conflicts of World War II. Today, UMCOR is well-known for its response to natural disasters, including floods, earthquakes, hurricanes, tornadoes and wildfires, but humanmade disasters are also part of its mandate.
"The devastation of having to leave your home with only what you can carry to escape violence that threatens your whole family is still very much UMCOR's concern," noted Roland Fernandes, general secretary of Global Ministries and UMCOR. "Often the places people end up are unwelcoming and ill-equipped to meet their needs. We work diligently to find partners who can make a difference in the lives of people displaced by violent conflict, especially women and children."
There are many factors fueling the Yemeni war. Fighting began in 2015, when Houthi rebels took over the capital city, Sanaa, after a shaky transition of power from Ali Abdullah Saleh, who had ruled for 33 years, to his deputy, Abdrabbuh Mansour Hadi, in 2012. Hadi could not keep the country together and now lives as president in exile. Powerful countries (Saudi Arabia, United Arab Emirates, Iran, the United States and allies) are fighting a proxy war in Yemen, with the ultimate losers being Yemenis on all sides.
Caught in the middle of fighting are families like Mohammad's. The United Nations has declared Yemen as the largest humanitarian crisis in the world, with more than 24.7 million people – or 80% of the population – in need of assistance. The United Nations Children's Fund estimates that nearly 2.3 million Yemeni children under the age of five will suffer from acute malnutrition in 2021. In such circumstances, emergency relief is desperately needed.
State resources not nearly enough
As one region of Yemen stabilizes, another comes under attack. So far in 2021, an escalation of hostilities in Marib has displaced another 13,600 people (2,272 families). With the conflict dragging on, health concerns grow. Since October 2016, Yemen has witnessed the largest cholera outbreak ever recorded, resulting in more than 2.2 million suspected cases and 3,895 related deaths. In the tight quarters and unsanitary conditions of the IDP camps, COVID-19 cases are surfacing and could cause more deaths than the war and all other diseases combined.
Sanitation and clean water are in short supply. Only half of health facilities are functioning; many have been lost in bombing raids. Those that remain lack basic equipment, like masks and gloves, oxygen and medicines. Many health workers stay at their jobs without salaries or incentives.
The IBC-UMCOR distribution included hygiene kits designed to meet the needs of 392 households (about 2,700 individuals) for one month. Contents include cleaning supplies, masks, soap, hand sanitizer and menstrual hygiene supplies. An earlier UMCOR grant in 2019 provided emergency relief in the same area.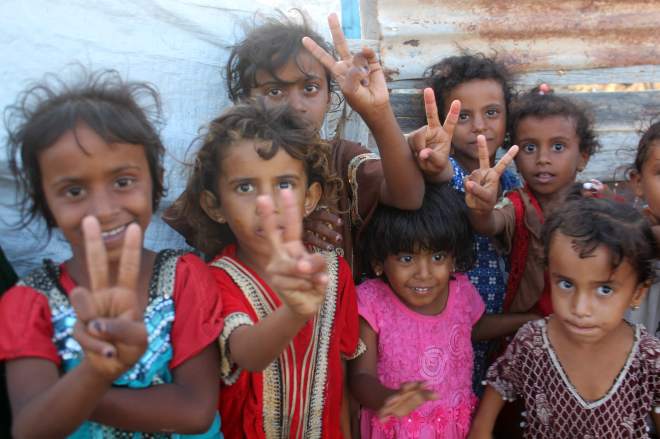 About 20 million people in Yemen depend on aid agencies for basic nutrition and hygiene needs. Although there are 2,500 families in the area of this distribution outside Zinjabar, families for the most recent distribution were chosen in consultation with Yemeni authorities. They were falling in a service gap. Other families were trying to keep them afloat, but this assistance allowed the other families to use their resources to meet their own needs for the time being.
IBC and UMCOR have worked together since 1999 in various countries on different kinds of emergency responses. They first partnered for earthquake relief in Turkey. Since then, the agencies have partnered for relief efforts in Iran, Iraq, the Kashmir region of Pakistan and India, and Indonesia.
Food, like a dream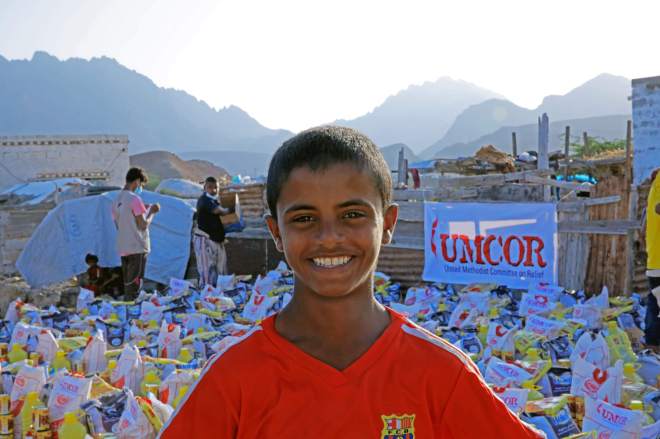 At the central UMCOR-IBC distribution site, Saleh, age 12, offered to help the IBC team. Many children come with their parents and siblings to pick up their relief packages, but Saleh stayed and volunteered. He has a broad smile and a bright red shirt. Saleh and his family were forced to leave his village near Taez because of clashes between Houthi and government forces in Aden two years ago. When their house was damaged by a rocket attack, the family fled.
Saleh tries to support his family by doing odd jobs in Zinjabar. He was proud to have IBC staff take his picture. "I have never seen so many food packages," he remarked, surveying the scene. "These will keep us full for weeks, it's like a dream."
For some living in this world, food is like a dream. UMCOR's purpose is to reach people like Muhammad and Saleh and their families, almost forgotten in wars the world chooses to ignore. A gift to UMCOR International Disaster Relief, Advance #982450, will assist more families with needed emergency relief.
Christie R. House is a consultant writer and editor with Global Ministries and UMCOR.