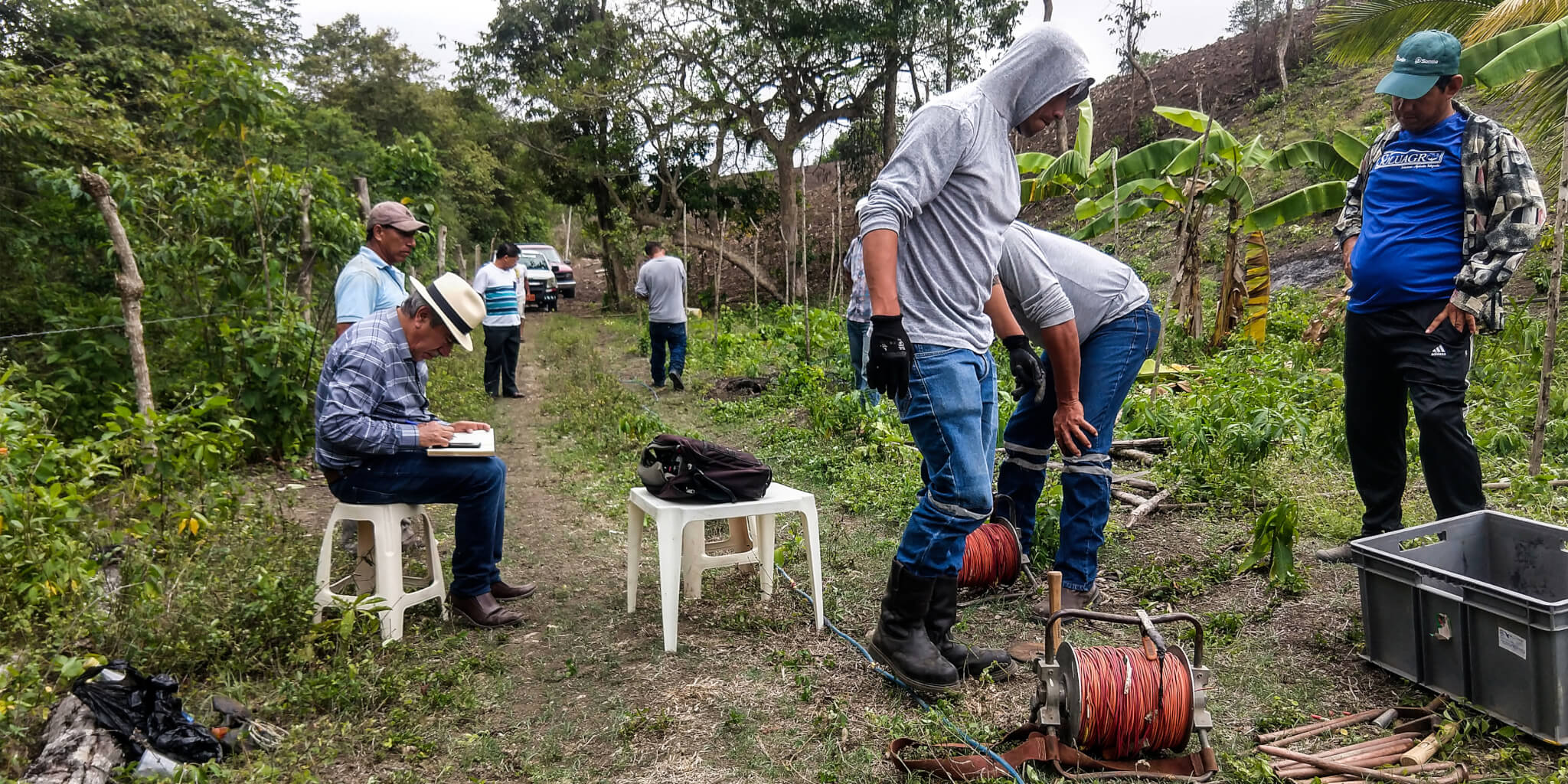 Geoelectric survey conducted by FIEA in Rocafuerte region, Ecuador. PHOTO: FIEA – ECUADOR
---
Global Health partners with Engineers in Action to bring clean water and sanitation facilities to schools, churches and whole communities.
By Christie R. House
June 29, 2021 | ATLANTA
People living in rural communities outside Rocafuerte in the Manabí province of Ecuador have not had a working water system since an earthquake destroyed theirs five years ago. They buy treated drinking water from Rocafuerte city as well as water tanks for cooking, bathing and washing clothes. Generally, Indigenous families cannot afford $50 dollars a month for water and too often turn to unsafe sources, like local waterways.
But unsafe water, sanitation and hygiene (WASH) can have deadly consequences, especially for children. UNICEF estimates that over 700 children under age five die every day of preventable diarrheal diseases because their communities lack appropriate WASH facilities and practices.
The 2016 quake killed more than 700 people and left 700,000 in need of assistance. Nearly 17,000 quakes of all sizes were recorded in Ecuador that year. Municipalities in the northern coastal areas have concentrated on rebuilding water, transportation and educational infrastructure in urban areas while rural communities still wait for basic water access and sanitation.
The Fundación Ingenieros En Acción (FIEA) or Engineers in Action, with offices in Ecuador and Bolivia, has been working in Latin America since 2007, dedicated to improving the health and wellbeing of vulnerable communities. FIEA works in partnership with local communities to increase access to water and infrastructure, building their capacity and resilience. Two of its local partners in this work are the Evangelical Methodist Church in Bolivia and the Evangelical United Methodist Church of Ecuador. Global Ministries, through Global Health and the United Methodist Committee on Relief, is a natural international partner.
In the past two years, FIEA and Global Ministries have worked together on three WASH projects for rural communities that would otherwise have inadequate, or in some cases, no access to clean water or sanitation facilities.
Ecuador
In an ongoing coastal project in Manabí province, FIEA proposed to drill wells to provide safe water for five communities in the Rocafuerte municipality. As they began their initial surveys and met with members of the local government, they discovered an aqueduct had been built by the former national government to bring water across the Rocafuerte region to a pending oil refinery being built in the city of Manta on the coast. The current national government cancelled the refinery project, but all the pipe infrastructure remained, and local communities gained the right to tie into the aqueduct for their water needs.
FIEA reworked its original proposal to take advantage of this circumstance and discovered it could cover the five initial communities as well as five more along the line. Instead of digging wells, they would connect to the existing aqueduct. The municipality agreed to provide water treatment.
In addition to the technical needs of the project, FIEA also implemented community training to familiarize residents with the new water system – how to keep it maintained and the importance of using clean water, proper sanitation and hygiene to increase health and prevent waterborne diseases. This training is an important part of all WASH projects that Global Health and UMCOR support.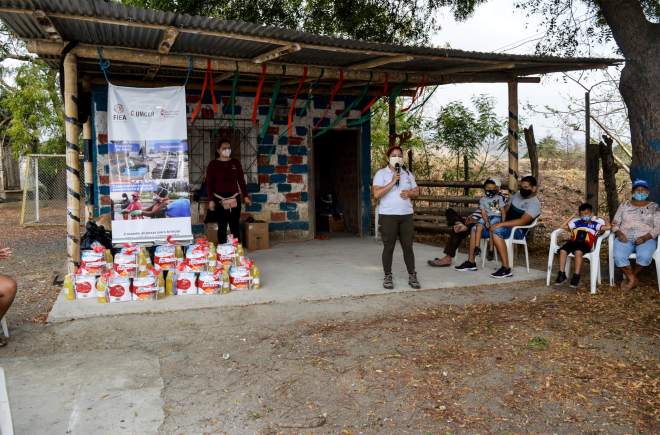 In the village of El Guarango, Estefanía Delgado, a college student, took on the role of president of the water board. Her commitment to providing clean and safe water to her community was commended by FIEA. She attended all the workshops and introduced trainers to her friends and neighbors.
"The workshops have definitely been informative and helpful during such a complex (COVID-19) health emergency. It has become one of the best ways to share, socialize and enhance knowledge for the benefit of health in the community," noted Delgado.
Despite delays in community training because of COVID-19 restrictions, workshops were eventually held and were timely as FIEA trainers demonstrated safe practices to reduce the spread of COVID-19 and other communicable diseases. Community members who attend training also receive a WASH kit with soap, cleaning supplies and masks.
Supplying water for students
In the Pastocalle community on the slopes of Ecuador's Cotopaxi volcano, a Methodist school has provided education, grades K through seven, to the predominantly Indigenous population for more than 20 years. Recent government decisions require the school to include additional grades through high school. El Sembrador School, of the Evangelical United Methodist Church of Ecuador, bought land and constructed a new facility, but it needed assistance to tie the new property to the municipal water system, a new sewage treatment system and sanitation facilities.
Jhonny Cajia, the director of El Sembrador educational center, expressed thanks for the project's completion and the new facilities but also for improving the quality of life for the students, faculty and families served by the school. "In the countryside, hygiene and health are often left out of planning. This project has helped us improve our health through the good use of water and through learning better hygiene habits."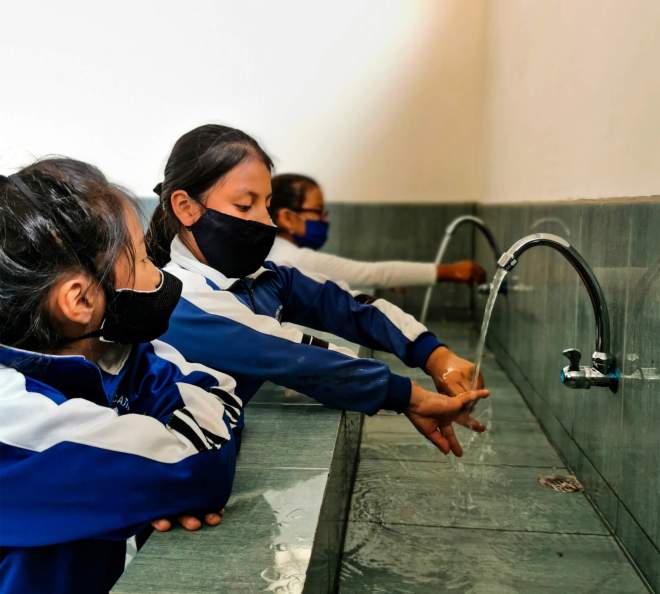 Even on the hills of Cotopaxi, COVID-19 closed the schools for in-person learning, but soon, students will return to a brand new and fully-functioning school with bright new bathrooms.
Sanitation in Bolivia
Many rural communities on the altiplano of Bolivia are without community water systems, though progress is being made. The Methodist Church of Bolivia teamed up with FIEA and Global Ministries last year to improve WASH for four churches in the high country, all serving Indigenous populations.
Rider, age 23, has been a member of El Salvador Methodist Church in Kahuiza, Bolivia, for about seven years. "I come from a distant community, it takes about 20 minutes to go and come back from the church. During these years we didn't have a bathroom for our needs, and we had to find ways to relieve ourselves. I had to find a place far from people, for example to the hill or in a field and it was quite difficult not to have a restroom in the church."
Churches are community gathering places for many in small rural villages. Having no or poor sanitation facilities on the property really made it difficult for people to participate in activities. The fact that most of the communities depend on farming for survival only multiplies the dangers of open defecation. Once the restrooms in the churches were completed, training about those dangers and the overall health benefits of good hygiene were held for members and the wider community.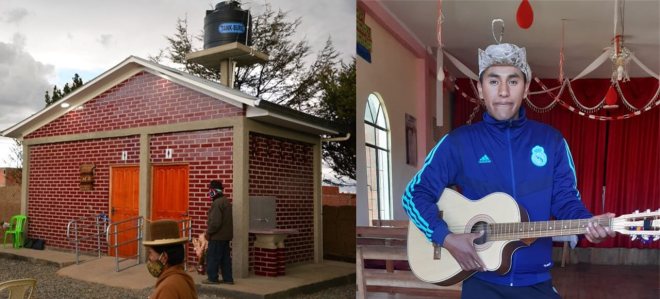 Some of the congregations even reported that once the restrooms were built, they saw new faces at the church services and lapsed members returning. With new restrooms, people are no longer hesitant to gather for important community occasions and events. "I'm happy to rely on an elegant restroom in good condition," Rider affirmed.
In total, Global Ministries granted more than $300,000 to FIEA for construction and community training, but the projects' beneficiaries, with clean water and proper sanitation, number in the thousands. The health benefits will continue to be monitored and revealed for years to come.
Consider a gift to Global Health to support the work of the Water, Sanitation and Hygiene (WASH) program, Advance #3020600.
Christie R. House is a consultant editor and writer with Global Ministries and UMCOR.