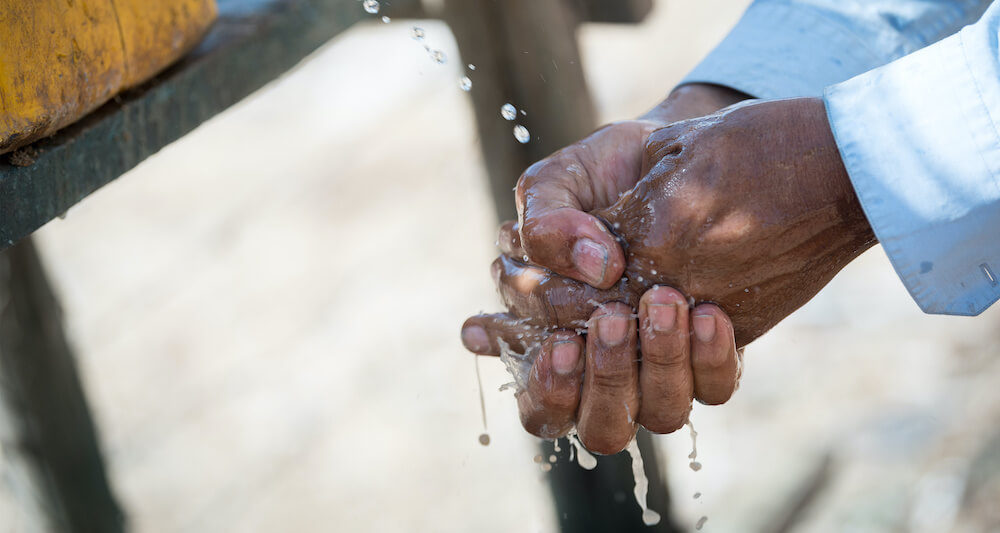 DRC and Philippines are the first partners for UMCOR/Global Health prevention response
By Christie R. House
March 30, 2020 | ATLANTA
Governments in many countries are placing communities in lock-down in an attempt to stop the spread of the coronavirus and COVID-19, the disease it causes. Unfortunately, without explicit instructions on how to practice virus preventive measures within families and communities, lock-downs will have limited impact.
COVID-19 manifests differently in people and, for some, the disease is severe and may lead to death. Strengthening the capacity of regional and local communities to respond with effective public health methods proven to slow and prevent transmission of the virus will ultimately save lives.
From the beginning of this pandemic, Global Ministries – through the United Methodist Committee on Relief and Global Health units – has been in close contact with health boards and disaster management offices (DMOs) throughout the United Methodist connection. The agency is developing an ongoing, flexible plan for United Methodist church leaders, local health professionals and DMOs to help communities implement infection control measures aimed at breaking the coronavirus transmission chain.
The novel coronavirus spread quickly since it was first identified in China in December 2019. Shortly after the initial outbreak, UMCOR granted funds to the Amity Foundation of China, a long-time partner, to acquire and distribute medical supplies to health-care workers in hard-hit facilities. Amity concentrates its work in poor, rural communities, which are often underserved.
A new UMCOR and Global Health response aims to increase the capacity of United Methodist networks in global and local settings to develop prevention methods and strategies to reach people even in remote communities. So far, 10 episcopal areas/health boards in the African central conferences have been invited to apply for Global Health solidary grants. Global Health is also supporting interventions with partners in the Philippines, including Mary Johnston Second-level Hospital of Manila.
Spread information rather than virus
On March 24, President Félix Tshisekedi of the DRC closed the country's borders and instituted a state of emergency to try to contain the spread of the virus. At that time, 40 people in the DRC were confirmed to have COVID-19 and three deaths were reported.
The Global Health unit will provide virtual support to update the health boards in the four episcopal areas of the DRC on the latest coronavirus health-care recommendations. They will share best practices for teaching prevention techniques to adults and engage with the health boards remotely to identify methods that work well in particular local communities. This guidance and remote support will equip leaders to serve as "master trainers" to teach effective preventive measures in local communities.
Health boards will provide lifesaving public health information in each episcopal area – with remote coaching from Global Health staff, if needed. The approaches will be adapted to the context and may include trainings, online webinars and other forms of digital messaging. Preventive measures covered include proper handwashing techniques, meticulous cleaning and social distancing. The DMOs, local UMC leadership, and key community members will be invited to participate in this training. The goal is to spread critical information to wider communities to keep them safe.
Social distancing is a difficult concept for faith communities, whose first instinct is to come together in times of crisis. Yet, for African communities that have first-hand experience with the Ebola virus, the deadly consequences of close contact in times of contagion are all too familiar. Lessons learned and taught by UMCOR and Global Health during recent Ebola outbreaks contribute to the expertise now available to respond to the current pandemic.
Global Health will provide an emergency grants, up to U.S. $10,000, to each episcopal area to cover training costs. After 30 days, a post-training survey will assess knowledge retention of both trainers and participants.
In the Philippines, President, Rodrigo Duterte placed 50 million people under lock-down on the main island of Luzon on March 16. As of March 26, the country reported 552 confirmed cases of COVID-19 and 35 deaths. Witnesses describe a web of check-points across Luzon as authorities try to ensure that people stay inside.
For this context, UMCOR is developing digital messaging (online newsletters, social media messaging, SMS messaging, etc.) to be translated into regional languages by the DMO in the Philippines. Episcopal leaders, the DMO and the health board will share this important public health messaging, aiming to reach as many at-risk, quarantined people as possible.
Following evaluation and assessment of prevention strategies and trainings in consultation with local teams, partners in the Philippines and the DRC may access larger UMCOR emergency grants for continued response, livelihoods support and post-pandemic recovery. This later tier of response will continue to increase their capacity to raise awareness of virus prevention across the wider community.
Reaching more communities with life-saving measures
Additional grants to assist with training for COVID-19 prevention internationally, including in the United States, are part of a planned second-tier response. Global Health is preparing emergency grants for response networks, possibly in Angola, Liberia, Ivory Coast, Nigeria, Mozambique, Zambia and Zimbabwe. Global Health will facilitate the grants and provide approved training packages in each respective language.
In the United States, public health messaging is available on the General Board of Global Ministries' website (umcmission.org). COVID-19 training materials are being shared across UMCOR's network of U.S. conference disaster response coordinators and emergency response teams.
As the pandemic eventually subsides, UMCOR will continue to assess community needs to prioritize recovery support as needed.
Together, with God's help and working in partnership, the United Methodist connectional family will come together in new and creative ways to break the grip of the coronavirus on our local and global communities.
Christie R. House is a consultant writer and editor with Global Ministries.