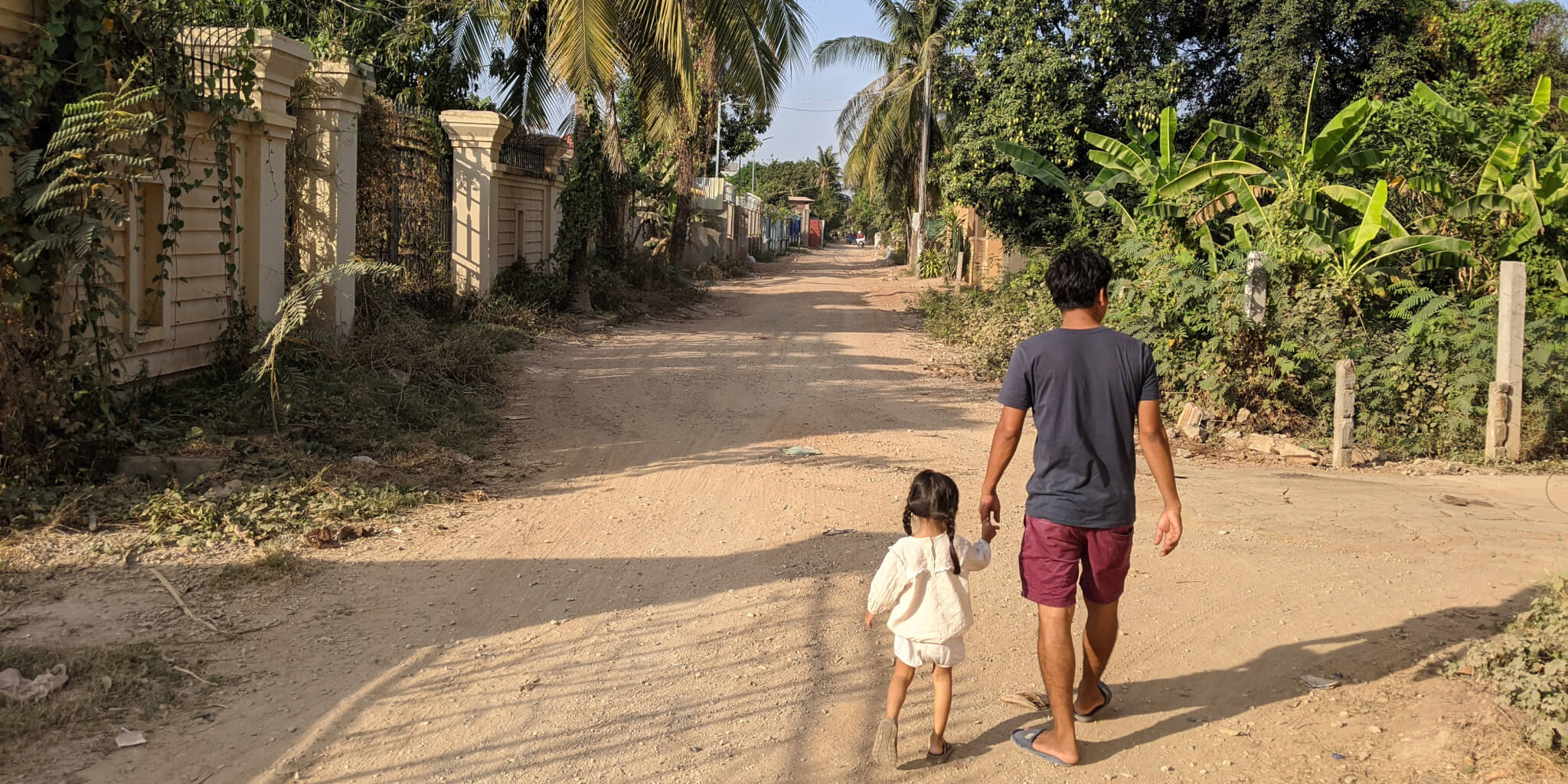 ARK's local business manager, Chey Piseth, and his daughter scout potential properties for Project ARK. PHOTO: PATRICK BOOTH
---
A new program in Phnom Penh helps people stay out of human trafficking networks.
By Christie R. House and Patrick Booth
June 10, 2021 | PHNOM PENH, CAMBODIA
Patrick Booth learned about interdependence at a young age. When circumstances changed for his family, his mother, who had been a stay-at-home mom for 15 years, went back to work to support her three children. The job she found didn't pay enough to meet their needs, so she worked two jobs. It took a few years for her to stabilize their finances.
Booth remembers what it was like to become a latch-key kid overnight and the loss of things they once had. But mostly, he remembers how the church community eased the family's burden.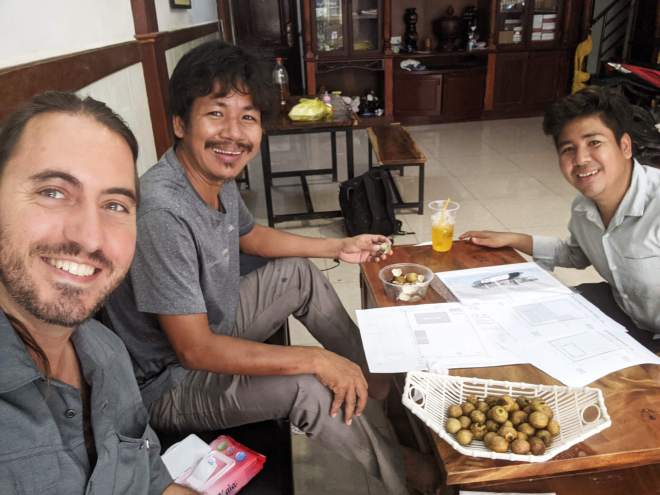 "I remember going to CCA (Christian Community Action) for food and the church stepping in. One church member gave a check for rent, another paid for gas. The congregation chipped in and helped us. I've always wanted to give back and help others," Booth explained.
He participated in the church's local youth mission trips. Booth obtained an associate degree in substance abuse counseling and an associate certificate in mental health and substance abuse prevention. He continued his education to earn a bachelor's degree in psychology and began counseling in downtown Dallas. A third of his initial clients were homeless. After a few years, he returned to Lewisville, his home town, to open a private counseling practice with a partner. Their clients were primarily people on probation.
After four years, their practice grew to include four locations, 17 employees and $375,000 in annual gross revenue. Booth continued to participate in volunteer mission trips, including some international trips. In 2014, he sold his half of the business to his partner, which freed up his time for more travel and volunteer work. In 2020, he was commissioned to serve as a missionary with Global Ministries in Cambodia.
An ARK in Cambodia
Booth is in Phnom Penh to help the Cambodia Mission Initiative launch a nonprofit called Advancing Resilient Khmer (ARK), with a goal to keep people out of human trafficking networks. He explained that there are many kinds of human trafficking, and often, trafficking involves a pattern of wage theft and overwhelming debt accumulation, whether the trafficking involves sexual exploitation or labor exploitation. Though some are kidnapped and literally locked up, more commonly, a deliberate system of predatory debt and wage bondage keeps them in the trafficking system even after they leave a job.
"Someone comes in from the outside and says he'll pay 10 times what you are making if you give six months of your life while you work on his project," Booth said. "Half the men in town sign on. After being transported to the job site, workers are charged for that transportation. They charge you for room and board. At the end of the day, they pay you $4 a day so that you can owe them $5. If you quit the job, you still owe the money. In our view, that is what modern slavery looks like."
The Cambodia Mission Initiative and the Global Ministries Asia Pacific Regional Office surveyed nongovernmental organizations (NGOs) working in the field of human trafficking in Cambodia and discovered that once people are extracted from a trafficking situation, they have a 90% chance of falling back into it because of excessive debt. They also determined that an overwhelming majority of helping agencies focus their efforts on supporting women and children, so the first participants in Project ARK are underserved men; they plan to expand to all populations in the future.
Plans for ARK changed as the coronavirus pandemic and government restrictions affected the economic landscape. Currently, Booth and his Cambodian coworkers are focusing on a "Business as Mission" model. They bid for construction jobs and hire a crew of skilled workers. Men that enter the program as clients work alongside the crew and learn from them.
Another aspect of ARK is a communal living situation that provides time for learning, group discussion and instruction on work, living, finance and business management. The dorms and meeting space are up and running.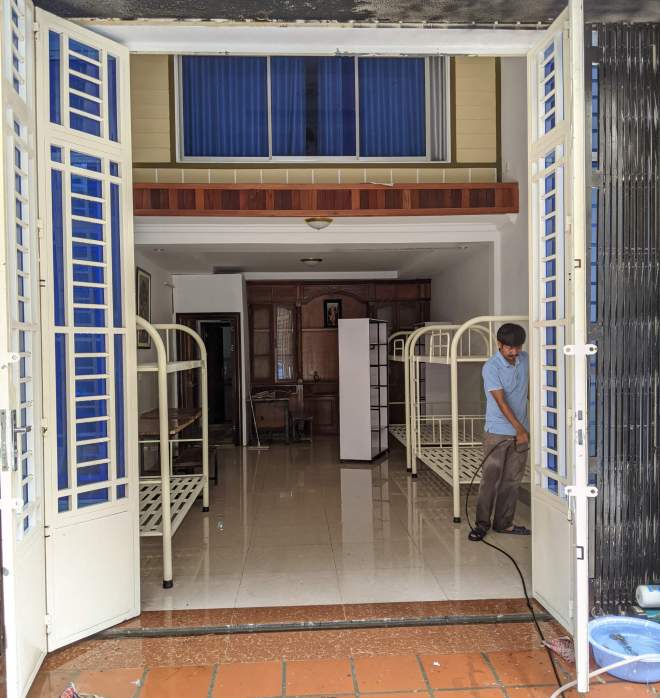 Booth said: "If they remain with us for the full 18 months, we provide them with everything they need to set up shop on their own. That's our end goal for every participant, but the minimum that we want for everyone is the ability to earn a livable wage."
Participant profile
By Patrick Booth
Rati is 35 years old. He is from Kamput province. He traveled 150 km to Phnom Penh to search for work to provide for his wife and three-year-old boy. He has many years of experience working with electricity in the construction field but many problems with employers.
For two years, he worked far away from his family in Sihanoukville, traveling back home to see his wife and child only once or twice each year. The construction sites promised to pay workers during COVID lock-downs but four months went by without a single dime for the hired workers. Rati had no choice but to leave Sihanoukville without his pay to search for better opportunities.
He found a job building a wall along the riverbank in Phnom Penh. This government district contract seemed promising. However, the local community living along the river resisted. They came at night and physically destroyed the construction progress the crew made during the day. The district blamed the crew for lack of progress and refused to pay the workers. In the last year alone, Rati has worked nearly five months with various employers who promised to pay him and then refused to do so after his work was completed.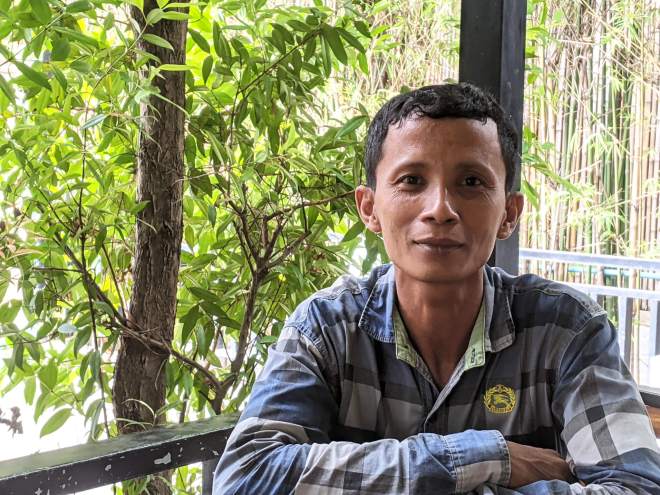 To further complicate matters, Rati borrowed money from a money lender to pay for medical treatments for his mother. She eventually died, but not before he had borrowed a considerable amount. He has wisely refinanced his debt with a bank. His interest rate with the bank (1.5%/month) is considerably lower than the original interest rate with the money lender (10%/week).
At Project ARK, Rati is able to spend his days working toward a better future. He learns a variety of skills, such as air conditioning maintenance, concrete structuring, plumbing, tiling and brick laying. Furthermore, he shares his knowledge and understanding of electrical work with others. He also has the opportunity to grow personally and spiritually through routine encouragement with personal mentors.
When asked what Rati hopes to gain through his cooperation and work with our program, he replied, "I want to learn more skills so that I will be able to work different jobs that are available. I want to share my skills and understanding with other people."
This is what we want for you, too, Rati. So, we will work every day to give you that opportunity.
For more information about Project Ark, visit https://umccambodia.org/ark/. A gift to the Cambodia Mission Initiative, designated for ARK, will help support this important work.
Christie R. House is a consultant writer and editor with Global Ministries and UMCOR. Patrick Booth (Advance #3022599) is a missionary with Project ARK in Phnom Penh.