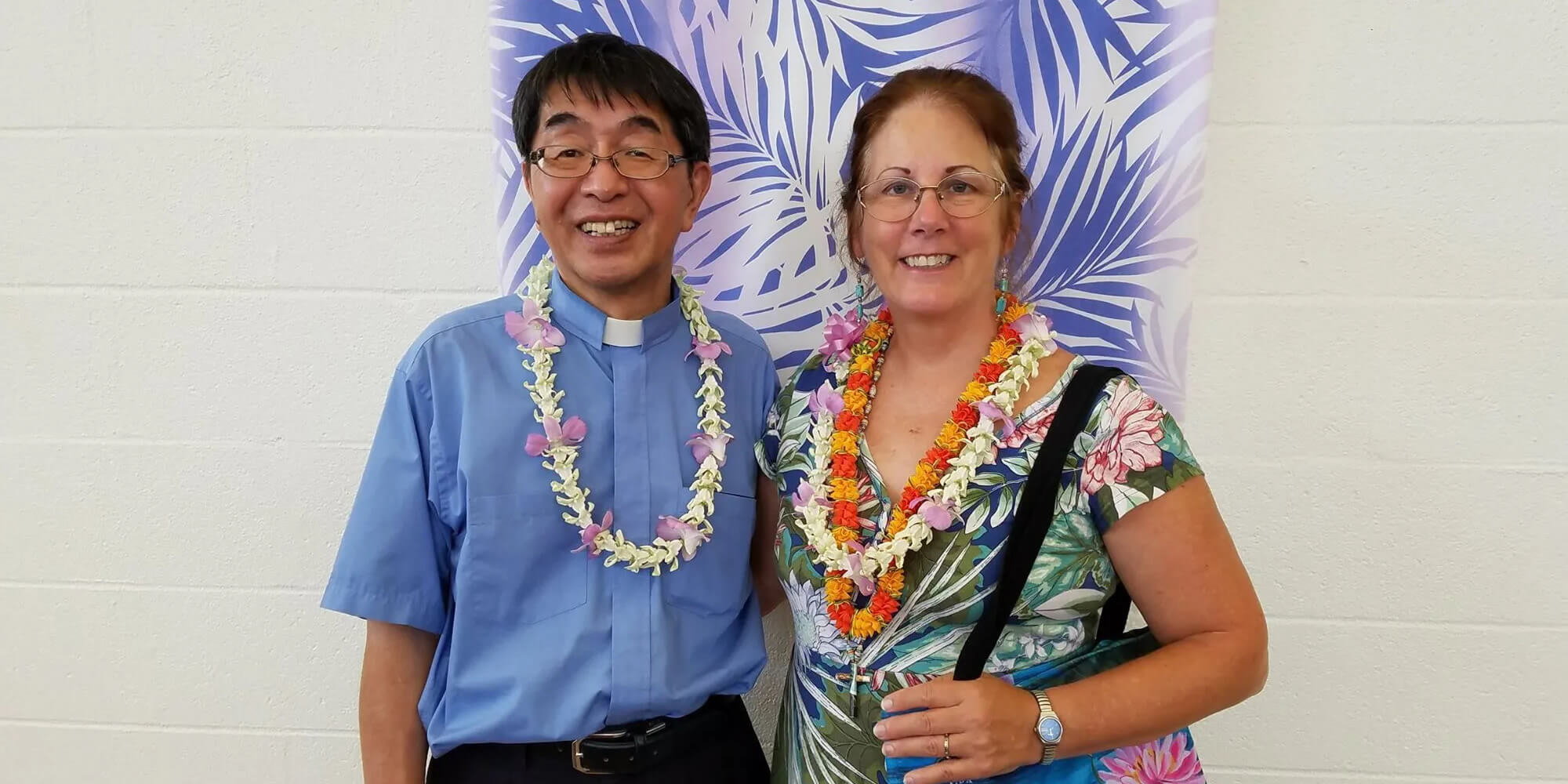 The Rev. Claudia Genung-Yamamoto with her husband, Toshi Yamamoto, a retired missionary, itinerating in Hawaii. PHOTO: COURTESY OF CLAUDIA GENUNG-YAMAMOTO
By Claudia Genung-Yamamoto
April 14, 2022 | KOBE, JAPAN
When the hour came, he took his place at the table, and the apostles with him. He said to them, "I have eagerly desired to eat this Passover with you before I suffer; for I tell you, I will not eat it until it is fulfilled in the kingdom of God."

Luke 22:14-16 (NRSV)
Luke 22:14-23 describes part of Jesus' last week on earth. He and his disciples celebrated the Passover, which remembered the Israelites' deliverance from Egyptian slavery. This meal was the beginning of his Passion – his journey to the cross. He chose to be with his disciples and perhaps others who were there as well, joining in one last meal. We celebrate the Last Supper now as communion in remembrance of what Christ did for us with his death on the cross. Each time we take communion, we remember what Jesus did for us.
One of our church members, an elderly woman named Mariko, said that she still feels the power of the Holy Spirit, even if she is not with us physically in the church. She feels connected even if it is virtual. Not ideal, but she still experiences communion.
We have a Japanese church member, Masa, who is high on the autistic spectrum. Masa volunteers weekly to organize the library cards in our library. The job probably doesn't need to be done that often, but it gives him a sense of accomplishment. We smile at him and encourage him. Sometimes we share our lunch with him. With a smile, we can give him "communion" – a symbol of God's love.
Roy, from the Philippines, another of our church members, likes to take rice balls to share with some of the people living on the streets in downtown Kobe. He and his family pray with those who are comfortable in having a prayer. Roy believes these rice balls are a symbol of sharing communion bread with others.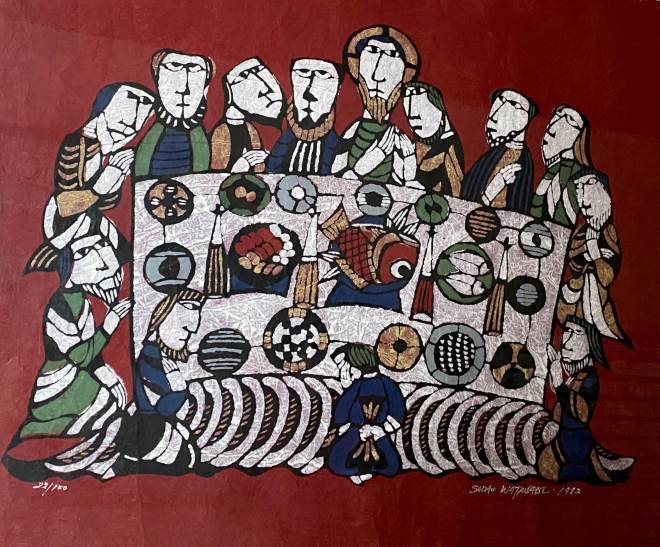 The late Japanese artist Sadao Watanabe created an image of the Last Supper in which the disciples are eating rice balls and sashimi, illustrating how the Lord's Supper can be shared in many cultures and traditions. We can offer communion by sharing God's love and our resources in many places and contexts throughout the world.
Let us pray:
Loving God, may we find ways to serve you in our world by sharing. Let our desire for peace and justice never be exhausted until all your children are fed and safe. Thank you for glimpses of your grace that we may see daily through simple encounters with others and simple acts of love. In Jesus' name. Amen.
The Rev. Claudia Genung-Yamamoto is a missionary serving as pastor of the Kobe Union Church in Kobe, Japan. She has served in Japan for nearly 30 years in a variety of assignments, coming to Kobe Union in 2019. Toshi Yamamoto, her husband, is a former missionary and professor who also served as the general secretary of the National Christian Council in Japan.