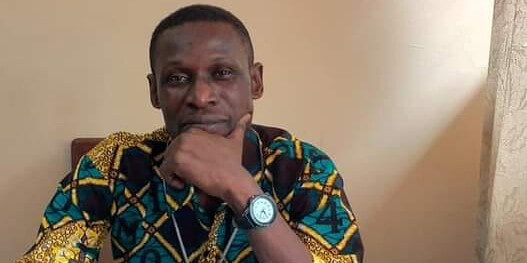 By Global Ministries
April 18, 2023
It is with sadness that the General Board of Global Ministries announces the death of a Global Missionary in active service, Innocent P. Afful, who passed away on April 17, 2023. He served as a Global Missionary since 2014 with the Churches of Christ in the Congo, as coordinator for orphans and vulnerable children in Kinshasa, Democratic Republic of the Congo.
Roland Fernandes, general secretary of Global Ministries expressed sorrow at Afful's passing, "We are deeply saddened by this unexpected loss to our missionary family. Innocent was well known for his extensive and passionate missionary work in service of the most vulnerable. He worked tirelessly to share God's love with all."
Innocent was a native of Ghana and worked in social ministry both in his own country and in Liberia and Sierra Leone. He is a member of the Rev. J.C. Mensah Memorial Methodist Church in Accra. He is survived by his wife, Wilhemina M. Afful, and their three children, Charity, Ephraim and Jacobsen.
Funeral arrangements will be shared as soon as they are announced.
Please join us in prayer for his family and the community he served.
Messages of condolence may be sent by email to operations@umcmission.org. Global Ministries will make sure his family receives them (See Innocent Afful's bio).
About the General Board of Global Ministries of The United Methodist Church
Global Ministries is the worldwide mission and development agency of The United Methodist Church. Founded in 1819, Global Ministries today supports more than 200 missionaries in over 60 countries, including the United States. It has personnel, projects and partners in 115 countries. Learn more about Global Ministries by visiting umcmission.org or by following facebook.com/GlobalMinistries and twitter.com/UMCmission.