Mission Volunteers (Individual Volunteers)
DONATE NOW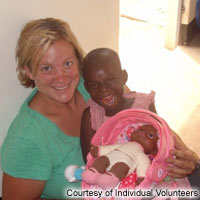 Project Information
Helping individual Mission Volunteers finance their mission service
Describe the need affecting community
This Advance number has facilitated individual mission volunteers' soliciting and receiving funds from local churches and various persons to help defray expenses for their work and projects.
How will this Advance project help to address the need?
Previously, there was no Advance number dedicated to receiving contributions to help individual mission volunteers finance their mission service.
Describe the primary goal of the project
(a) The provision of medical and health care for the poor (b) The development of agriculture and animal husbandry in developing countries (c) The teaching of English as an outreach ministry (d) The construction and renovation of buildings and homes (e) Pastoral work and evangelization
Contact Information
Global Ministries Contact