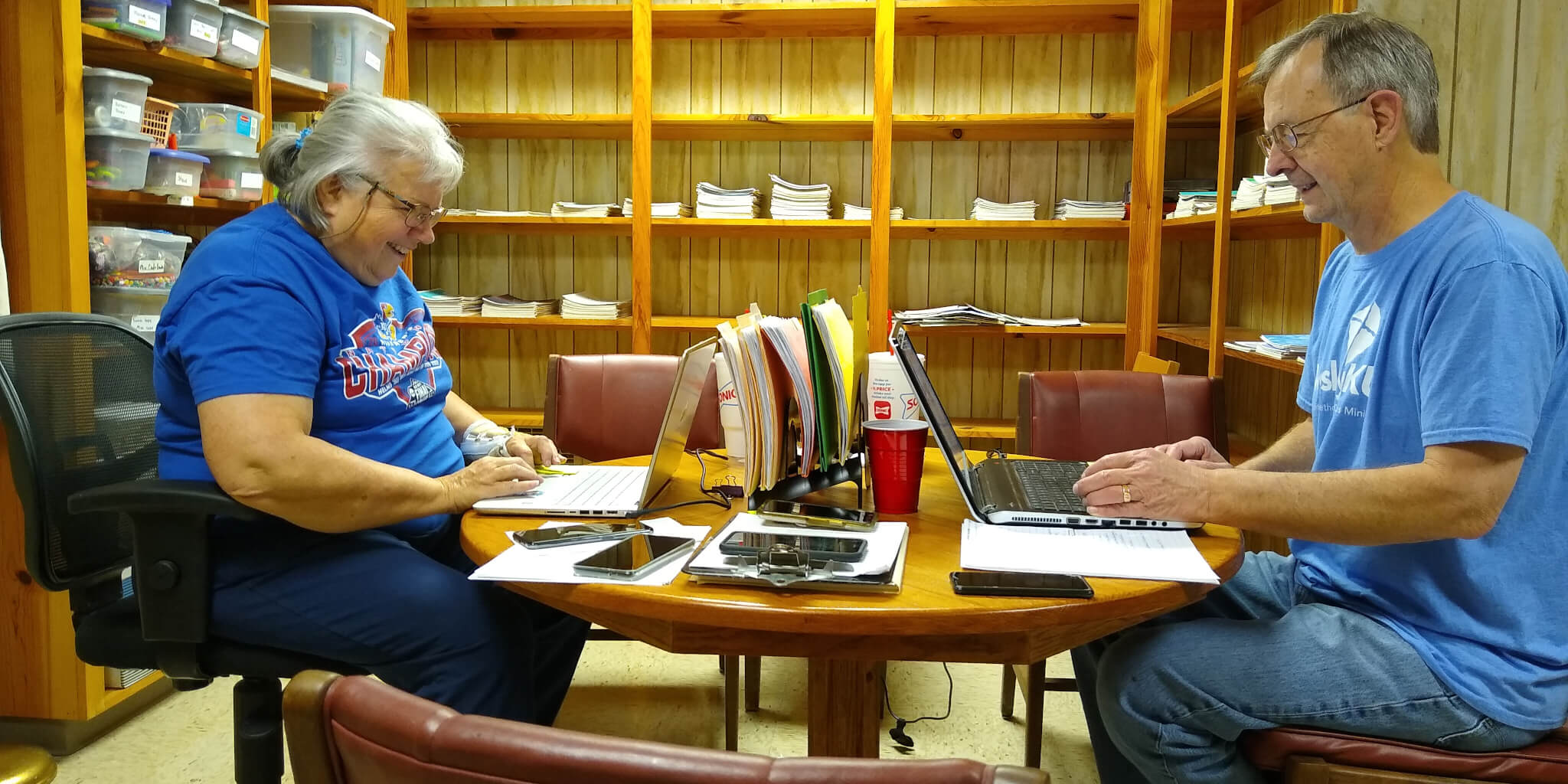 By Christie R. House
February 13, 2023 | ATLANTA
Loving others, loving mercy, doing justice and walking humbly with God. That is mission for us.
Robilea Swindell
Volunteer service has become a way of life for Gerald (Jerry) Feese and Robilea Swindell, a married couple who live in Lawrence, Kansas, part of the Great Plains United Methodist Annual Conference. While they have served for years with Great Plains Disaster Response ministry and continue to serve with an Early Response Team, they decided to broaden their opportunities after they retired to see where, what and who else God might be calling them to serve.
In 2021, they took the Mission Volunteers training offered by the General Board of Global Ministries and by spring 2022, they were off to Sulphur, Louisiana, for their first official Mission Volunteer placement.
Recovery ministry in Louisiana
Working with the Fuller Center Disaster ReBuilders, Feese and Swindell began 2½ months of case management work with survivors of Hurricane Laura, which struck in August 2020, and Hurricane Delta in October 2020. The Fuller Center for Housing is a housing ministry started by Millard and Linda Fuller, who originally founded Habitat for Humanity.
In some cases, homeowners without insurance have not found the resources to recover from these disasters. In other cases, they had resources, but were taken advantage of by unscrupulous scammers or dishonest contractors.
"We were working with a family whose house someone else had owned at the time of the disaster, but after the disaster, the owners left after signing the property over to their renters. Unfortunately, the former owners had received insurance money and pocketed it, which left the family who lived there high and dry," Swindell said.
Feese added: "In a couple of cases, owners had some insurance or relief money, and they hired a contractor who took the money and left without doing any work."
Swindell had worked with disaster case management for five months or so in the Great Plains Conference, but this work was new to Feese. In Louisiana, they encountered families who had multiple people listed on their deeds, but the Fuller Center could only work with properties that were clear with one owner or couple. They had to sort that through with the families on the deed so that the family that lived in the house and sustained the damage could receive help.
"It was mostly inheritances," Feese confirmed. "Parents would leave the property to their three or four children, and then in the next generation, to the grandchildren, and even though one family lived there, they all considered it part of their communal property."
In addition to case management, the couple greeted volunteers coming to the Fuller Center each week.
Rapid arrival and release in New Mexico
In the fall of 2022, Swindell accepted a second Mission Volunteer placement from Global Ministries while Feese stayed at home. She went to Las Cruces, New Mexico, to work with a fast-paced immigration ministry at El Calvario United Methodist Church.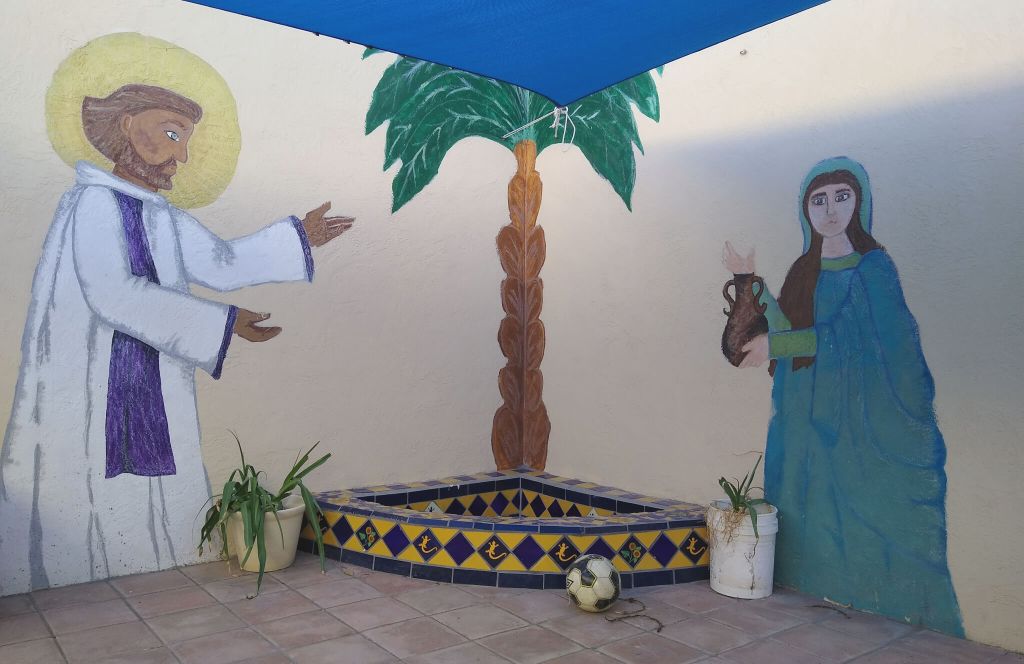 "The mission there is to receive immigrants who have just been released from U.S. Immigration and Customs Enforcement (ICE) and Border Control," Swindell explained. "During the months I was there, only families seeking asylum who had sponsors came through the shelter."
She said a bus with about 50 people on it arrived every week. About half the riders on the bus were children. Upon arrival, each guest would be tested for COVID-19 and they'd receive instructions about their stay at El Calvario, which only lasted 24-48 hours. If they tested positive for COVID, which she said was rare, they were separated from the group and sent to a hotel.
The group received lunch, and while that was going on, Swindell and other volunteers transcribed the immigration paperwork each family brought onto U.S. forms. Then someone would meet with the family to discern whether anyone in the family needed medical help and where they needed to go in the U.S.
Volunteers would then call the sponsors to make travel arrangements. Sponsors were responsible for buying bus, train or airplane tickets, but the volunteers needed to coordinate transportation to the airport, usually in El Paso, the nearest large airport.
Swindell often coordinated the "shower line" during her stay with El Calvario. It took about four hours for 50 people to take turns for a 5-minute shower in El Calvario's one shower stall. Each individual received a clean set of clothes and a night's sleep in the shelter. People heading to the North also received winter jackets. In the morning, they were off to the airport, train or bus station to continue on their journey to their sponsors.
Swindell speaks Spanish, which was helpful in trying to understand a family's situation and where they were trying to go. However, El Calvario also received asylum seekers from Turkey and Russia. No one at the shelter spoke those languages, so she worked with a cellphone and a translation app to try to confirm the information they needed. It took a lot of patience.
A ministry of hope
"Serving as Mission Volunteers allows us to walk with people in need for however brief a time it might be – to be a symbol of hope," Swindell noted. "I can't tell you how many times people called into the number for the Fuller Center and were so grateful that people were still there to help them."
For people just venturing out as self-supporting long-term volunteers, the couple thought the training would be very helpful. "There is a lot to think about in terms of leaving your home and having enough income to survive, paying bills while you are gone, whether you need to fundraise," Swindell said.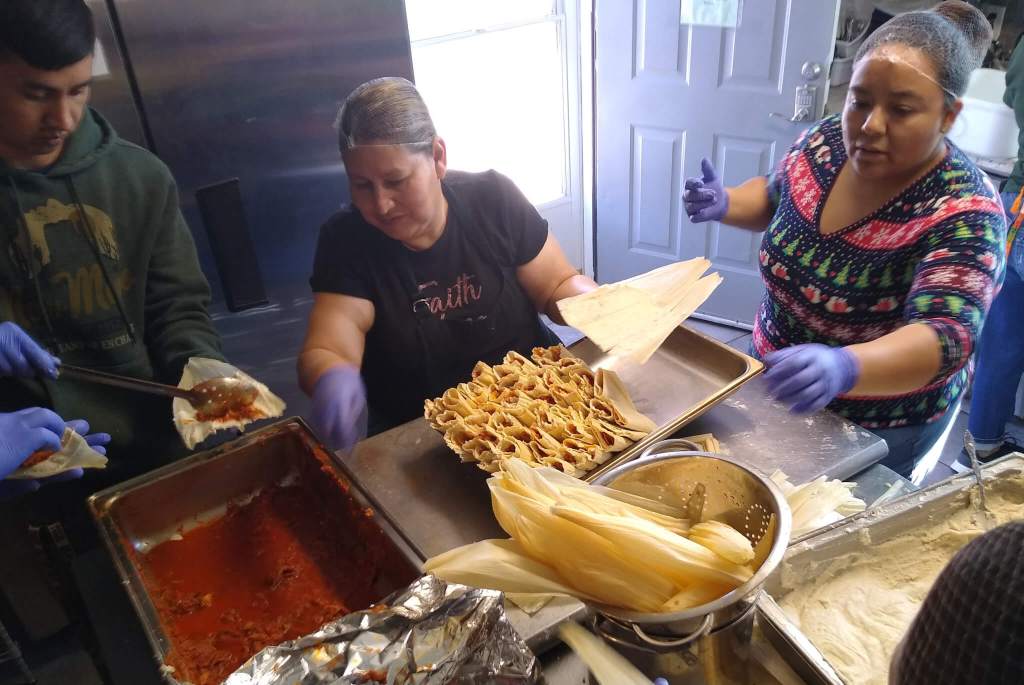 Una Jones, director of the Mission Volunteers program, said "The Mission Volunteer process is equivalent to the expectations we have of missionaries. Robilea and Jerry expressed their gratitude for the preparation, training and the placements coordinated by Global Ministries."
While no specific plans have solidified at this moment, both Feese and Swindell said they would be looking for another placement this year through the Mission Volunteers office. They thrive in this kind of environment.
The next round of Mission Volunteer training takes place in person at the St. Raphaela Retreat Center in Haverford, Pennsylvania, on March 27-30. More information can be found on Global Ministries' website at https://umcmission.org/mission-volunteers/.
Christie R. House is a consultant writer and editor with Global Ministries and UMCOR.
Mission Volunteers
Global Ministries Mission Volunteers are individuals or couples (ages 18 and up) who seek long-term partnerships with communities around the world and fund themselves. Opportunities for service are diverse and range from working with refugees, children and youth to serving as a teacher, pastor, camp director or health care professional. The length of service ranges from two months to more than two years, depending on the volunteers' availability.