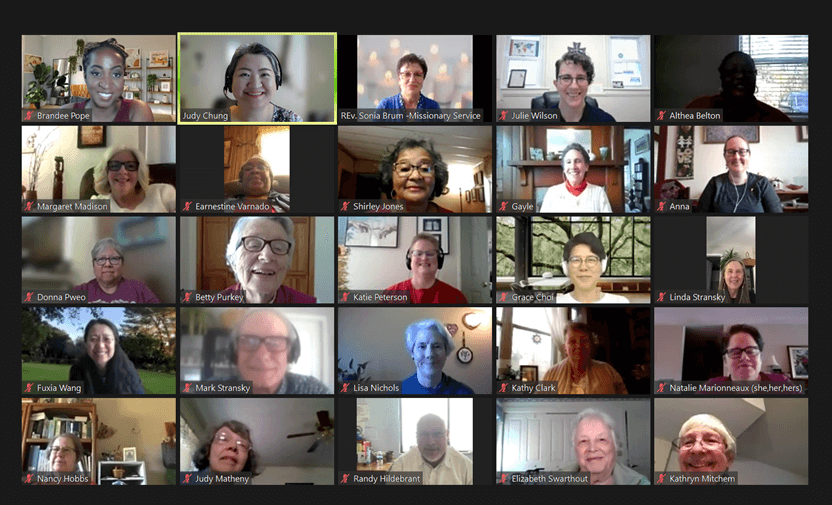 Church and Community Workers met for their biennial meeting via zoom, Feb. 25-26. PHOTO: JUDY CHUNG
---
By Christie R. House
March 3, 2022 | ATLANTA
About 30 Church and Community Workers (CCWs) from across the United States, active, former and retired, met virtually for their biennial meeting, Feb. 25-26. The last time they met was October 2019 in Rancho Palos Verdes, California, before the COVID-19 pandemic. This year's event was welcomed by the U.S. missionaries as a chance to see each other's faces again and compare notes on the effects the pandemic has had on community ministries.
They also reflected on God's light, focusing on Luke 11:34-35 and 1 John 1:5 – "God is light and in him there is no darkness." They each gave witness to the faithfulness of God in their ministries and the ways God's love shines through in dark places and depressing times.
The Rev. Fuxia Wang, who works with the Wesley Foundation in International Ministries at the University of Oklahoma, raised the light of God's faithfulness in the professions of faith recently affirmed for three international students there. Althea Belton, who just started as a new CCW with Gulfside Assembly in Waveland, Mississippi, thanked God for the opportunity to engage with community members after two years of the ministry's reduced programming and interactions.
Lisa Nichols, with the Jubilee Project in Sneedville, Tennessee, lifted up the Jubilee Water Project, which continued to find solutions to bring clean water to households that lacked it in Appalachia. The Rev. Julie Wilson sees God's light reflected in the faces of the youth she works with through the Open Arms Community in Winston-Salem, North Carolina.
Roland Fernandes, Global Ministries' general secretary, sent greetings via video. He recognized the program's 137-year history, having been founded in 1885 by women of the Methodist Episcopal Church. He reflected on the text of 1 John and shared the current work and priorities of Global Ministries.
"What marks the CCW history is that it is filled with accounts of real workers among real people in real community dealing with real sorrows and joys…You are bearers of gospel light that allows people to find their way in the often confusing pathways of existence," he said to the missionaries.
The Rev. Dr. Judy Chung, executive director of Missionary Service, acknowledged the challenges facing Church and Community Workers, many of which are also facing Global Missionaries and Global Mission Fellows. She thanked the Rev. Sonia Brum for her leadership in coordinating U.S. missionary programs and her efforts to recruit new CCWs and cultivate new placement sites.
Church and Community Work
Church and Community Workers are commissioned missionaries of Global Ministries, who, in response to God's call, work to alleviate poverty, racial injustice and domestic violence in the communities they serve. They work in a variety of ministries, including health care and addiction ministries, coordination of volunteers in mission, outreach among immigrant communities and students, and with programs for children, youth and women. Support for the CCW is shared between Global Ministries and the conference or project to which the worker is assigned.
Both denominational uncertainty and the COVID-19 pandemic has affected church and community ministry in the past two years. Fewer conferences have positions to fill and many community ministries shut down. Yet, those who continue to serve in this capacity value the role of connecting the church with the community and community members with the church.
Sonia Brum noted: "Seeing the current and former missionaries was a wonderful reminder of how valuable and transformative the CCW program has been to the life of the church. My heart was warmed by their passion and commitment."
Two new CCWs were welcomed into the fold this year. Julie Wilson started with Open Arms Community in June 2020. This United Methodist ministry seeks to mitigate the effects of poverty, low educational achievement, addiction, and socio-economic and racial prejudice by offering programs specifically designed to address these issues. Many of the programs are designed for children, youth and immigrant families.
Althea Belton has been with Gulfside Assembly for only a month, but she is already building relationships in the community. Opened in 1923, Gulfside Assembly was the first religiously based educational and retreat facility open to people of color on the entire Gulf Coast. The grounds and all its buildings were destroyed by Hurricane Katrina in 2005, but the Southeast Jurisdiction and dedicated churches and volunteers have worked to rebuild some of the structures to open for events once again. Belton is scheduled to be commissioned later this year.
Gratitude for service
CCWs acknowledged those who were ending service in their ranks, four for retirement and seven who left service to pursue other opportunities. Gary Locklear and Thelma Barnes, who passed away in 2021, were remembered.
The retirees in the last year include Shirley Townsend-Jones, who began service in 1981 with the Black Methodists for Church Renewal. From there, she accepted a CCW position with Bennettsville-Cheraw Area Cooperative Ministry in South Carolina and is retiring after 40 years of service.
Koni Purcell retired after 20 years having served in Virginia, the Holston Conference and Nebraska. Margaret Madison retired with 25 years of service with the West Ohio Conference at the Church for All People in Columbus. Vicky Sigmon, who retired after 35 years of service, started out working in prison ministries in North Carolina. She developed and retired from Open Arms Community in Winston-Salem, North Carolina, where Julie Wilson now serves.
Lisa Nichols, with the Jubilee Project in Tennessee, was recognized for her upcoming 40th anniversary as a CCW. Randy Hildebrant, serving in Michigan's Upper Peninsula, was honored for 20 years of service and Fuxia Wang for 10 years in Norman and South Oklahoma City, Oklahoma.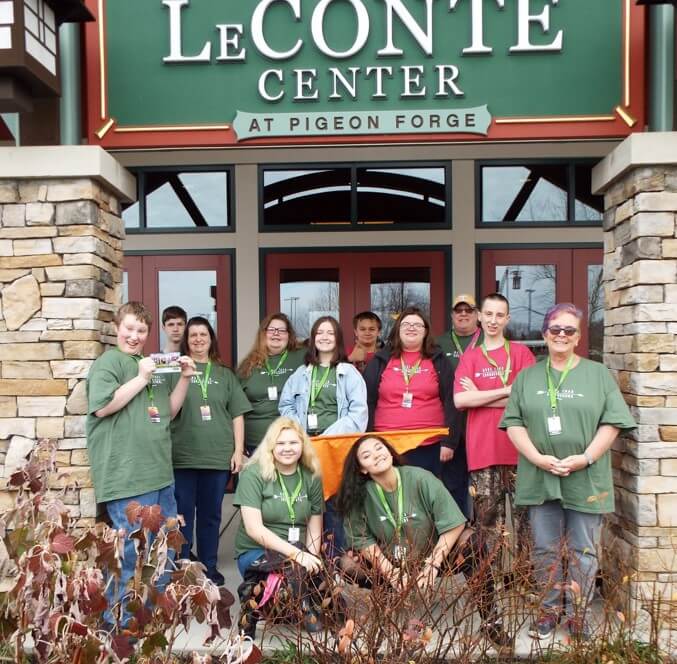 The CCW program is now accepting applications for missionary service, as several new positions have opened.
Visit this page for more information or contact Missionaryinfo@umcmission.org.
Christie R. House is a consultant writer and editor with Global Ministries and UMCOR.