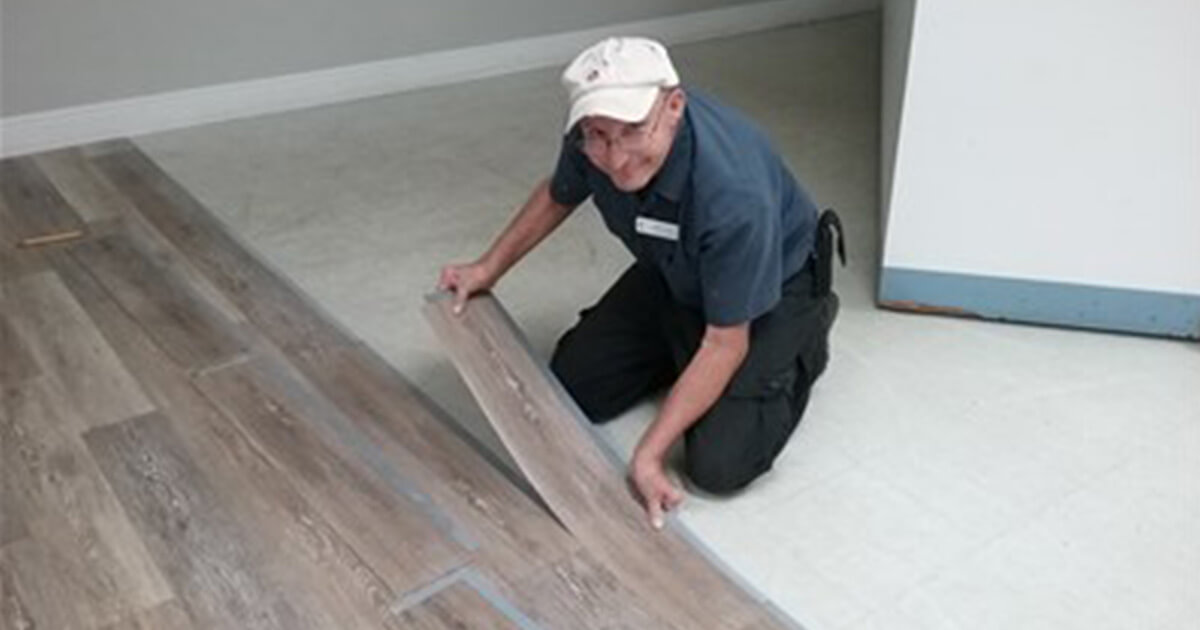 March 2020 | ATLANTA
A little-known but fascinating corner of United Methodist mission work consists of a small corps of retirees scattered throughout the country. They call themselves Nomads.
The name fits because they spend their lives roaming the country in the RV's in which many of them live full-time.
But as they roam, small groups of them converge at various locations – at United Methodist churches, children's homes, camps or retreats, or at disaster sites. And where they meet up, good things happen.
Dilapidated doors and windows get replaced, faded furniture refinished. Leaky plumbing and outdated wiring and electrical fixtures get modernized.
Elaine Grabin, CO, painting parking lot stripes
Parking lots get striped, storage areas deep-cleaned, floors replaced, sanctuaries painted — and sometimes, entire new buildings are built from the ground up.
Oh, and jelly and salsa get cooked and bottled for charity sales.
"They're the best-kept secret in the church – a group of incredible servants who will do just about anything you ask of them," said Rev. Ted Wood, pastor of Community United Methodist in Casselberry.
Nomads have worked every year at the two Florida churches he has led for the past 17 years.
"I've had them build a two-story garage for a church, but I've also had them just clean the floors, scrape off the old wax," he said. "They're some of the humblest and most Christ-like people you'll meet."
The Nomads, with about 850 active members and 180 or so alumni, are actually a division of the United Methodist Church's Global Ministries, but they're based nowhere except on the Internet.
Most are retired contractors, craftsmen, or handymen of various kinds and their spouses, but some just provide labor and learn skills on the job.
They come from all 50 states and can be male or female, single or couples, but they must have access to an RV, said Director Carla Kinsey, the only paid individual involved. She coordinates their work from her home in Hot Springs, Ark.
Churches or other Methodist agencies apply for their services.
Nomad members go online to choose projects in locations where they want to work during any of 15 or more three-week project periods each year – and then hit the highway.
The agencies benefitting from the work must provide nearby RV parking facilities, but Wood said a parking lot with access to a water source and power outlets are sufficient for the groups that have worked at his church.
The agencies also provide most of the materials and supplies, but Nomads do the work.
They work nationwide and year-round, but winter is the busiest time of the year, Kinsey said. Many are warmth-seeking snowbirds and like to work in states like Florida, Texas, and Louisiana during the winter.
There are about two dozen three-week projects with a total of more than 100 workers going nationwide right now, plus indefinite-length disaster recovery projects in Texas and Florida.
In Florida, groups are currently working at Community and four other United Methodist churches and two hurricane disaster sites in Big Pine Key and Lakeland. They just finished projects at the Florida United Methodist Children's Home near Deltona.
Nomads Gary and Donna Verdino, currently working at Community, became full-time RV'ers after selling their Winter Park home in 2016.
They initially planned to retire to a plot of land in rural north Florida to escape the increasing crowding in central Florida, but then heard about the Nomads and changed their plans.
"I called my husband and said we're not moving to north Florida – we're joining this Nomads group," said Donna, formerly a banker and office manager.
Donna said she's "mostly a helper and a painter," and Gary, who's retired from a building maintenance job and his own handyman business, "does the skill stuff."
Gary Verdino, FL, putting new floor at Community UMC, Casselberry
At Community, their group are replacing windows, restriping the parking lot, redoing plumbing, painting, and installing new flooring in church buildings.
Larry and Kathy Phelps, originally from Durango, Co., came to the Nomads after retiring in 2017 – Larry after 25 years in construction and Kathy from working in youth ministry and at their son's funeral home.
So far, they've managed to pack in 14 Nomad missions, and are now working with a group at Silver Palm United Methodist Church in Homestead.
"I don't like sitting around," said Larry. "I wanted something to do when I retired."
Their home church in Colorado was highly active in mission work, and they heard about the Nomads from friends there.
"We decided immediately that's what we wanted to do," he said.
They sold their condo and moved into their RV full-time, though they return to Colorado for summers.
Larry said the most satisfying project he's worked in so far was building a 600-square-foot building along with five other couples at the United Methodist Conference Riverside Camp and Retreat Center in LaBelle.
Kathy's favorite is helping make jelly and salsa in Louisiana for sale to benefit a children's home.
The Nomads work four-day weeks and six-hour days – many of the retirees aren't up to full-time, physical work – and generally start every day with devotions.
The organization organically from a spontaneous impulse for helping.
It began in 1988 in the Rio Grande Valley among a group of Methodist snowbirds from Illinois, Iowa, and Indiana who spent winters in Texas.
Pastor Ted Wood, Community UMC, Casselberry, FL
According to the Nomads' web site, https://www.nomadsumc.org/, one of them told the group, "I am bored; there must be some good we can do here."
They approached local Methodist churches and offered their services. In their first year, 24 members finished five projects in Texas and Oklahoma.
The all-volunteer organization grew and eventually incorporated under the church's General Board of Global Ministries.
Kinsey was working in a church camp in New Mexico when Nomads came through in 2004 and got recruited to replace the director who was then retiring.
Their services, said Wood of Community UMC, are particularly valuable to small and mid-sized churches that don't have a lot of money to pay for contractors, but he believes comparatively few church leaders nationwide know about them.
He learned about them from a pastor friend in Jacksonville, Fl., and said more churches could benefit.
"They come with a lot of skills –painters, plumbers, electricians, you name it," Wood said. "But the big thing is, they come with a servant's heart."