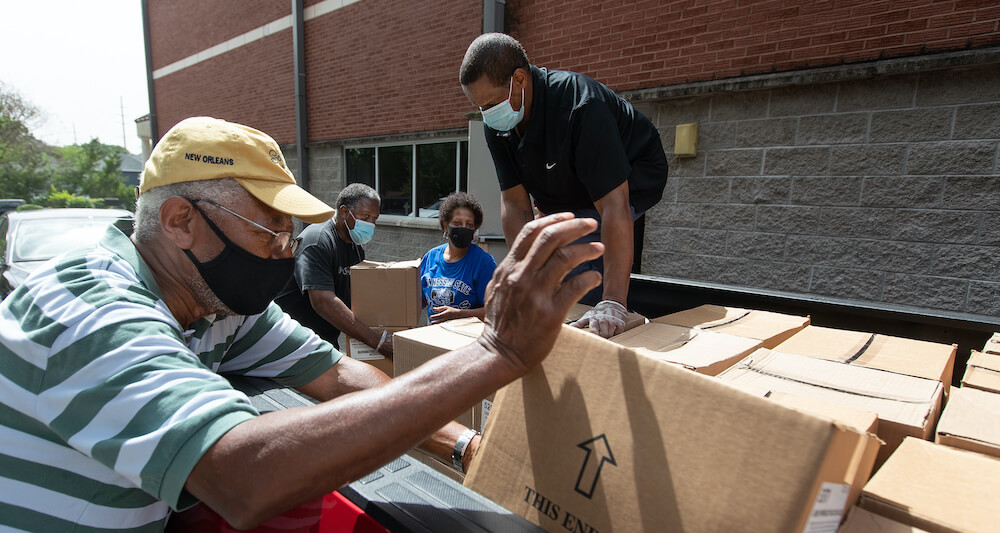 By Linda Bloom
July 7, 2020 | UM News
When the pandemic threatened their predominantly African American community in North Nashville, Tennessee, members of Gordon Memorial United Methodist Church knew what they had to do: Re-tool for the new reality and increase capacity.
That meant finding a different way to feed and spiritually nurture the 50 older adults active in the church's weekly Best Years program and the 150 homeless persons brought to the building for the same reason every Saturday, said the Rev. Paula Smith, Gordon's pastor. It also means responding to the increased need as the pandemic's economic impact grows.
A Sheltering in Love grant from the United Methodist Committee on Relief's COVID-19 Response Fund is helping the members of Gordon Memorial accomplish that goal.
While the church building has been closed, Smith said, "we continue to strive to go forward in mission and to stay connected."
UMCOR and its parent agency, the United Methodist Board of Global Ministries, has distributed 146 grants worldwide to help communities cope with the COVID-19 pandemic, as well as 32 solidarity grants. That brings the total amount awarded as of July 1 to $1.56 million.
Among the many U.S. grant recipients is another Nashville congregation, Antioch United Methodist Church. Antioch opened its space to a local partner, the Branch of Nashville, as it expanded its food pantry and service ministry in response to the pandemic. The UMCOR grant provides support for utility costs, sanitation and hygiene needs and protective personal equipment to keep staff and volunteers safe.
UMCOR also has funded a number of international requests for Sheltering in Love grants. In Liberia, for example, a grant of $9,997 allows the Liberia Conference to provide food packages to 125 people in each of three vulnerable communities in the Monrovia area. Food distribution is just one part of the denomination's campaign against COVID-19 in Liberia.
At Gordon Memorial in Nashville, the $10,000UMCOR grant is allowing the church to further expand its capacity to feed those in need, says the pastor. For the homeless ministry, Smith expects the number of brown-bag lunches provided weekly to increase from 160 to 200 to 250 to 300.
It has been a year of reacting to one crisis after another. Unscathed by a deadly March 3 tornado, Gordon became a resource center for those who were affected. When Nashville shut down over COVID-19 fears, the congregation engaged a variety of partners in a collaborative effort to address nutritional and spiritual needs.
After the death of George Floyd, Gordon conducted a virtual prayer vigil with other congregations and did a public witness "where we acknowledged our stand against racism and injustice," Smith said.
Those in Gordon's "class leader" program — originally created to designate persons to call and check on seniors — are now providing support during the isolating pandemic and gathering information about access to their technology and need for training. The size of the Best Years club has increased from 50 to 85, Smith said.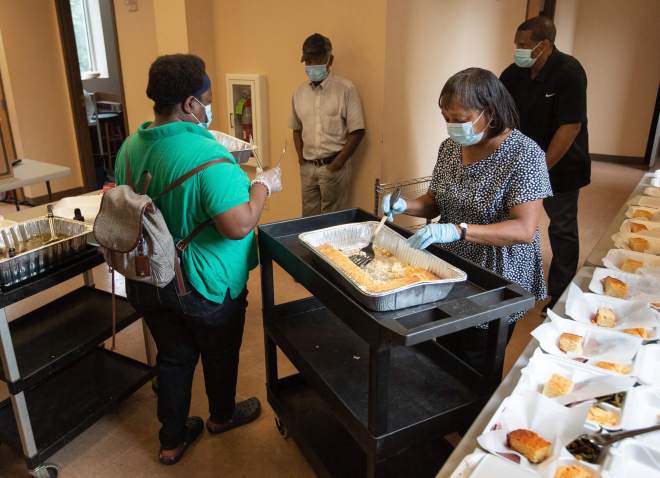 In Wilmington, Delaware, four millennial ambassadors of the New Wine Mission are helping the mostly older congregation at Mount Joy United Methodist Church distribute food and everyday essentials to the community.
Nyrie Watson, 24, is one of those ambassadors who handle the church's social media accounts, organize virtual workshops and online Sunday worship and host a Wednesday Bible study aimed at bringing other millennials into the church's ministries.
New Wine Mission was allocated a $10,000 Sheltering in Love grant. "We're very appreciative of the grant that we received," she said. "We're going to make a difference with the money we received."
Mt. Joy has anchored Wilmington's predominantly African American Southbridge section for 140 years. Census data from 2018 found that 49 percent of children and 44 percent of African Americans in the community fall below the poverty rate, the church's grant application pointed out.
The coronavirus pandemic has had a major impact. "Just like everywhere else, people have lost their jobs," Watson said. "It's hard times."
The grant will help the church assist 300 families over three months with food and supplies as well as financial aid for medical and utility bills or burial expenses.
New Wine Mission has partnered with the Neighborhood House community center to reach those in need and with Urban Acres, which provides no-contact home delivery. Gloves, masks, hand sanitizer and liquid soap are being distributed to all families in need in the Southbridge community.
Watson, who became involved with New Wine Mission last October, officially joined the congregation in February. Helping the church move to a virtual space on Facebook Live and remain connected was both challenging and enlightening, she said. New Wine Mission also has organized a series of "2nd Chance Credit Workshops" on Zoom.
"We're still providing great services to the community," Watson said.
City of Love at Brandywine, another United Methodist congregation in Wilmington, also received a $10,000 grant. The church expanded its existing food program from biweekly to weekly after the pandemic hit, said Arnold and Sharee Dorsett, the church's lead pastors.
The couple previously worked with nondenominational congregations but are soon to become United Methodist licensed local pastors. Assigned in July 2019 by the Rev. Joseph W. A. Archie III, Wilmington district superintendent, "we merged our new starting congregation in with the eight (United Methodists) that were there," Sharee Dorsett said. "That was a transition for all of us."
Through its "Heart for the City" project, City of Love at Brandywine has distributed 3,000 to 4,000 pounds of food a week. A bag of of non-perishable food and a bag of meat, eggs and milk are given, along with hand sanitizers and masks, to those lined up outside the church building, with social distancing guidelines observed.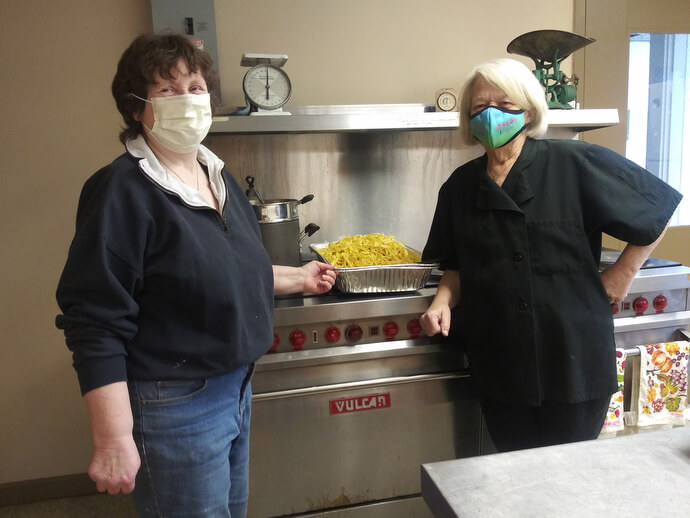 City of Love also took on 20 undocumented immigrant families among the 32 families it has identified for extra assistance.
"Our heart and desire and part of our vision we get from Isaiah 58," Arnold Dorsett said. "It talks about feeding the community and making the community livable again."
His dream is to open Wilmington's first disaster relief center in a 16,000-square-foot warehouse next to the church.
In Framingham, Massachusetts, two small congregations about 10 minutes apart in this former mill town are keeping residents fed during the pandemic.
A $10,000 Sheltering in Love grant has provided support for that work.
The Rev. Heather Kattan, who serves as pastor for both First United Methodist and Wesley United Methodist churches, said past connections with local hunger organizations and with students at the local university had helped show them how to assess need in the community.
What pushed the project forward was the experience and passion of Diana Palmer, a lifelong member of First United Methodist. "She's got the skills to be able to manage large quantities of food," Kattan said.
The skills come from Palmer's 30 years in food service, working as a chef and chef manager. The project idea came after losing a part-time, post-retirement job on March 13 because of the coronavirus crisis.
A great-granddaughter of two Methodist ministers, she has been caring for her mother, Ruthlynn Palmer, 86, and knew of many other elderly residents who were going to need meals in lockdown. "Faith in Food" was up and running soon after, "particularly because I knew where to get supplies," she said.
Faith in Food began by serving 12 to 15 meals a night and then expanding to 75 to 100, with Palmer cooking and Deb Cappazolli, another church member, baking the desserts. Adjustments were made — adding delivery drivers, getting more organizations involved — as the project evolved. Those who can afford to do so pay up to $5 for a meal.
Although older residents were the target clientele, other dinner customers include first responders and church members who want to show support.
"Our dinners are filling the gap for the increasing amount of people who are being financially stretched thin by the current employment situation," Kattan explained in the grant application. "They are also a benefit to those who are still working (we have recipients who are front line workers) but too exhausted to prepare healthy dinners for themselves."
The project also assisted people who needed help with grocery shopping, the pastor said. Extra freezer meals are prepared to distribute to those who need a little more food between the fresh meal deliveries.
As Massachusetts has opened up from the lockdown, the number of nights that meals are available has dropped to four, with one of those nightly dinners purchased from a local restaurant as a gesture of support. The current average is 220 meals a week, Kattan reported.
But change is not coming fast. Church members who were furloughed from their jobs are still on furlough, she noted, and older residents "are just terrified to come out." They are struggling to decide when to reopen for worship, she added.
"The grant is going to help us to sustain (Faith in Food) until September, hopefully," Kattan said.
Bloom is the assistant news editor for United Methodist News Service and is based in New York.