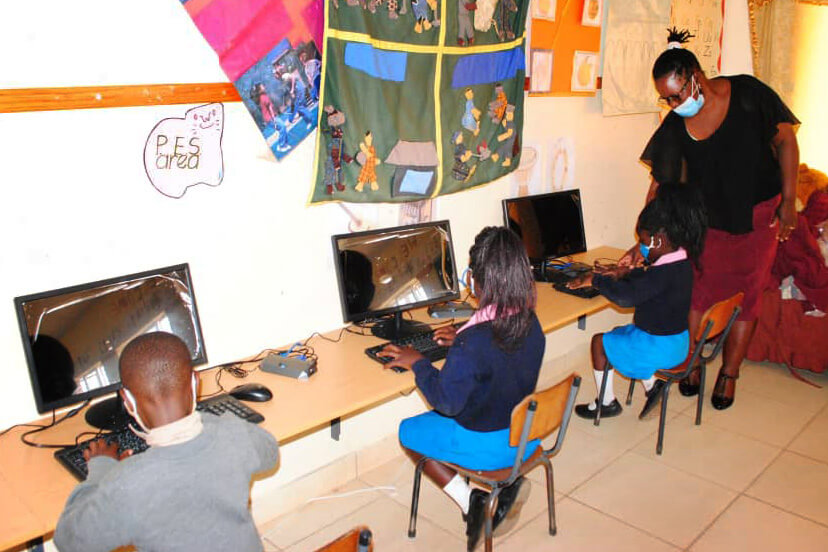 Early childhood teacher Ruth Nemakanga helps Patience Chipakatira learn to use a desktop computer at the United Methodist Hartzell Central Primary School in Mutare, Zimbabwe. A grant from the United Methodist Board of Global Ministries funded 10 desktop computers that will serve 173 students. Photo by Kudzai Chingwe, UM News.
---
By Kudzai Chingwe
Oct. 28, 2021 | MUTARE, Zimbabwe (UM News)
Around the world, the COVID-19 pandemic has ushered in a new normal in education as students have become conversant with technology to access online lessons. Hartzell Central Primary School in Zimbabwe's Mutasa Nyanga District is a case in point.
With a grant from the United Methodist Board of Global Ministries, the Ministry of Women, Children and Youth recently installed 10 desktop computers at the school.
Tendai Rebecca Gurupira, coordinates the Ministry of Women, Children and Youth. She said the computers would enable even the youngest children to join the rapidly changing world of technology.
"COVID-19 has transformed the education system for all students into digitalization," she said. "For them to access online lessons," she said," one has to be familiar with information technology."
The Rev. Munyaradzi Timire, Zimbabwe East Conference education secretary, agreed.
"This will enable them to catch up with the moving world of technology," he said. "The ratio per computer should at least be one computer to two students, although a one-to-one ratio would be the most ideal.
"Because of limited resources, we have to start with 10 computers for 173 students, but my wish is that by 2025, all schools must be fully computerized."
Headmistress Eugenia Mudede said the donation already has transformed the Early Childhood Department.
"It is an answer to our prayers, a dream come true," she said. "Indeed, God is good. To God be the glory and blessings be poured to the givers."
Mudede said the 10 computers would greatly enhance the education process.
"Teaching-learning will become effective and inclusive," she said. "Two languages will easily be mastered as they listen and view storytelling, thereby improving concept mastery. Performance of facilitators and learners will improve dramatically."
While internet connectivity broadens education, a new challenge is the cost. She noted that Hartzell has big plans for the future, including construction of four more standard early childhood education classrooms and a safe outdoor play area, as well as purchases of more computers, projectors, whiteboards and markers, toys and sports equipment.
"It is recommended that children start to learn information communication technology informally as soon as they are able to hold IT tools at home," said Mudede, "then formally as soon as they enroll at preschool from 1 year to 3 years."
At age 4, they enroll in early childhood education, according to the Primary ICT syllabus.
"Nowadays," she said, "children are 'born' computer literate and just need the gadgets."
Ruth Nemakanga, early childhood teacher, said: "With the provision of computers, teaching is now easier and more enjoyable, especially with regard to storytelling.
"There will be a variety of media and no imagining of pictures," she added. "Children will learn to be hands-on through the use of computers."
The early childhood department has five teachers, two for 74 children ages 4-5, and three for 99 children ages 5-6.
"The learners can read books, draw on computers, play games, listen to stories, watch cartoons and more," Nemakanga said. "My aim is for all students to have an opportunity to become competent, creative and productive users of ICT."
Blessing Chipakatira is a parent representative and the mother of 5-year-old twins.
"I was happy with the new education approach of enhancing technology through the use of computers," she said. "Patience and Pauline had sleepless nights from the joy after the handover ceremony by Gurupira. They had the opportunity to use the computers. They came home quite excited, narrating some parts of the computers they had learned."
Patience said, "I am very happy to have computers, but we need more since we are many."
Her mother, on behalf of parents, said she thanks "the church and donor partners for the support to our school."
"Our children are learning using computers at a tender age," she added. "'Catch them young' is the way to go. As parents, we went to school when we were older, without computers, and now learning of computers is not easy."
The Rev. Sandra Hamuna, pastor in charge of Old Mutare United Methodist Church, said, "Computers will cultivate and nurture children's critical thinking skills. Our infant classes are now part of the technological world.
"On behalf of the church, I thank Tendai Rebecca Gurupira and Global Ministries for the job well done. Hartzell Central Primary School will never be the same."
Chingwe is a communicator for the Zimbabwe East Conference.