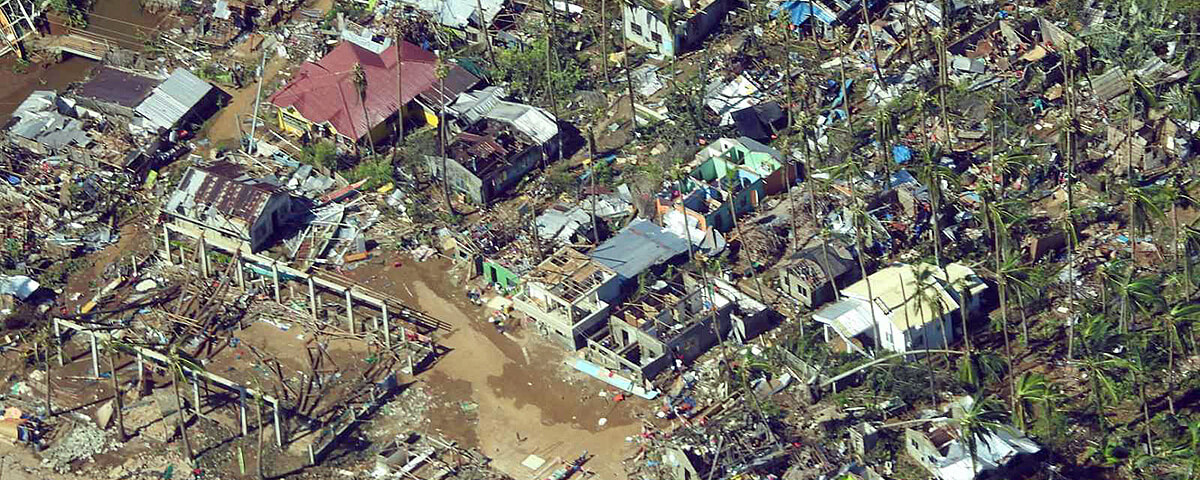 Typhoon Odette caused massive damage to Surigao City in the northern part of Mindanao in the Philippines in December 2021. With many homes destroyed, people continue sheltering in local churches, day care centers, municipal buildings, schools and sports facilities. Photo courtesy of the Philippine Coast Guard via Wikipedia.
---
By Gladys P. Mangiduyos
January 19, 2022 | Visayas, Philippines (UM News)
After the Rev. Apriniel Salmon witnessed his first super typhoon, he headed out to check on families reeling from the disaster.
On the morning of Dec. 17, sunrise unveiled the great damage brought by Typhoon Odette, known internationally as "Rai."
"Scattered debris of roofs, uprooted trees, toppled electrical posts were all over," said Salmon, who is the district superintendent of Eastern Visayas. "As expected, the wreckage was insurmountable."
The storm hit several heavily populated areas, including Cebu, killing more than 400 people.
Salmon also is an administrative pastor of First United Methodist Church in Cebu City. His jurisdiction as superintendent consists of Cebu, Bohol and Leyte.
On his motorcycle, Salmon trekked nearly impassable roads to deliver bread, canned food, rice and water to evacuees sheltering in three local churches.
"People were so afraid," he said. "They were hopeless and helpless. People of all ages were crying. They had no choice but to wait for any immediate help for food and water."
Complicating matters, Salmon said, is the pandemic crisis. "How can one transcend the devastation?" he asked. "Even (we) got so frightened and saddened."
The typhoon wrecked lives and livelihoods, churches, houses and crops. Water and power supplies remained unstable.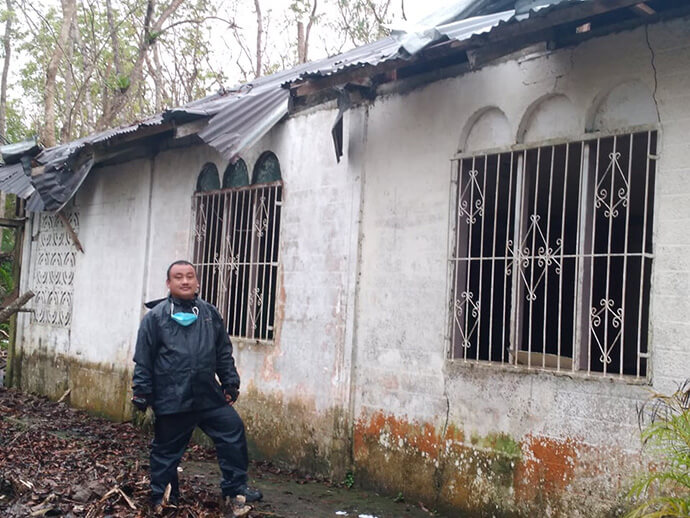 Thanking people who responded immediately, Salmon appealed for materials for home rehabilitation, church repairs and sustainable livelihoods.
The Rev. Max Maregmen, Visayas Philippines Ordained Ministry chair, indicated that houses and fishing ports are beyond repair in Southern Leyte. He listed immediate needs: supplies and labor for home repair and building, fishing boats, agricultural tools, planting materials, food, clean water and medicine.
Among the hardest-hit areas were Negros Oriental, Negros Occidental and Surigao.
The Rev. Christie Ferrer, Central Visayas District superintendent, said the typhoon left massive destruction.
"Houses in Bais City (and) municipalities of Manjuyod, Bindoy and Jimalalud were wiped out by winds and floods, ripped off by big waves in coastal areas," he said, adding that the typhoon also destroyed agricultural crops including coconut, mango and banana trees.
Members of Banog United Methodist Church in Jimalalud, Negros Oriental, lost their homes.
In a Facebook post, Janice Fabillar Montero, a United Methodist youth from Visayas, expressed gratitude, despite experiencing eight hours of horror when the super typhoon struck.
"Despite the calamity," Montero wrote, "we are still thankful because we are still alive. God gave us a chance to live … an opportunity to move forward. … Our house was devastated, but I still thank God for keeping me and my family safe."
Antonia Gorneo-Espellogo, a young adult from Bais City United Methodist Church, lost her grandfather, Josefilo Honor Bairoy.
Floods destroyed Bairoy's house, and his body was found by the riverside the next morning.
"In my visit to Bais City on Jan. 9, where severe floods destroyed houses and crops, the foul smell of unrecovered decomposing cadavers and dead animals was so strong," Ferrer said.
Because so many people lost their houses, crowded evacuees remained at the Bais City gym.
On his way to the Christmas Institute, an annual post-Christmas camp of United Methodist youth, in Bindoy, Negros Oriental, Ferrer said people asked for help while holding signs that said, "We need food and water."
Dan Ela, disaster management coordinator of the Davao Episcopal Area and interim executive assistant to the bishop, said the United Methodist Committee on Relief gave solidarity grants of $10,000 each to the Central Visayas and Eastern Visayas districts. "The district disaster risk-reduction team has yet to decide priority areas," Ela noted.
The emergency grants will facilitate the collection of additional assessment data, identifying survivors and their most urgent needs to be addressed in future relief efforts, according to UMCOR.
Bishop Rodolfo A. Juan of the Davao Area noted the magnitude of the devastation.
"Typhoon Odette is one of the most devastating typhoons that hit my area," he said. "Many houses were destroyed, as well as crops. Up to this time, Bohol province and Siargao island in Surigao province are still without electric power. This natural calamity struck just before Christmas; many Filipinos did not enjoy the holiday celebrations."
He expressed deep gratitude for financial assistance provided by United Methodists in the Philippines. "Once again" he said, "we have proven that Filipinos are generous and are always willing to lend a helping hand. I also thank UMCOR for coming to our rescue by immediately sending calamity funds."
Gemma Saranilla, a United Methodist deaconess in Palawan, said 80% percent of families were affected in San Rafael, Puerto Princesa City, coastal areas in San Vicente and Roxas Palawan, Island of Dumaran and Araceli. Food packs, rice and water are critical. She requested financial assistance for roofing and light materials for shelter.
Palawan is in the Manila Episcopal Area. Phine Cedillo, area disaster management coordinator, said that downed electrical lines proved "very challenging."
"I believe we can all transcend this predicament," Ferrer said. "Both government and private sectors are ready to extend help."
He mentioned that his district aided relief efforts in Bae, Jimalalud, Negros Oriental, which was washed out by the storm surge. In addition, help was extended to individuals in Tanjay City, Bais City and Bindoy, Negros Oriental. Pampanga Philippines and East Mindanao Philippines annual conferences also assisted.
Salmon thanked Project Ubuntu, United Methodist City Temple, the East Mindanao Outreach Ministry and the Northeast Nueva Ecija District.
Project Ubuntu was the first to respond with local relief efforts the day after the typhoon.
Team member David Ben Azurin described Project Ubuntu as "a community of people who may be different in some ways but united as one in achieving a common goal: to help those with immediate needs."
He said Project Ubuntu is a good model. "It has proven that it can implement a successful fundraising campaign in a short span of time," he said.
"The collective efforts of sharing time, skills, talents and monetary blessings are contagious," he continued. "Those who receive the assistance get the benefits, but the givers also find joy in sharing."
Church leaders said people who lost their homes are hopeful that more help will come.
"I believe that our townsfolk will rise up again," the bishop said. "With help from the government, which is a bit slow, and prayerful support from the church, they will pick up the pieces and will recover, by God's grace."
Mangiduyos is a communicator in the Philippines. She is one of the founders of Project Ubuntu.