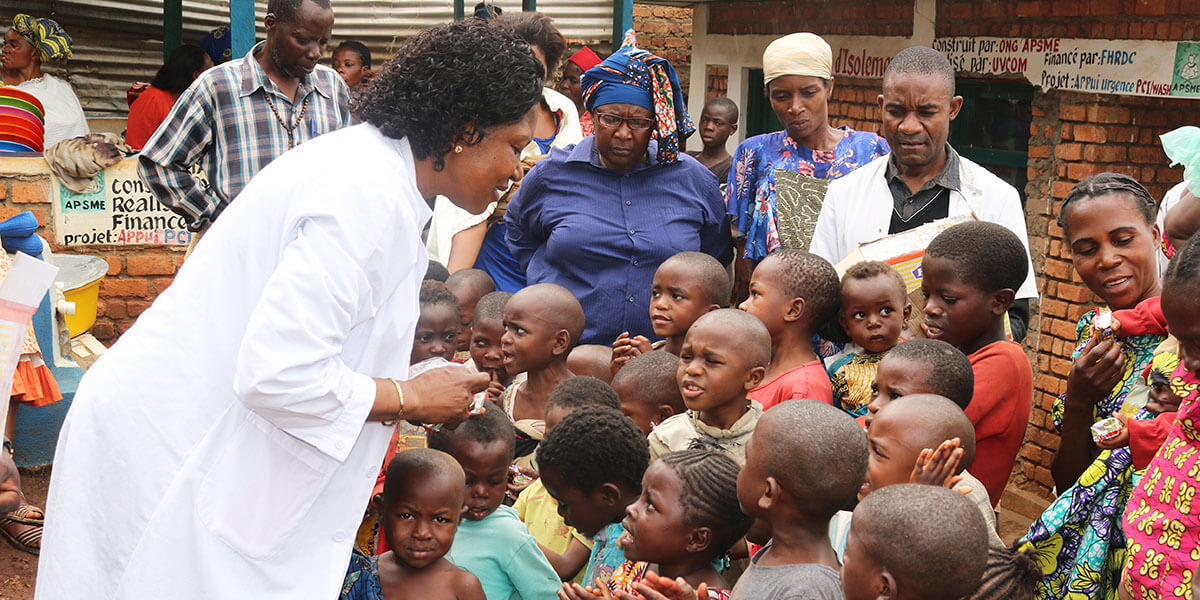 By Philippe Kituka Lolonga
May 15, 2023 | BUKAVU, Congo (UM News)
In the Democratic Republic of the Congo, initiatives developed by The United Methodist Church aim to offer a positive future to people living with HIV and AIDS.
With funding from the United Methodist Board of Global Ministries' Global Health program, the church supports more than 100 women living with HIV in Bukavu in the Kivu Conference in eastern Congo. The program also is helping women in Central Congo.
According to Dr. Jimmy Kasongo, medical director of United Methodist Irambo Health Center in Bukavu, the effort is part of the church's Maternal and Child Health Program in East Congo.
"We help women living with HIV with transportation every week to pick up medicines at Panzi Hospital, which is 10 kilometers (6.2 miles) from Irambo Health Center, where many of these women live," he said.
According to the National Multisectoral Program for the Fight against AIDS, more than 20,000 people are living with HIV in South Kivu, and the situation is worsening daily. "We need to sensitize the population to get tested to know their HIV status in order to save lives," Kasongo said.
Exacerbating the problem is the location of the North and South Kivu provinces on the borders with other countries and the violence against women by men in uniform.
The United Methodist Church also provides psychological support to people living with HIV. Through counseling, they gain better understanding of their HIV status, Kasongo said.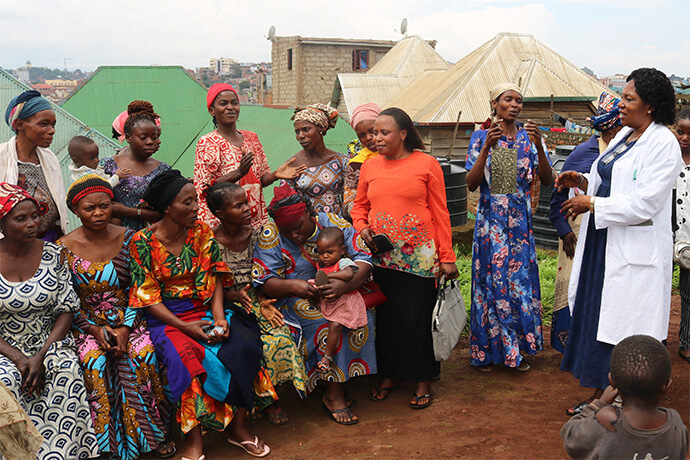 Charlotte, 43, is the mother of four children. She was abandoned by her husband because she had contracted HIV.
"I had lost hope for life in the Nyalukemba district of Bukavu city," she said, "I was afraid and only expected to die. Today, I have found a radical change in my life."
Charlotte's children had developed acute malnutrition. To address the issue, The United Methodist Church gives food support to malnourished children of people living with HIV. Three times a week, the children are fed porridge at the Irambo Health Center. They also get needed medicine, Kasongo said.
"My children are beginning to recover properly," Charlotte said, "thanks to the support of the church, which helps me a lot more with the porridge every week. I receive antiviral drugs against HIV (and) AIDS."
Kasongo noted that despite the help, much remains to be done.
"Every week," he said, "more than 10 people living with HIV and more than 30 malnourished children come to the health center for care."
To encourage economic independence, The United Methodist Church provides microcredit loans to women living with HIV and guides them to join microfinance associations.
Bénédicte, 41, lives in the Nyalukemba neighborhood of Bukavu. She said the aid helps her to support her family.
"I also received $100 in start-up funds for the sale of embers," she said. "This allows me to take care of myself, and today I have more than $300. I don't lack food for myself and my family." Often used for cooking, embers radiate a more consistent form of heat than an open fire.
Bénédicte said she is no longer marginalized by her neighbors. "Thanks to the help I received from The United Methodist Church," she said, "I feel integrated into society because I have regained my health."
Christine, another beneficiary, resides in the Sailo Military Camp. Four of her children were severely malnourished. "After eight months at the Irambo Health Center," she said, "my children have recovered. It is a joy for me that The United Methodist Church is there."
United Methodist Bishop Gabriel Yemba Unda, Eastern Congo Episcopal Area, said the support is timely.
"It is a way to put our social evangelization in motion," he said.
Dr. Marie Claire Manafundu coordinates the Maternal and Child Health Program in eastern Congo. She vowed to continue to advocate for people living with HIV and malnutrition.
Charlotte credited the psychological support with giving her hope to live.
"At first," she said, "I was worried, but with the advice of Dr. Manafundu, I sometimes forget that I am a person living with HIV.
"Words fail me to express my gratitude to The United Methodist Church. Today, I have the hope of living a long life."
Kituka Lolonga is a communicator in the Kivu Annual Conference.