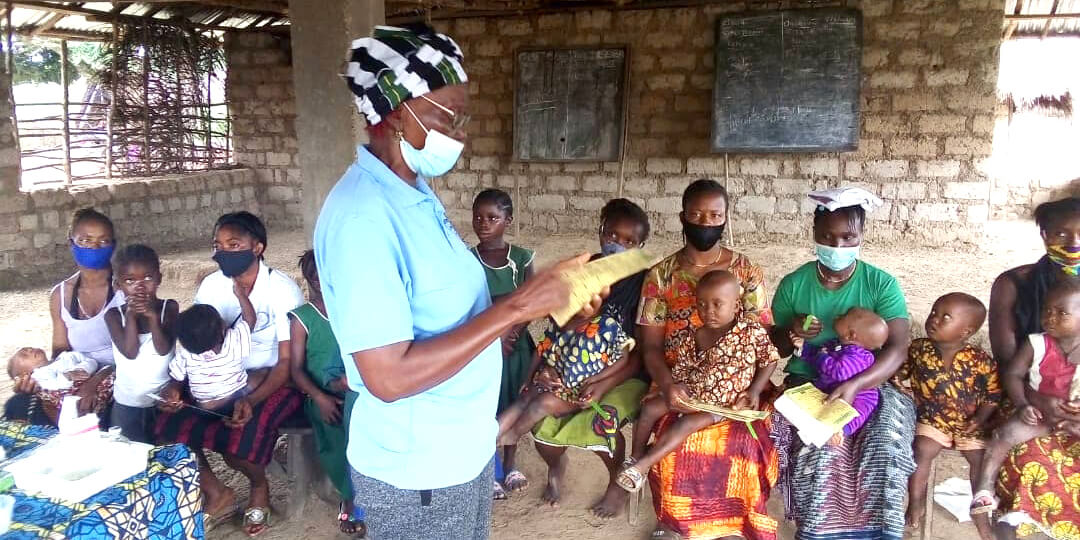 A midwife from the Taiama Health Center, another of the Sierra Leone health clinics to receive Global Ministries' support for community-based health care, meets with mothers and their babies to give guidance and support, including breastfeeding support. PHOTO: SIERRA LEONE HEALTH BOARD
Having a breastfeeding support system through local community-based health care providers supported by Global Ministries can make all the difference for young mothers trying to nourish their babies. Seray, in Sierra Leone, was fortunate to have an advocate through the Jaiama United Methodist Health Center.
By Christie R. House
August 3, 2022 | ATLANTA
Seray Mara and her husband trusted Jaiama United Methodist Health Center enough to start prenatal checkups, and she successfully delivered her first baby there. She and her husband are both in their late teens. He works in a gold mine to support them.
Vandi Koroma, a Community Health Officer with the clinic, greeted Seray on the street when he recognized her as one of the maternity patients, but she seemed despondent. Koroma asked how the baby was doing and whether anything was wrong.
The baby was fine, but Seray had difficulty breastfeeding because her breast had been sore for two weeks. In Sierra Leone, a breast abscess is a common condition after birth. This is caused generally by a buildup of bacterial infection. It is quite treatable with a quick procedure and antibiotics, but if left untreated, the bacteria can spread, causing septicemia, which is life threatening.
Seray's mother-in-law did not want to take her back to the clinic, and her husband worked most days, but he took her to a traditional herbalist. Herbalists are knowledgeable about the medicinal properties of many local varieties of plants, but in this case, his treatments did not help Seray, and her pain increased.
Koroma recognized the symptoms of a breast abscess from Seray's description, but instead of whisking her off to the clinic without her family's permission, he asked if he could visit her home to talk with her husband and if they could invite the herbalist too. Seray's husband was home at that time, so she arranged the visit.
Working within cultural systems
Koroma knew that Seray needed medical help, but he also knew that if he met with the herbalist and explained the condition, the herbalist would then have a better understanding and could refer other patients to the clinic when he recognized the symptoms, thereby reaching more women who needed help. By meeting with Seray's husband, Koroma also acknowledged the family's concern for Seray.
Decision-making processes concerning childbirth in rural Sierra Leone are multi-faceted, complex and constantly changing. Young mothers like Seray are surrounded by mothers and mothers-in-law who are embedded in a family system of caring. They can help or hinder a young mother's access to health care, so Maternal, Newborn and Child Health (MNCH) work must adapt to a family-system approach in programs.
Once Koroma explained the health condition, the treatment process and the ramifications of not receiving treatment, Seray's family and their herbalist agreed that she should go to Jaiama Health Center for treatment. After the procedure to drain the abscess, she received a course of antibiotics and healed without complications.
With this support she was able to continue to breastfeed her baby without pain or worry. Medical support working with family support and a traditional healer proved to be the best course of action for Seray and her baby.
A connectional system saves lives
Sierra Leone has one of the highest rates for infant and maternal mortality in the world. Both the government and the UMC episcopal area place a high priority on providing maternal, newborn and child health services, especially in remote, rural areas. Sierra Leone United Methodist health facilities are registered with the Ministry of Development and Economic Planning. They support government policy and partner with government health services.
The Global Health program of Global Ministries supports the Sierra Leone UMC Health Board with periodic grants that undergird the work of MNCH throughout the episcopal area. The grant that supported community-based health work at Jaiama clinic also supported two other United Methodist health centers in Sierra Leone. Seray was one of almost 8,000 women and children to receive the care they needed because of United Methodist support.
Honor World Breastfeeding Week with a gift to Abundant Health. Support will help the United Methodist Church of Sierra Leone and other United Methodist health services across Africa to provide quality maternal and child survival services, increase access to prenatal care, efficient management of birth and after-birth, and strengthen community engagement.
Christie R. House is a consultant writer and editor with Global Ministries and UMCOR.