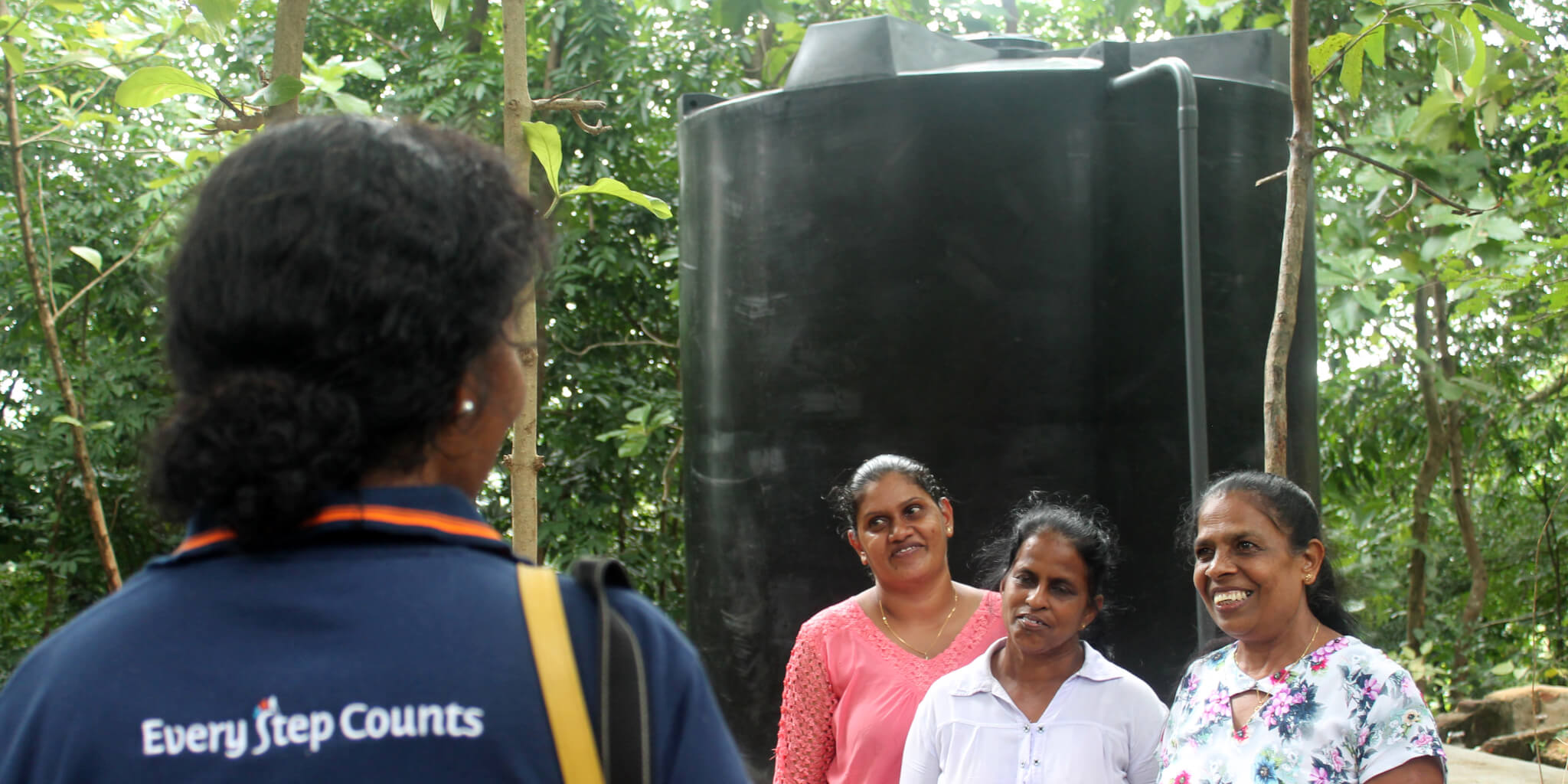 The new member of the water committee in Meegahahenga Village in Sri Lanka visits an overhead water tank. She is met by beneficiaries of the project. PHOTO: LEADS
---
By Christie R. House 
March 18, 2021 | ATLANTA
The people of Meehagahena Village in Kandy District, Sri Lanka, have longed for a way to get clean water and proper sanitation facilities to their homes. Their existing water system malfunctioned years ago. They expressed their concerns to their water management committee, the government and any humanitarian organization that would listen – but still, they waited.
"My younger son would wake up early in the morning and take whatever pots and buckets he could carry to collect water from down the hill before he goes to school," a resident explained. Most other households told a similar story. "Even after school," the mother continued, "he would go down a second time to collect water for us. Both my husband and I are sick and are not steady on our feet. My elder son is paralyzed from the waist down."
Today, this family, who lives in Bettiyagoda, receives their water from a spigot right outside their door because of funding from the United Methodist Committee on Relief (UMCOR) and the careful work of a faith-based Sri Lankan nongovernmental organization called Lanka Evangelical Alliance Development Services (LEADS). LEADS brought together community members to hear what they needed and the major challenges they perceived that kept them from reaching their goal.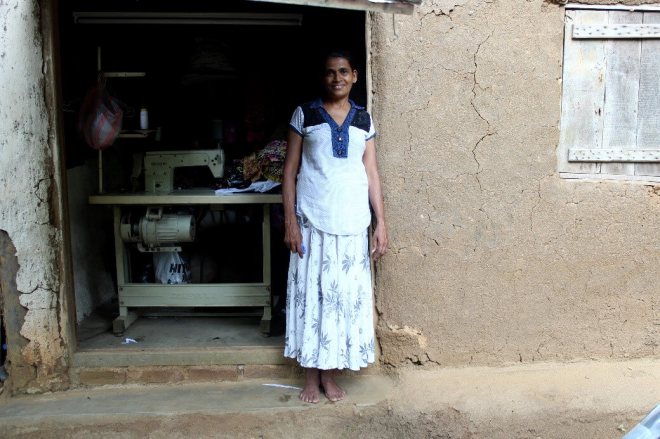 It wasn't just the antiquated infrastructure or a lack of funding that kept the long-awaited clean water from flowing; there was also a people component. Members of the local water management committee had held their posts for many years and resisted change. Overcoming this resistance meant addressing the concerns of the committee members and mediating between them and the larger community.
In a year's time, despite additional challenges presented by the coronavirus pandemic, 105 families (about 600 people) in Kandy District now have a source of clean water that pumps directly to their properties, 63 families that had poor or no sanitation facilities have received new ones and even the water management committee has been transformed with the appointment of its first female member. Through this project, the community experienced the benefits of participatory planning and has taken steps to improve community structures and representation.
Water for health and hygiene
World Water Day 2021 (March 22) celebrates the value of water around the world. Goal six of the United Nations Sustainable Development Goals calls for water and sanitation for all people by 2030. While this may seem ambitious, many different contributors – faith-based, nongovernmental and governmental organizations – are working hard to bring water to places like Meehagahena Village.
Global Ministries' water, sanitation and hygiene projects (referred to as WASH) are funded and coordinated by both UMCOR and the Global Health unit. The projects cover a wide range of water and sanitation structures, types of facilities, and methods of finding and pumping water. The choice depends on the available resources and circumstance of the receiving community, including the resources and experience of the implementing partner. However, all projects are targeted to reach underserved and vulnerable communities based on need without regard for religion, race or nationality.
Roland Fernandes, general secretary for Global Ministries and UMCOR, noted that grants in progress as well as new WASH grants proceeded even with uncertainties in access and supply. "Despite the challenge of the coronavirus pandemic, Global Ministries and UMCOR WASH projects completed in 2020 reached 190,000 people around the world. Twelve grants totaling $1,110,100 were awarded last year for projects in Asia, Latin America, Africa and the United States."
Some projects, as in Sri Lanka, help families directly, while others improve community health by addressing WASH concerns at hospitals, clinics and other health facilities. A project in Côte d'Ivoire improves the lives and health of children and their teachers by improving facilities at schools.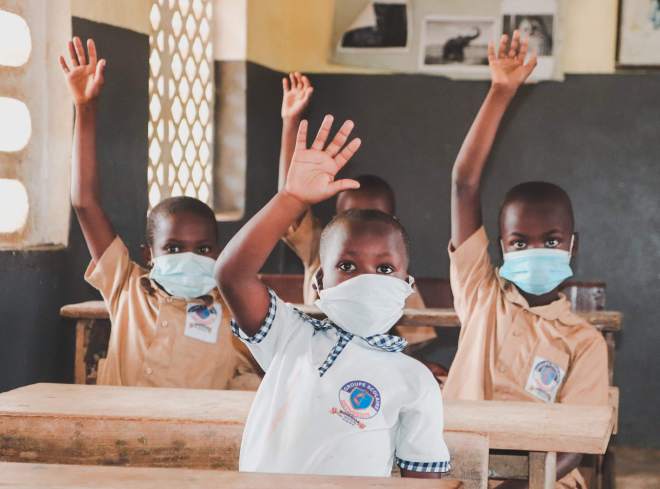 In that case, UMCOR partnered with Reservoir de Siloe, the development and humanitarian nongovernmental organization of The United Methodist Church of Côte d'Ivoire (EMUCI), to improve WASH facilities in seven locations, reaching a total of 12 schools, from which community members now also benefit.
Although Côte d'Ivoire's national development plan aimed to reach 82.5% of the population with access to clean water by 2020, the actual rate reached 68%. Water infrastructure is one of the casualties of a civil war that lasted almost a decade. Drinking water production and supply facilities have deteriorated, especially in rural areas. In some communities, no facilities exist, so people use open defecation zones.
About 51.5% of primary schools in Côte d'Ivoire have no latrines, while 58.9% have no clean water supply. Even among the 41 United Methodist schools, 50% lack appropriate WASH facilities.
From the outset, NGO Reservoir de Siloe invited church, school and community leadership in the seven areas to participate in the initial decisions. Community involvement increased interest and enthusiasm for the project, despite barriers and challenges created by the COVID-19 pandemic.
In each of the primary schools, teachers formed hygiene clubs to help students understand the importance of handwashing, cleanliness and proper use of the new facilities. The project supplied teachers with training materials to design and develop lessons in health classes and health clubs going forward.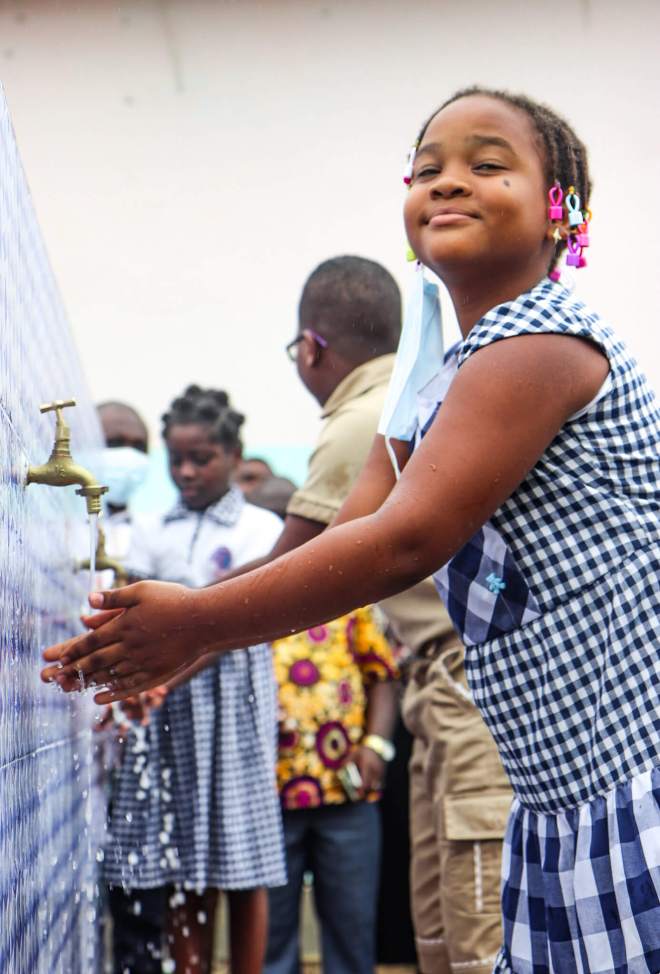 Mondou Noel Yayo, the director of Yakassé-Me, one of the schools receiving latrines, expressed his thanks, saying: "Most children in this school have no knowledge of this kind of contemporary bathroom. They were all amazed. Children are proud to have these toilets in their schools. We can only thank all those who made this work possible."
One of his students added: "I thank UMCOR for the toilets they have made available for all our functional needs. And may God bless them and give them long life, health and wisdom."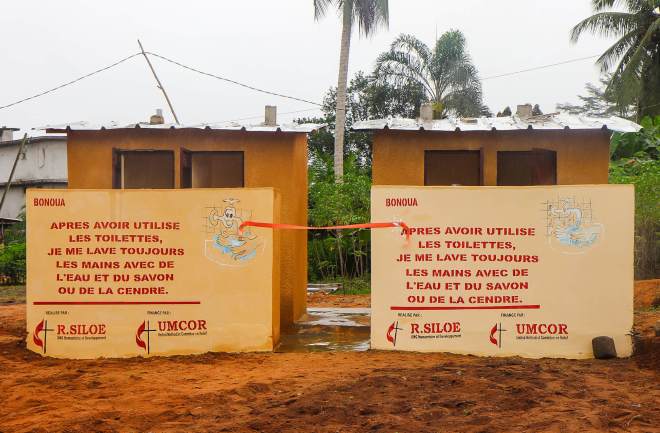 In recognition of World Water Day, consider a gift to make more WASH projects possible for the many communities that are still waiting for water.
Christie R. House is a consultant writer and editor with Global Ministries and UMCOR.