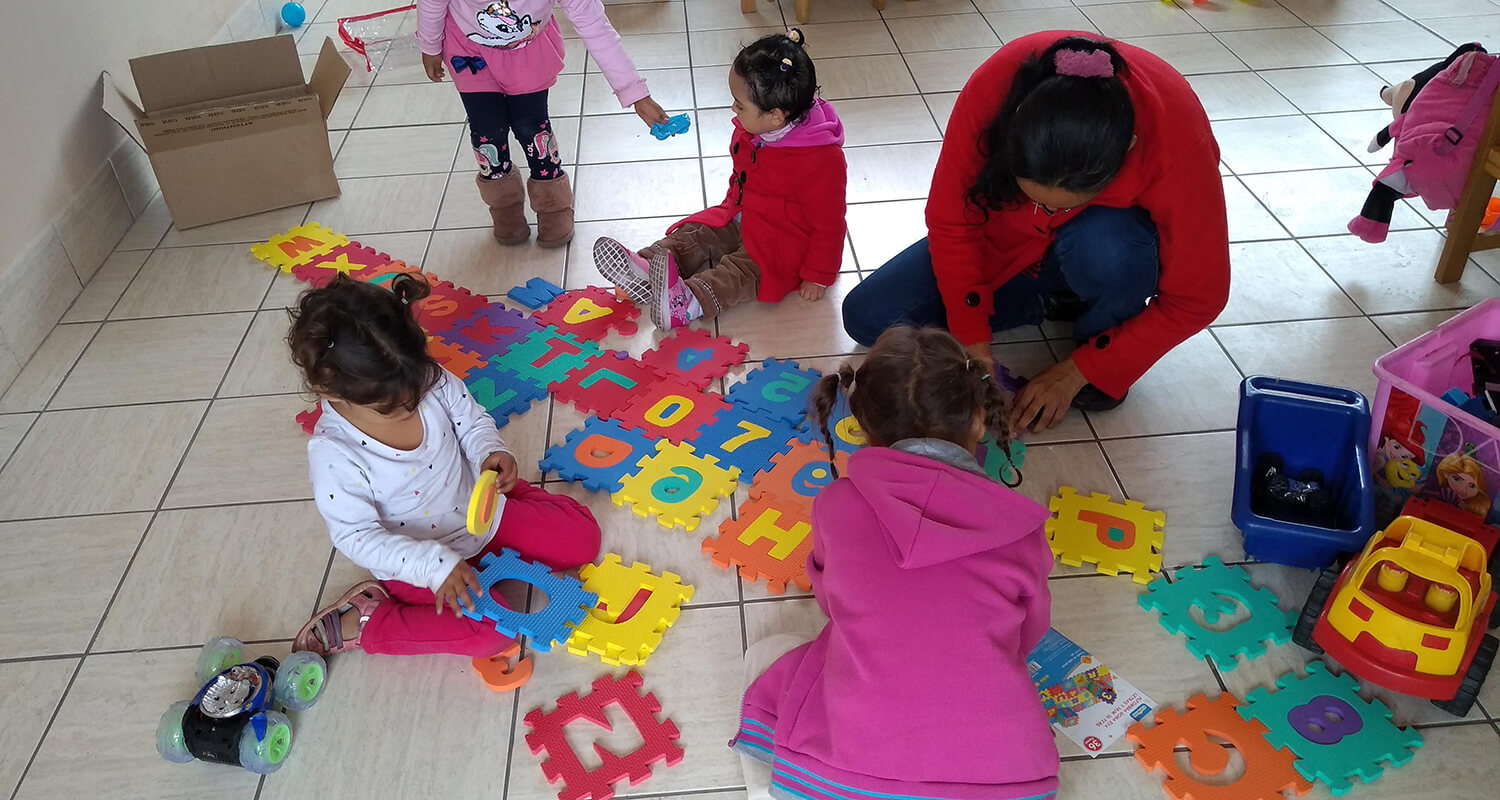 By Christie R. House
January 2019 | ATLANTA

Jesus said to them, "I am the bread of life. Whoever comes to me will never be hungry, and whoever believes in me will never be thirsty."
– John 6:35 (NRSV)
Among the current class of Global Mission Fellows serving around the world are two from different parts of Asia. They work in Tijuana, Mexico across the border from San Diego, California, as migration ministry advocates in the Northwest Conference of the Methodist Church of Mexico. In this key location, where migrants seek relief, wait for justice and face deportation, they have heard a lifetime of stories from desperate people hanging on to hope.
Yabes Manokaran, from Tamilnadu, India, has been working since the fall of 2018 and Eric Agron, from the Philippines, arrived early in 2019. Global Mission Fellows in the international track are young adult missionaries who leave their home countries to work for two years in placements that challenge them and push them beyond their comfort zones.
When Manokaran first began work in Mexico, he said there were about 6,800 migrants seeking to cross the border into the United States, but with the arrival of several caravans of Central Americans seeking asylum beginning in January 2019, the number increased to more than 14,000. The New York Times reported that Tijuana hosted 2,300 asylum seekers waiting in Mexico to cross the border in February 2019, but by August, that number had increased to 10,000. In addition, 6,400 asylum seekers who had been waiting in the United States were sent back to Tijuana, for a total of 16,400. Across Mexico at that time, a total of 32,000 waited in Mexico for their numbers to be called to receive an asylum hearing in the United States.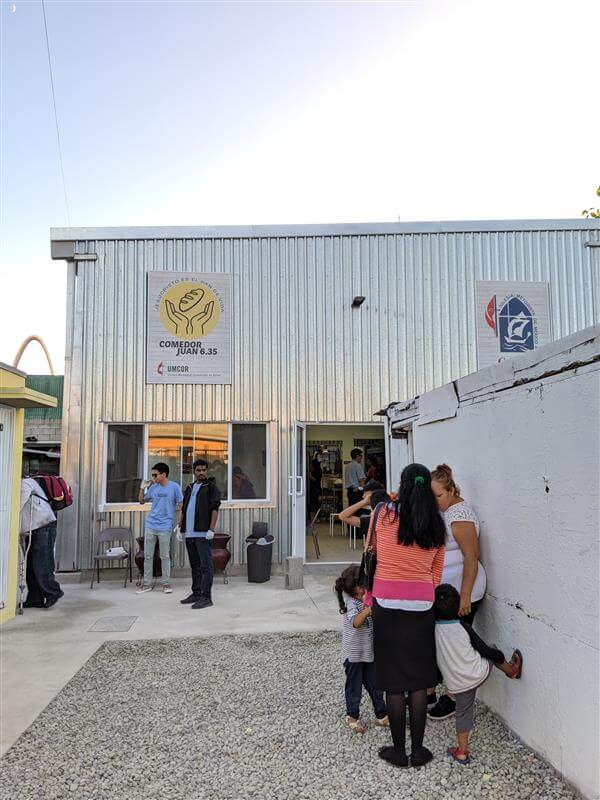 The Northwest Conference of the Methodist Church of Mexico supports migrants with food, clothing, blankets and other resources to meet basic needs. Early in 2019, the United Methodist Committee on Relief provided a grant to the conference to outfit and staff an industrial-sized kitchen to provide food for asylum seekers stuck in Tijuana. Named after the Bible verse, Comedor Juan 6:35 opened in April 2019. Both Manokaran and Agron volunteer there.
Reaching through the wall
In addition to working at the Comedor, the Global Mission Fellows participate in a variety of workshops and conferences, teach groups in Mexico and the United States about their experiences on the border and meet with migrants each day. They also attend El Faro Border Church, which has pastors, but no building.
Both Manokaran and Agron say that Sundays with the El Faro congregation is something they look forward to every week. "Every Sunday I am fortunate to experience a binational worship service and be part of a church like no other," explains Agron. "El Faro Border Church gathers at Friendship Park, the historic meeting place on the U.S.-Mexico border. The U.S. government built a pyramid-shaped statue on this beach to mark the end of the Mexican-American War in 1848."
Until 1994, the park between San Diego and Tijuana was open, without a wall or fencing, but then the U.S. erected a thick steel fence and border security has continually increased. Today families can barely touch fingertips through Friendship Park's border wall.
"At El Faro church, led by Pastor John Fanestil in the U.S. and Pastor Guillermo Navarrete in Mexico, we share communion with friends from both nations as a witness that nothing can separate us from the love of God in Jesus Christ," Agron said.
"This church is open to all. It has no walls, no doors and no ceiling. It doesn't matter what religion you possess or do not possess. People come here to be closer to God and to motivate the separated families. We cannot allow a border wall to separate us from our loved ones."
Manokaran has been coming to the wall most Sundays since he arrived in Tijuana a year ago. "The border wall is a symbol of injustice," he said, "and it's a symbol of division, which human beings have created. Yet, through our action, we will turn this wall into a table. We confess our sins. We receive the words of pardon. We share peace with each other. This is the historic Christian practice. In some mysterious way, we are united as one at the table of the Lord."
Agron says he's witnessed firsthand the heart-wrenching sight of mothers who can only touch their children with pinky fingers through the fence holes. "I've seen the innocence in the eyes of a child, who, I believe, can't comprehend why he can't be with his family, and the tears in a grandfather's eyes, seeing his granddaughter for the first time, unable to hold or kiss her with the fence in between."
People in need of justice
In working day to day with migrants, the Global Mission Fellows have learned about their many hardships. Some explain that gangs threatened to murder them (or family members) back in their home countries. Manokaran remembers Douglas, age 39, from Guatemala, who held a six-month old girl in his arms. "In my poor Spanish I told him, 'how beautiful your daughter is.' He said, 'she is not mine. Her father was killed a few weeks ago. We brought her with us. Her father is my wife's brother. We left the country in the middle of the night.' I was rendered speechless," said Manokaran.
Sometimes all the Global Mission Fellows can do is be present and listen. "They ask me to pray and I do," he continues.
"I have seen hundreds of children and families, some living in tents in open-air encampments in Tijuana. They have fled violence on foot. They wait for their numbers to be called for a chance at asylum," Manokaran explains.
Agron says: "The abundance of stories from migrants, about how they've fled from different kinds of abuse, persecution and violence really affects you. Some flee drug-related, or political-related or religious-related violence. They have to flee. They leave comfortable homes to cross a desert under a scorching sun."
His thoughts turn back to El Faro Church. "It has been a long vision, a long prayer of this church to have a border that has no wall, a border that is not divided, a border that unites people in love, in friendship, in communion."
Christie R. House is a consulting writer and editor for Global Ministries.