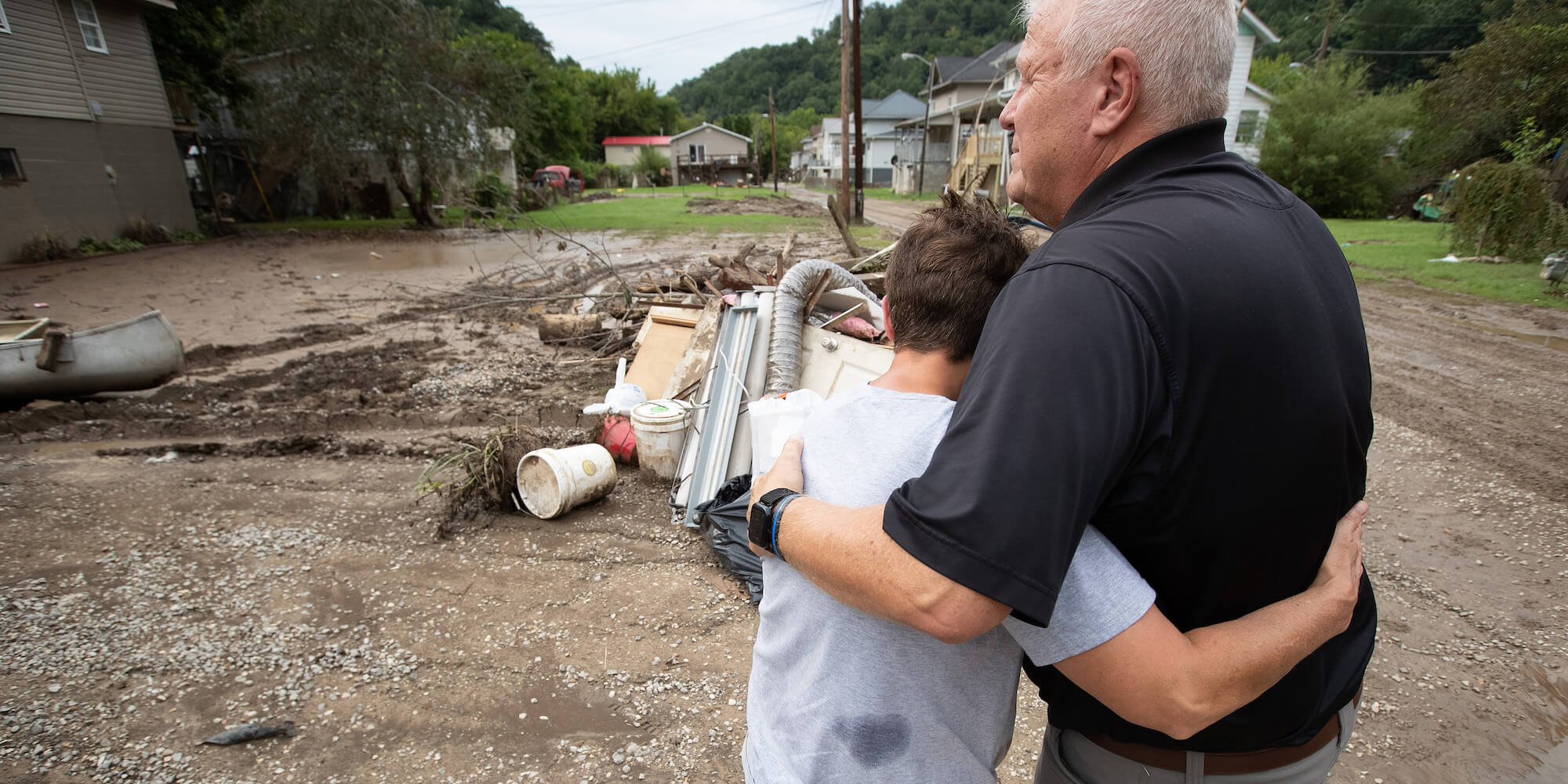 By Dan Curran and Sara Logeman
In addition to responding to tornadoes, hurricanes and wildfires in 2022, the United Methodist Committee on Relief (UMCOR) also provided relief for several severe flooding events that were caused by torrential rains affecting several states.
Termed by Kentucky's governor, Andy Beshear, as "the most devastating flooding event our state has ever seen," a severe storm in July dropped 8 to 10.5 inches of rain in only 48 hours.
The floods dealt a second devastating physical and emotional blow to the region within an eight-month period. In addition to the pandemic, the region dealt with tornadoes in December 2021, which caused millions of dollars of damage, the water crisis in Marion County and the current flooding. The Federal Emergency Management Agency (FEMA) is still determining the scope of the flooding disaster.
Jim Savage, disaster response coordinator for the Central Appalachian Missionary Conference, is well aware of the scale of devastation in his state of Kentucky. But he also sees hope in the supportive connections of the larger denomination.
"With the devastation we have seen caused by flooding, we're building on what we have learned and how we are connected. One thing that still amazes me is how well-connected The United Methodist Church is," said Savage. "Immediately we had UMCOR stepping in. We saw teams coming in. We saw people reaching out to help. It is amazing the work UMCOR does to prepare people, prepare teams and then get those teams activated and motivated to move into an area with a disaster."
Early Response Teams (ERTs) from multiple United Methodist conferences deployed to Eastern Kentucky to set the stage for additional volunteers to assist with relief efforts following the unprecedented rainfall and resulting flooding.
ERTs are individuals who have completed intensive UMCOR training, been background checked and received official UMCOR credentials. Training includes learning the basic definitions and phases of a disaster, principles of working with traumatized communities, and in-depth training on tasks such as clearing debris, removing damaged home contents and placing tarps on roofs to prevent further damage from the elements.
UMCOR responded rapidly by awarding solidarity grants to the Kentucky Annual Conference and the Central Appalachian Missionary Conference as well as delivering nearly 4,000 cleaning and hygiene kits, supplies of water and generators in the months following the disaster.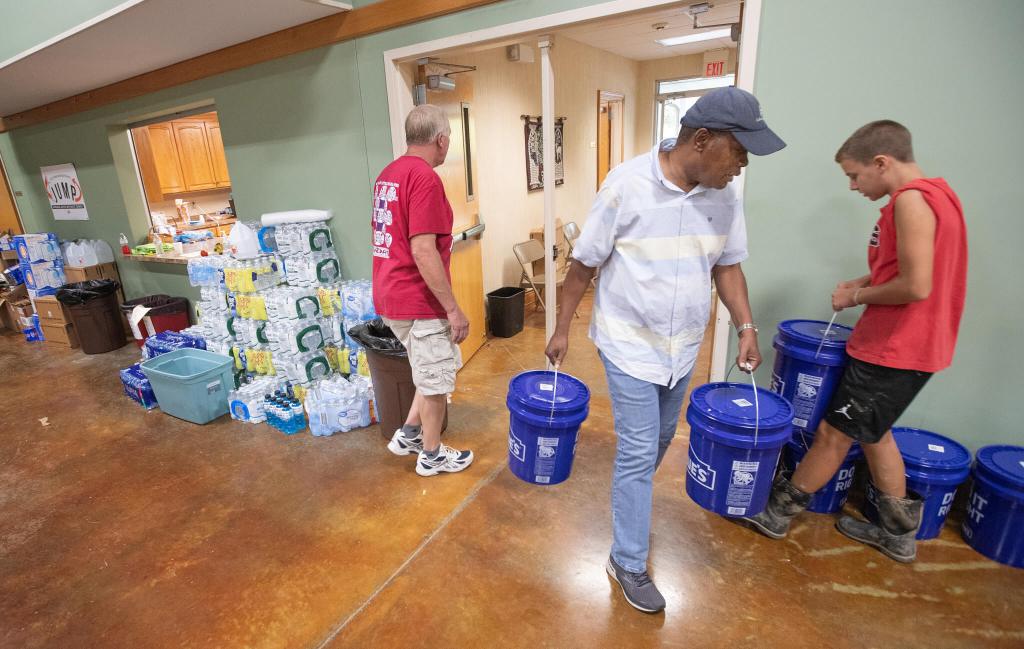 UMCOR continues to support both conferences with the additional human resources necessary to identify and respond to survivor needs. "We were also able to access some resources from UMCOR through grants and training. Because of that, we plan to hire caseworkers and managers to help communities as they reset," said Savage. "We walk together with the survivors to ensure they have exactly what they need to meet their long-term recovery plan."
Water crisis in Mississippi
Severe flooding affected several other Southeastern states this year.
Georgia experienced flash flooding in Chattooga and Floyd counties, to which UMCOR responded with an immediate solidarity grant in support of local relief and response. And in nearby Mississippi, heavy rain and flooding from the crested Pearl River and a water infrastructure crisis hit the city of Jackson simultaneously.

In late August, residents had already been under a boil water advisory for 30 days when the city's water treatment plant failed, strained by the flooding. UMCOR awarded a solidarity grant to the Mississippi Conference to provide water for the community during this water system emergency.
Using UMCOR funding, a group of United Methodist churches in the Jackson metro area collaborated on the response, purchasing pallets of bottled water so their neighbors could have access to safe drinking water. Churches served as pick up sites and delivered water to homes, assisted living facilities and the Methodist Children's Home of Mississippi.
"We knew we had the resources available to us and we knew that Jackson's water problems had been ongoing with a deeper level of disaster on top of a crisis. We saw the need to get involved and help our neighbors where we can," said the Rev. Haven Boyd, associate pastor of children and outreach at Parkway Hills United Methodist Church.
Working with conference disaster response coordinators and teams across the U.S., UMCOR stands ready to respond to disaster needs, helping conferences fulfill their mission to provide physical, emotional and spiritual assistance to communities recovering from loss and destruction.
Dan Curran is a communications consultant for Global Ministries and UMCOR. Sara Logeman is the content strategist for Global Ministries and UMCOR.
This piece brings together coverage from Fall 2022 from UMCOR, the Central Appalachian Missionary Conference and the Mississippi Annual Conference.
Learn more about the work of Disaster Response
The United Methodist Committee on Relief U.S. Disaster Response and Recovery (UMCOR USDR) serves as the primary channel for United Methodist assistance for disasters that strike outside the United States. Response includes food, water, hygiene and other essential nonfood supplies and shelter support for displaced people fleeing disasters.
Make a gift to help UMCOR provide for the basic needs of people and communities devastated by both natural and humanmade disasters.