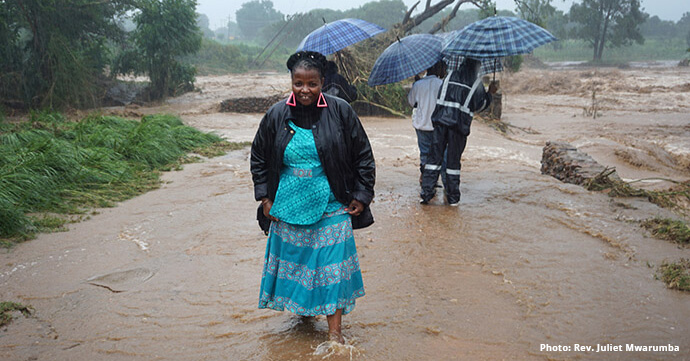 By Linda Bloom and Joao Sambo*
March 21, 2019 | UMNS
United Methodists are starting to respond to those affected by Cyclone Idai, which left devastation in parts of three African countries and killed 500 people, with hundreds more still missing.
The United Methodist Committee on Relief has allocated three $10,000 grants for immediate, emergency short-term funding to meet basic human needs in Mozambique, Zimbabwe and Malawi. Those needs include water transportation and storage for drinking, cooking and personal and domestic hygiene, along with temporary shelter.
"We're assessing and working with our disaster management coordinator in the field," said Laurie W. Felder, UMCOR's director of international disaster response.
Cyclone Idai made landfall near Beira, the fourth-largest city in Mozambique, on March 14. Over the next week, Idai left a path of destruction in Mozambique, Zimbabwe and Malawi.
High levels of poverty in the region make the cyclone's impact much worse, said Isabel Apawo Phiri, one of the top executives of the World Council of Churches, who was born in Malawi.
"We feel saddened by the news of so many people who have lost their lives in Malawi, Mozambique and Zimbabwe through this cyclone, and many more people have been displaced," she said.
Disruptions in communications channels have made it hard for United Methodist leaders to reach each other and their membership.
The Rev. Jacob Jenhuro, episcopal assistant in the Mozambique North Conference, had not been in touch with the office of Bishop Joaquina Filipe Nhanala until March 21. "We have no idea about how much rain we can still have, but we have received so much water that many houses (and) infrastructure including roads, bridges are still submerged," he reported when he reached the office staff.
Thousands of families in the Sofala, Zambézia, Manica and Inhambane provinces of Mozambique are among the displaced.
Respeito Chirrinze, UMCOR's disaster management coordinator in Mozambique, told United Methodist News Service that the $10,000 grant would help meet needs in the communities in Nicoadala and Gondola. "Because there is aid being channeled to Sofala and Manica, many nonprofit organizations seem to be forgetting other areas where people are isolated but in need of assistance, too," he said.
A campaign for donations has been launched throughout The United Methodist Church in the Mozambique Episcopal Area, Chirrinze noted.
"People in the affected areas have no potable water, so we need water purifiers, we need mosquito nets, we need medicine, we need school supplies, we need everything — including funds that will enable us purchase those items that we cannot bring from our own home," he said.
But assessing both immediate and long-term needs is difficult, especially with communication systems weak or inoperable.
"It is estimated that more than 347,000 people are at risk because some are in isolated areas, others on trees, some because they have not been eating for many days," Chirrinze said.
"People are surviving under inhuman conditions," he added.
At the bishop's office, all conference officers decided to donate 10 percent of their salaries in March to support the needs of the survivors. At Malanga United Methodist Church, an inner-city congregation in Maputo, the Mozambique Christian Council will hold a solidarity worship service on March 22 and those attending will bring items to support those in affected areas.
A concert at the Malanga church, organized by young people, also will solicit donations for cyclone survivors. Some ships have been receiving donations in Maputo harbor to take to survivors in Beira and Chimoio.
Zimbabwe church members were affected in hard-hit areas, such as the Rusitu Valley Circuit. The Rev. Gift Kufazvineyi and his parsonage are on higher ground, so he was spared, but others were not.
"I have done my assessment," he reported. "Three members are missing, houses of members destroyed are many and I have not managed to complete the assessment because some of the areas are inaccessible. Many members do not have any food, clothes or blankets, which all have been swept away by rains."
The Rev. Simon Matende, Chibuwe Rimbi Circuit, said he had to leave his vehicle at the parsonage and walked 11 kilometers to the nearest station to access transport to Mutare because water was everywhere. The homes of church members were destroyed, he said.
The United Methodist Church in Zimbabwe "has responded wholesomely" to the crisis, said the Rev. Alan Masimba Gurupira, assistant to Bishop Eben K. Nhiwatiwa. The UMCOR grant "will go a long way to respond towards provision of temporary shelter, food and water supplies," he added.
"So far two truckloads of needed items has been dispatched to Mutare," Gurupira reported. "The consignment included maize meal, cooking oil, water purification liquids, clothes and blankets." The church also is making a guesthouse at Isheanesu Children's Home available as housing for 20 doctors offering free service in the affected areas.
The Rev. Duncan Charwadza, Zimbabwe East Conference deputy administrator and connectional ministries director, said the first consignment of aid — medical supplies — was handed over to Sekai Nzenza, the Minister of Public Service, Labor and Social Welfare.
*Bloom is the assistant news editor for United Methodist News Service and Joao Sambo is a UMNS correspondent in Mozambique. is based in New York. Communicators Chenayi Kumuterera and Kudzai Chingwe from Zimbabwe contributed to this report.